The lone policeman hero is a common scenario in mystery fiction. But this writer made the protagonist of his mystery series an entire New York police unit. Name the MWA Grand Master author and the unit in this series published over the course of five decades.
Send your answer to
info@mainelymurders.com
(subject line: quiz). Winner will be randomly drawn from correct entries.
Congratulations to Zak
Johnson
of Portsmouth, New Hampshire, who identified
Kareem Abdul-Jabar
as the
National Basketball Association legend-turned-author whose 2015 entrance into mystery writing features the brother of Sherlock Holmes. Zak not only identified the book and its author, but gave it a "thumbs-up" review, adding that he hopes the author will follow with a sequel.
Zak's entry, drawn from a record number of correct responses, earned him a $25 Mainely Murders gift card.
________________
Happy April
Birthdays
Each month we note birthdays of some of the masters of the mystery genre, with hopes that readers might read (or re-read) one of their many gems.
Reginald Hil
l

was born April
3, 1936, in County Durham, England. His best-known books featured Superintendent Andrew Dalziel and Sergeant Peter Pascoe. He also wrote under the name

Patrick Ruell

. He died in 2012.
Tom Clancy was born on April 12, 1947, in Baltimore and died there, a loyal son of the city, in 2013. At age 37, after a number of years in the insurance business, his book The Hunt for Red October
was published and transformed military thrillers with its detailed and accurate technical descriptions. It also led
Clancy
to write 18 books that sold 100 million-plus copies and helped him become part owner of the Baltimore Orioles, among other achievements.
John Mortimer
, creator of the
character Rumpole of the Bailey, was born April 21, 1923, in London.

Mortimer,

who died in 2009, was himself a barrister.
Ngaio Marsh
was born April 23, 1899, in Christchurch, New Zealand. Her popular series featuring Roderick Alleyn, second son of a baronet and a police inspector in London, numbered 32 books, written between 1934 and 1982. The Mystery Writers of America presented her with its Grand Master Award in 1978, four years before her death. Along with

Agatha Christie

,

Margery Allingham

, and

Dorothy Sayers

,

Marsh

is credited with creating the ever-popular "traditional" English detective story.
Sue Grafton
, born April 24,
1940, in Louisville, Kentucky, is best known for her Kinsey Milhone "alphabet mysteries" (1982-present). Writing TV screenplays honed her plotting and characterization skills and led to the almost instant success of the Kinsey series. She received the Grand Master Award from the Mystery Writers of America in 2009.
Ian Rankin
, aka,
Jack Harvey
, perhaps the most popular of the Scottish noir writers, was born in the Kingdom of Fife on April 28, 1960, but now lives in Edinburgh. After a number of jobs and many years writing, he found success with Knots and Crosses, the first novel about the world-weary Edinburgh detective John Rebus. (They now number 20.) He has won both a Silver Dagger and an Edgar.
____________________
Thank you!
Thank you for supporting Mainely Murders Bookstore
and other small independent booksellers. At a time when you have other choices
,
you've shown a commitment
to those of us who are part of the local community and who consider customers to be friends and neighbors.
We take great pride in talking with our clientele, whether it's trading viewpoints on favorites or recommending new titles
and

authors.
Show Your
Mysterious Side
What better way to carry your books (or anything else) and at the same time demonstrate your love of mysteries than with our signature black bag.
Made of durable fabric with reinforced 20-inch handles, the bag sports our recognizable logo. ($7)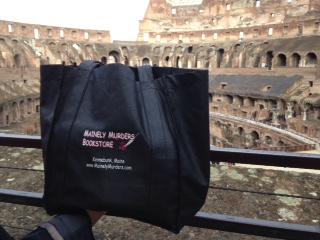 We love to see our bag
travel around the
world--like here to the Colosseum

in Rome.
Remember, if you've taken your Mainely Murders bag on a trip, let us know. Send your photo (jpg) and details to
info@mainelymurders.com
______________________
Gift Cards
Our gift cards are available in any amount. The perfect gift for the holidays, birthdays, anniversaries, or "just because."
We're happy to take mail/phone orders and will send to you or directly to the recipient.
~~~~~~~~~~~~~~~~~~~~~~~
We're home. Well, stateside, anyway.
Our winter travels were without much mystery this year. Ann didn't make any tours of sewers, underground burial sites, execution sites, crime museums, police museums, or low-life restaurants of dubious fame. (She did visit several cemeteries.)
Paula was, however, still on the trail of
Cara Black's
PI Aimee Leduc in Paris. (Though you've got to worry about someone who's spent so many years to no avail.) In Rome, she got dangerously close to some of the paintings at the Vatican, hoping to spot a forgery or two. (Mostly she got stern looks.)
In short, except for our five days in Rome, where we really were "tourists," we spent most of our two months being the "temporary Parisians" we've so much enjoyed becoming. We shopped at our neighborhood markets, did a great deal of cooking--for us (how can you help it when you've just come from the market?), and spent hours on end curled up with good books--so many of which we hadn't had time to read. (Despite the belief of many that booksellers just sit around and read.)
While winter travels were wonderful, but it's spring and time to start thinking of our sixth season. Within days of returning, we were off on our hunt for more books, even venturing into deepest Connecticut and darkest Massachusetts as well as the further reaches of Maine, which means our inventory will be better than ever.
As is always the case, our winter travels meant our introduction to some unfamiliar international writers that we're excited about adding to our shelves.
But, first things first. Opening Day is Wednesday, May 4, a few days later than previous years. We're old and need more vacation time and also more time to replace all those books you keep buying. (Ann thinks she might be losing ground there.)
With just a few weeks left before throwing open the doors--speaking of which, they could use some paint--we best get busy.
Hope to see you soon.
Partners in Crime
Remembering Dilys Winn


Dilys Winn, the pioneer of mystery bookstores, died in February at the age of 86. In 1972, she opened the first bookstore devoted exclusively to mysteries, New York City's Murder Ink--the Upper West Side shop that from its beginning captured our imaginations, ultimately leading to Mainely Murders.
She went on to write two compendiums--Murder Ink and Murderess Ink: The Better Half of the Mystery--which became long time favorites of mystery lovers.
The New York Times, in her obituary, called Winn "witty, facetious, confident, well-informed, opinionated, often acerbic, but never snobbish."
In 1978, the Mystery Writers of America awarded her a special Edgar, in recognition of her contributions to the mystery genre. The Independent Association of Mystery Bookstores, founded in 1992, established an annual award, The Dilys, for the book its members had most enjoyed selling during the past year.
Mail/Phone/Internet Orders
Can't wait for us to open? We understand the occasional "book emergency," and will happily fulfill orders as soon as we receive them.
We will call or e-mail to confirm your order, specify price and approximate shipping costs (we ship USPS media mail), re-check mailing address, and obtain credit card billing information.
Now Accepting €s and £s
We like to think that Mainely Murders has an international flair--be it the authors and titles we carry or the customers we meet.
That said, starting this spring, we'll be accepting other modes of cash payment: the euro and the British pound (at prevailing exchange rates).
We hope it will be a convenience for customers from Great Britain and EU countries, or, more likely, our many American customers who return from vacation with a pocket or wallet filled with "odd" currency.
We regret that our currency exchange is limited. As always, we'll accept the Canadian dollar from our northern friends.
Our Roman Holiday
Ah, Rome. Might have liked a little less rain, but our
day at the Colosseum, Forum, and Palatine Hill was quite nice. And, of course, the people of Rome are as expansive as ever.
A highlight of our trip was meeting up with a favorite customer, Aurelie Hagstrom, faculty resident director of Providence College in Rome. Having lived in Rome for the last three years--she's
Ann and Aurelie pause while taking in the sights near
Piazza Navona.
just completing her final year before returning to Providence--Aurelie treated us to an insider's look at some of the notable piazzas, including Piazza de' Fiori, and churches like
Saint Louis des Français
near our hotel. (A nice touch was her favorite café near the Pantheon.)
Enjoy Today Tales of Yesterday
While many of us carry lists of books we want to read, sometimes one just falls from above--okay, from a shelf--as was the case recently.
The book--in this case, it led to another--is a
wonderful collection of novels from the 1940s, Women Crime Writers, edited by Sarah Weinman, and is a fitting tribute to the women who played leading roles in American crime fiction.
Book one, Women Crime Writers of the 1940s

--the one that literally fell off the shelf--includes full-length novels by

Vera Caspary

(

Laura

),

Helen Eustis

(The Horizontal Man

),

Dorothy B. Hughes

(

In a Lonely Place

), and

Elizabeth Sanxay Holding

(

The Blank Wall

). While

Holding

may be the most unfamiliar of the four, she was called by

Raymond Chandler

"the top suspense writer of them all."
Book two, Women Crime Writers of the 1950s
, like its predecessor that fell off the shelf, brings together four of the early creators of the psychological suspense novel:
Charlotte Armstrong
(
Mischief
),
Patricia Highsmith
(
The Blunderer
),
Margaret Millar
(
The Beast in View
), and
Dolores Hitchens
(
Fools' Gold
).
Clearly the stories are dated, a fact that does nothing to diminish their enjoyment.
Like the best of noir, each of the eight novels presented in the two-volume collection may leave the reader a little unsettled. Set in small towns and big cities, they are tales that may stay with you for a while--the true definition of classic mystery writing.
Ellery Queen Mystery Magazine
We've never understood the aversion many people have to short stories. To us, a successful short story requires the ability to be both concise and compelling.
So, we're pleased to acknowledge this year's 75th anniversary of
Ellery Queen Mystery Magazine
. Since 1941, it's been the repository for much of the best short mystery fiction, from the U.S. and abroad.
Month in and month out, EQMM has published the most celebrated writers alongside those never before published but who may (and sometimes have) become tomorrow's stars.
Long-time subscribers (as was Ann's mother Clara Whetstone)--no, we weren't charter members!--we've come to look longingly toward the mailbox each month.
Mysterious Connections
For many readers, mysteries connect them to the places they love. For instance, Paula says she's forever in Paris, thanks to the books of

Cara Black

(and PI Aimee Leduc), and in Venice, courtesy of author

Donna Leon

(and Inspector Guido Brunetti).
But you don't have to travel thousands of miles from home to connect with a favorite place. Unlike

Black

and

Leon

, whose names are synonymous with foreign cities, other authors are connected to American locales.



Can you think of

Robert B. Parker
without thinking of Boston (and Spenser)? Or
Raymond Chandler
(Marlowe) without visualizing the streets of Los Angeles? How about
Earl Derr Biggers
and Honolulu (Charlie Chan)?
Many writers today have staked claims on their favorite cities. Try matching up the following writers with their home turf.
Authors Cities
1. Bruce DeSilva a. Detroit
2. Sara Paretsky b. San Francisco
3. Laura Lippman c. Chicago
4. Elmore Leonard d. Providence
5. George Pelecanos e. Washington, D.C.
6. Lisa Scottolini f. Philadelphia
7. Marcia Muller g. Baltimore
Click here for answers
A sampling of April releases. Find a complete list at
www.stopyourekillingme.com
. All can be ordered directly from Mainely Murders.
Susan Wittig Albert

, Blood Orange [China Bayles #24]
John Baldacc

i, The Last Mile [Amos Decker #2]
Steve Barry
,
The 14th Colony [Cotton Malone #11]
Mary Daheim

, Here Comes The Bribe [Bed and Breakfast #30]
Timothy Hallinan
,
Kind Maybe
[Junior Bender #5]
Iris Johansen

, Hide Away [Eve Duncan #20]
Laurie R. King

, The Murder of Mary Russell [Mary Russell #14]
Katherine Hall Page

, The Body in the Wardrobe [Faith Fairchild #23]
Kwei Quartey

, Gold of Our Fathers [Darko Dawson #4]
Michael Robotham

, Close Your Eyes [Joseph O'Loughlin #10, 1st U.S.]
John Rowland

, Murder in the Museum [Inspector Shelley #7, reprint]
John Sanford

, Extreme Prey [Lucas Davenport #26]
Lisa Scottoline

, Most Wanted [NS]
Stuart Woods

, Family Jewels [Stone Barrington #37]
Resolution Update (Paula)
New Resolution: I will never again publically announce (e.g., this newsletter) my New Year's resolutions. But, having already divulged never having read five popular authors--

James
Lee Burke
,
James Crumley
,
Daniel Silva
,
Dennis Lehane
, and
James Ellroy
-- and resolved to do so, I can't turn back now.
Starting with the first three, as I noted last month, I'm now a huge fan of

Daniel Silva

and his Gabriel Allon series. (I read all 15!) He quickly moved from the "have-never-read" to the "must-read" list.
So, too, has

Dennis Lehane

, with his Patrick Kenzie
and Angela Gennaro books. How can you not like this PI duo from the mean streets of blue-collar Dorchester? Starting with A Drink Before the War
(1994), the first of his six Kenzie/Gennaro titles,
Lehane
captured a far darker--but perhaps more interesting--Boston than that of the more famous
Robert B. Parker
. His books really are Boston noir.
Two of

Lehane's

early-2000 standalones--Mystic River and Shutter Island--solidified his reputation. More recently his Joe Coughlin series--which stretches from Prohibition to World War II--won him an Edgar for Best Novel in 2013 (Live By Night), with a new title (World Gone By) released just weeks ago.
James Ellroy

, the Mystery Writers of America
Grand Master, is another writer who surprisingly hadn't shown up on my reading list. While I knew that Black Dahlia was a fictionalized version of his own mother's murder, I hadn't read his books.
As a big fan of the old Jack Webb Dragnet TV series, I loved Joe Friday's "Ten-Four" and "Just the facts, Ma'am." There's definitely a hint of nostalgia as I read through

Ellroy's

earliest series featuring Lloyd Hopkins, detective sergeant in the LAPD Rampart Division.
A few of the early
Ellroy
books--they're pretty grim and the uptight Joe Friday would be aghast at the language--are stacked up on
my shelf when I'm in need of a little nostalgic reading. Ten-Four.
Customers Recommend
Helen Kitzman
of Madison, Connecticut, is, an ardent reader of "traditional" mysteries--those often best exemplified by the writing of
Agatha Christie
.
When we last saw Helen, she was headed to New Orleans, her winter home, with books in hand--rather "boxes of books" in hand, much to the d
ismay of husband, Dick. We asked her to share some of her wintertime readings:
Dipping into my Mainely Murders-selected books that travel with me on our sojourns to New Orleans, I decided to tackle the early classics. Although I pride myself on completing all the novels once I add a contemporary author to my list, I am not so committed to the same goal with this selection.
This year, I dabbled in tales by
Agatha Christie
(Miss Marple) and
Patricia Wentworth
(Miss Silver); the two
Michaels--Innes
and
Gilbert
--(neither author an easy read but well worth the attention paid to detail and commentary);
Georges Simenon
and
Nicholas Freeling
(bringing a little European flavor); and
Robert Barnard
(always a quick read spiced with biting sarcasm on the human comedy). I even read an old
Margaret Yorke
, whose work parallels that of
Barbara Vine
in her descriptions of spiteful family relationships.
Not to be too predictable, I ventured into other areas, for instance the latest

Jussi Adler-Olsen

,
The Hanging Tree
--really too long but always amusing
dialogue and complicated plot. (I do love Assad!) I gave a quick read to
last-written Wallender, An Event in Autumn.
On my

list are a few more Scandinavian noir (trying to take up Ann's recommended

Karin Fossum

), including one set in Iceland (picked this up especially for Ann and Paula). But, for me, the classics are still more engrossing.
While in New Orleans--and even back home in Connecticut--I'm always on the lookout at church and library sales for books for Mainely Murders. (Ann and Paula have deputized me as one of their unofficial "book scouts." I prefer to think of myself as a member of "the board.")
Recently, I found a "mother lode" of mystery
classics: a very large collection of

John Dickson Carr

, including a few under his pen name

Carter Dickson

; a book or two by

Charlotte Armstrong

and by

Edmund Crispin

; and a few Dell Mysteries by

Clayton Rawson

(the "Great Merlini" series) and

Helen McCloy

. Never heard of the
latter two, but they come
encased in plastic so they must be good, right?
Written in the 1930s, '40s, and '50s, these books come with original covers that are a treasure to behold. Contemporary book covers do not have the richness of sordid allusion to be found in these older books. Most, too, are unavailable in libraries and hard to find online, so you will have to pick them up at Mainely Murders.
**********************************
Classics are popular at Mainely Murders. Some people come in asking for writers they'd like to re-read. Others have just discovered a long-ago author.
One of our most popular classic authors is the late
John D. MacDonald
. While we're pleased to recommend him ourselves, we thought we'd turn to our favorite mystery blogger
Marilyn Brooks
of Needham, Massachusetts, (
www.marilynsmysteryreads.com
) who shares our high regard for
MacDonald.
I never knew there were so many colors in the rainbow until I started reading the Travis McGee series by
John D. MacDonald.
Starting in 1964 and continuing until a year before his death in 1987,
MacDonald
wrote 78 books, 21 featuring that Florida knight-errant, Travis McGee. How I miss him!
Dress Her in Indigo, A Tan and Sandy Silence, The Girl in the Plain Brown Wrapper, The Empty Copper Sea
--those are wonderful titles.
The Travis McGee series was, to my knowledge, the first in what now has become a long line of detective fiction from the Sunshine State: think
Elmore Leonard
,
Carl Hiaasen
,
Randy Wayne White
,
Stuart M. Kaminsky
. But McGee was not only the first to bring us to Fort Lauderdale, he made it his own.
He lived on The Busted Flush, a houseboat he moored at Slip F-18 in the marina, after he won it in a poker game. That and Miss Agnes, his ancient Rolls Royce, seemed to be his only material possessions. There was a perpetual party going on at the marina, with lots of sun bunnies, I think they were called, but McGee was never cavalier or uncaring in his sexual adventures. They may seem a bit hedonistic now, but I don't think they were. It was a more innocent time, and McGee and his romantic adventures were part of it.
People in trouble came to McGee--people who had been scammed, abused, tricked out of what was rightfully theirs. McGee was a 'court of last resort;' after all other avenues of justice had been tried and been proven inadequate, McGee rode to the rescue. He asked a percentage of the 'salvage' of
what he recovered if it had a monetary value, but that's not why he did what he did. He was trying, and succeeding in his small way, to right the wrongs of the world. He was for the underdog, first and foremost.
John D. MacDonald
was years ahead of his time in talking about pollution, greed, and overbuilding in his beloved Florida--things we're all too familiar with today. But by making Travis McGee his voice,
MacDonald
made his points powerfully but without preaching. McGee loved his state, rarely left it, and railed against the things that were changing it for the worse. McGee did a lot of thinking about the state of the world, and most of it is as true today as it was when it was written.
The final McGee title was published in 1985, so they can be difficult to find but do yourself a favor and try to track down these books.* They take place in a time before computers, cell phones, and the Internet, but that doesn't
matter.
John D. MacDonald
created a timeless series for us to enjoy.
*Most are available at Mainely Murders.

Answers for Mysterious Connections:

1--d
2--c
3--g
4--a
5--e
6--f
7--b