~~~~~~~~~~~~~~~~
MONTHLY QUIZ
Before there was ever Steig Larsson, Henning Mankell, Jo Nesbo, Liza Marklund, Camilla Lackberg, and other contemporary mystery writers, one duo put Scandinavian mysteries on the literary map. Name them.
E-mail your answer to info@mainelymurders.com (subject line: monthly quiz). The winner, randomly drawn from correct respondents, will receive a $25 Mainely Murders gift card.
Congratulations to Lisa Britt of Saco, who identified three fictional mystery bookstores and their creators: Death on Demand (Carolyn Hart), Haven't Got a Clue (Lorna Barrett), and Raven's Nest (Allison Kingsley). As the winner, Lisa receives a $25 gift card at her favorite mystery bookstore, Mainely Murders.
Happy August
Birthdays
Each month we note birthdays of some of the masters of the mystery genre, with hopes that readers might read (or re-read) one of their many gems.
P.D.James was born August 3, 1920, in Oxford, England. Adam Dalgliesh, a poetry-writing
Scotland Yard inspector who appeared in 14 books from 1962 through 2008, was her most enduring character. By the time of her death in 2014, James and Ruth Rendell were the most popular contemporary writers of "traditional" mystery novels. The Mystery Writers of America honored her as a Grand Master in 1999.
Robert van Gulik, author of the Judge Dee mysteries, was born August 9, 1910, in Zutphen, Holland. His work as a Dutch diplomat in the Far East led to his interest in Chinese history and culture. He wrote 16 novels featuring Judge Dee, a magistrate in China during the Tang Dynasty (600s). He died in 1967.
Jo
nathan Kellerman
,
born August 9, 1949, in New York City, is the author of the popular Alex Delaware series. He is married to the equally popular mystery writer
Faye Kellerman
.
Dorothy B. Hughes
,
one of the first
women to write hard-boiled fiction, was born August 10, 1904, in Kansas City. Named a Grand Master by the Mystery Writers of America in 1978, she died in 1993.
Mary Roberts Rinehart
was
born August 12, 1876. Often referred to as the "American
Agatha Christie
," in fact, her first book predated
Christie's
by 22 years. She is considered the source of the phrase "the
butler
did it" (from
The Door, 1930), although the novel doesn't use that precise phrase. Rinehart is also considered to have invented the "Had-I-But-Known" school of mystery writing. She died in 1958.
Steig Larsson, Swedish journalist and mystery writer, was born August 15, 1954. His famous Millennium trilogy--The Girl with the Dragon Tattoo, The Girl Who Played with Fire, and The Girl Who Kicked the Hornet's Nest--was published after his death in 2004.
Georgette Heyer, more often
recognized for her Regency romances than her mysteries, was born August 16, 1902, in Wimbledon, Surrey. Her 12 mysteries, written between 1935 and 1953, are often cited as perfect examples of the classic country house mysteries. Clever dialogue was her forte. She died in 1974.
Earl Derr Biggers was born August 26, 1910, in Warren, Ohio. He is most remembered for his creation of the inscrutable Hawaiian detective Charlie Chan, his attempt to counteract the then-prevailing image of the "sinister Oriental." He died in 1967.
~~~~~~~~~~~~~~~~~~~~~
Large Print
We occasionally receive large-print mysteries. While they are rarely the most recent releases, they run the gamut from contemporary to classics, from cozies to thrillers. Space constraints prevent us from putting many on our shelves, so please ask if you're interested.
Signed Editions
We are first and foremost a mystery bookstore for readers--not collectors. But, we do have a limited inventory of books signed by their authors. Go to www.mainelymurders.com
for a recently updated list.
All signed books, unless otherwise noted, are hardback, first edition titles in very good to fine condition. Prices do NOT include cost of shipping, which is via U.S.P.S.
~~~~~~~~~~~~~~~~~~~~~
PDA Discounts
Members of Portland Dine Around, Maine's premier dining/entertainment rewards program, enjoy a savings every time they shop at Mainely Murders.
Show your 2015 membership card and you're entitled to a special offer: buy two books and receive 50 percent off a third book of equal or lesser value.
Portland Dine Around--with over 300 affiliate partners from Rockport to Bethel, Portland, Kennebunk, and south--is valid through December.
_____________________
Parking
With success, our bookshelf space grows tighter. So, too, does parking for customers.
You're welcome to park in the driveway. Street parking is available, as is space in the lot across Bourne Street.
While our next door neighbor, the Kennebunk, Kennebunkport, and Wells Water District, has been great about our customers parking in its lot, we know that spaces there are at a premium during the week. Feel free to park there on Saturdays.
____________________
Thank you!
Thank you for supporting Mainely Murders Bookstore and other small independent booksellers. At a time when you have other choices, you've shown a commitment to those of us who are part of the local community and who consider customers to be friends and neighbors.
We take great pride in talking with our clientele, whether it's trading viewpoints on favorites or recommending new titles and authors.
~~~~~~~~~~~~~~~
Show Your
Mysterious Side
What better way to carry your books (or anything else) and at the same time demonstrate your love of mysteries than with our signature black bag.
Made of durable fabric with reinforced 20-inch handles, the bag sports our recognizable logo. ($7)
Gift Cards
Our gift cards are available in any amount. The perfect gift for birthdays, anniversaries, or "just because."
We're happy to take mail/phone orders and will send to you or directly to the recipient.
~~~~~~~~~~~~~~~~~~~~~~~
Greetings:
Our little Kennebunk downtown is always a bustling
place during the summer months, no more so than this year. The flowerbeds along Main Street are in full bloom, shops are welcoming, and our pedestrian-friendly town is a stroller's Mecca. When you're here, stop by our favorite new local eatery, Boulangerie: A Proper Bakery, tucked in behind the Waterhouse Pavilion. Check out the schedule for MaineStage Shakespeare in Lafayette Park. On Saturdays, there's a farmers' market (on the river's edge) and a nearby crafter's market.
German visitors
Thomas and Friederike Lӧwer stopped by recently.
Mainely Murders isn't the only reason to come to downtown Kennebunk, but we hope you'll visit us. The weather isn't the only thing heating up here--although we are air-conditioned. Outside the shop, weather permitting, we've placed more books than ever in our "On Sale" area, and we've added even more themed-displays: Deadly Threads (crafting mysteries), Dog On It (canine crimes), Meow for Murder (feline felonies), and The Sport of Crime (baseball, golf, fishing).
In addition to seeing customers from throughout the U.S. and Canada, we've shared mystery talk with visitors from England, France, Germany, Belgium, Australia, and elsewhere.
Yes, life is good here at Mainely Murders--a statement we hear so often--and we love sharing it with you.
Hope to see you soon.
Paula & Ann
Partners in Crime
P.S. We're thrilled with the black-and-white drawing above by artist Urban Coombs. Postcards are now available.


We Love Maine Mysteries
. . . and, apparently, so do our customers. This year, we're selling record numbers of books written by Maine crime writers.
You've got until September 15 to jump on the bandwagon. Purchase any book (new or used, hardback or paper) by a Maine writer and you'll be entered into our Maine mystery writers contest. No restrictions on how often you can enter; one entry for each book purchased. The winner will be announced October 1.
Our Garden Plot
Summer visitors to Mainely Murders know we have a garden plot--albeit, much overgrown--but one we think is a perfect place to hide the body. That's why, each year, we highlight mysteries set in gardens.
We like the names of the books--ones like Thyme of Death, Deadly Slipper, The Azalea Assault, Slay It with Flowers, Gardens of Secrets Past, Slugfest, Three Dirty Women, and Death in the Garden.
Many are from today's crop (no pun intended) of writers of cozies. Some are set in the U.S., while others are set outside the country, often in England.
But there's nothing new about garden-themed mysteries. Obviously, we're not the only ones who see the possibilities for murder weapons and burial sites. But, the writer who really set the tone for "murder in the garden" was Ireland's Sheila Pim, who between 1945 and the early '50s, wrote titles like Common or Garden Crime, Creeping Venom, A Brush with Death, and A Hive of Suspects to entertain her father, who loved mysteries.
Here at Mainely Murders, our best-selling "garden-variety" murder is from much closer to home, the ever-popular The Maine Mulch Murder (2001), written by the late A. Carmen Clark. A late-in-life novelist, she wrote a lifestyle column for years for The Camden Herald, raised two accomplished children (writer Kate Flora and librarian John Clark), and was an avid gardener. At the age of 83, she wrote The Maine Mulch Murder, and was at work on a sequel at the time of her death in 2005.
While now out of print, The Maine Mulch Murder is
available here!!
Video Update
For those nights when you can't read another word, videos are an easy way to drift through your evening--except, of course, when you belatedly realize your choice is more than slightly bleak.
Customers, who keep us updated, tend to favor mystery videos based on books. Their recent recommendations range from Father Brown and Still Life to Vera, George Gently, and Jack Irish.
Recommendations are occasionally negative.
Louise Penny
fans are generally very unhappy with
Still Life
(Acorn) because the characters aren't consistent with descriptions in the books. (It's rather like
Lee Child
fans on
Jack Reacher
.)
Backstrom
(Hulu) was also generally panned, thus doing no good for
Leif G.W. Persson's
Swedish policeman Everett Backstrom, who is grumpy, lazy, slovenly, and not exactly the image of your typical Nordic policeman.
(Evidently
readers prefer morose alcoholics.)
But many times customers haven't read the books that inspire the series so chances of disappointment are small. The sharp upturn in G.K. Chesterton readers was directly attributable to the Father Brown series (Acorn/Netflix). Miss Fisher's Murder Mysteries (Netflix) revived the demand for Kerry Greenwood books, thus creating a serious shortage.
The Australian Jack Irish videos (Acorn) have sent a few people to Peter Temple's four books about the lawyer-gambler debt collector/people finder. So also has the Grantchester series sent some to the James Runcie books about a sleuthing vicar in small-town, 1950s Britain. (It will not give you nightmares.)
Darker is The Field of Blood (Acorn), based on Denise Mina's wonderful trilogy about Paddy Meehan, an aspiring journalist in 1980s Glasgow. It's a rough time in a famously rough town. Maybe darker yet is Inspector George Gently (Acorn) set in the northeast of England in the 1960s, when policing was changing and the region was beginning its slide into depression. (The series is both darker and better than the books.)
Vera, based on Ann Cleeves' soon-to-be-seven Vera Stanhope books, is dark contemporary times. Our hard-drinking, bullying poacher's daughter is both persistent and successful--and occasionally nice. Brenda Blethyn is great as the Yorkshire detective. (Not likely to ever have an American version.)
Finally a few recommendations to us that were never books: Happy Valley and Y Gwyll/ Hinterlands (both Netflix). Happy Valley (not really) stars Catherine Cawood as a police sergeant in Yorkshire who stumbles upon a kidnapping when tracking a suspected rapist. Hinterlands is slightly, but not much, cheerier, following Detective Inspector Tom Mathias as he solves crimes in the hinterlands of Wales. (If you wish to work on your Welsh, it was filmed in both Welsh and English.)
So even though you are probably not watching a lot of videos these summer days, you might want to keep some of these in mind for the dark days of winter.
The Traveling Book Bag
Our Mainely Murders' book bags continue to travel the world. And, we're always excited to receive the news (and photos).
Gen and Harvey Marks of Methuen,
Massachusetts, had their bag in hand when they visited what they described as "the AMAZING Sherlock Holmes exhibit" at the London Museum. They assure us that the bag will be making another trip soon--to Ireland in September.
By the way, Gen and Harvey are both very talented artists, painter and photographer, respectively. View their work at www.Marksimagesonline.com
Also, check out our traveling bag in Copenhagen, Denmark, with the city's iconic statue of the Little Mermaid. This photo was sent to us by, "just say local customers"--
but since this picture was taken at the beginning of their trip, we expect to receive more soon.
Unveiled in 1913, the sculpture is made of bronze and granite and was inspired by Hans Christian Andersen's fairy tale about a mermaid who gives up everything to be united with a young, handsome prince on land.
Strike Three, You're Dead
Many of you know that we share a lifelong love of
baseball. Ann grew up rooting for the Philadelphia Phillies, her grandparents' hometown team. Paula saw some early Dodgers' standouts because her hometown hosted a Dodgers farm team.
Fortunately, we never have to choose between our two passions. There's plenty of baseball in mysteries and detective fiction.
And, if you're a Boston Red Sox fan, you're in luck. The late Robert B. Parker, often pictured wearing his Red Sox cap, wrote two baseball mysteries (Double Day and Mortal Stakes); Maine's very-own Stephen King, also a big Red Sox fan, wrote one, too (Blockade Billy).
But, the baseball mystery we can't keep in stock at Mainely Murders is Murder at Fenway Park, one in a series written by author Troy Soos. Clearly, this book has something for everyone: history, baseball, and murder.
Murder at Fenway Park is also the theme of Mainely Murders' best-selling gift basket, containing, along with the Soos book, peanuts, Crackerjacks, and other Red Sox goodies. If you're a Sox fan (or know someone who is), don't miss out.
Don't Let These Writers Pass You By
Much attention, praise, and jammed signing appearances accompany the latest releases by some authors, while others, certainly no less talented, never get the attention they deserve. Recently, we've been reading through books by some of these often-overlooked writers. If these
names are unfamiliar to you, we challenge you to give them a try.
John Harvey (Ann)
With more than 90 books published, a CWA Cartier Diamond Dagger in 2007, and continuous praise in Britain for his 13-book Charlie Resnick series, John Harvey may be the best English author you've never read. And I cannot heap abuse upon you because I have been one of those laggards.
Charlie Resnick is a jazz-obsessed Nottingham detective. (His four cats are all named after jazz greats.) More importantly, he is a man who can see the difficulties many people in old industrial towns face in post-industrial Britain. His picture of Nottingham and individual people is hardheaded, sympathetic, and moving.
My favorite is actually his last, Darkness, Darkness, although his first, Lonely Hearts (1989), was named one of the 100 best British crime novels of the century by The Times.
As Resnick faces retirement, he is drawn into a murder that dates from the Miners' Strike under Margaret Thatcher. It was a different world and he was a young policeman whose actions he now regrets and whose police force was very different. A pensive book for a pensive man.
American
Don Winslow
has, in recent years, received all sorts of kudos for his writing. He's frequently won awards and has been short-listed for many more. His newest,
The Cartel
, revisits a favorite theme: the drug trade. Movie deals are in the works.
But, the

Winslow

series I enjoyed most was his first, following Neal
Carey, a pickpocket
-turned-private investigator, in New York City. Groomed by Friends of the Family since the age of 11--classy private schools, Ivy League college/grad school education--he's a guy you have to root for, even when he was a dirty, snot-nosed smart-mouth you'd never want to come across.
The stories are engaging, dialogue is snappy, and sometimes you even end up liking the bad guys. Once I started the five-book series, written more than 20 years ago, I didn't stop. Just goes to show that all the attention was long overdue. He's been good from the beginning.
Betty Webb (Paula)
God knows I'm no outdoorsy, nature girl. (I'm a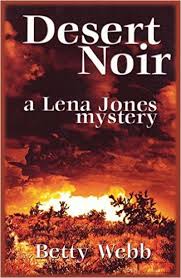 native Oregonian whose worst memories include camp and camping.) Nevertheless, there's something about the desert Southwest that fascinates me. (Not enough to want to live there, but enough for me to be drawn to its literature.)
The late
Tony Hillerman
did a wonderful job of evoking the Southwest (the land, the people, the culture). I hope his daughter,
Anne
, who has taken over the series, can continue to channel her father's voice, while making her own mark.
Betty Webb's series featuring Lena Jones, the cop-turned-PI in Scottsdale, Arizona, is my current favorite. There's something very appealing about a woman who can stare down and outshoot badass men. (I did go through an Annie Oakley stage as a kid.)
Strong sense of place: you better have a glass of water nearby when you're reading about the 100-plus degree days. Likeable characters: beginning with Lena herself, the product of a childhood of one dysfunctional foster family after another, and her computer-savvy business partner Jimmy Sisiwan, with his Pima Indian heritage and his Mormon upbringing.
The series begins with Desert Noir, which sets the stage for seven others (Desert Wives, Desert Shadows, Desert Run, Desert Cut, Desert Lost, Desert Wind, and Desert Rage). Don't worry about reading them in order. Because of their regional appeal, Webb's books are sometimes hard to find in New England. They are, however, worth the search.
Coming Soon

John Burdett, The Bangkok Asset [Sonchai Jitpleecheep #6]


Sue Grafton, X [Kinsey Millhone #24]

W.E.B. Griffin and William E. Butterworth IV, Deadly Assets [Badge of Honor #12]

Steve Hockensmith

Fool Me Once [Tarot #2]


Note for those of you who want more detail on shop favorites: Martin Walker, August 11; Louise Penny, Sue Grafton, and Lea Wait, August 25.



Our Customers Recommend
Marilyn Brooks of Needham, Massachusetts, is one of our very favorite bloggers. Check out her wonderful blog (marilynsmysteryreads.com). This month, we asked her to share a recent post. She chose Death in Salem, the latest by Eleanor Kuhns, one of the authors we feature in our Maine/New England section.
Will Rees, the traveling weaver of Eleanor Kuhns' three previous novels, has left his home and family in Maine to travel to Salem, Massachusetts, to buy material to make into cloth.
On the main roadway of the city, Will is stopped by a funeral procession. The deceased is Anstiss Boothe, the wife of one of Salem's leading citizens. Leading the wagon bearing the coffin is Stephen Eaton, a man Will hasn't seen in more than two decades.
A second death in the Boothe family occurs the day after Will's arrival, that of the family's patriarch Jacob. Although Anstiss' death was expected after her long, debilitating illness, Jacob was definitely murdered--stabbed through with a sword-like weapon in the tunnel beneath his home.
Stephen Eaton, the city's undertaker, knows that Will has solved several murders and asks for his help in investigating Jacob's death. And Will feels he owes that to the friend who saved his life when they fought in the Revolutionary War.
In Death in Salem, Eleanor Kuhns has written another mystery that transports the reader to the late eighteenth century. The sense of a young country is beautifully brought to life. Its characters present emotions that are as real today as they were more than 200 years ago.
Ann's mother, Clara Whetstone of Kennebunk, occasionally chimes in with what she's been reading. When you're 94 years old, you can read (eat, say, do) anything you like. Indeed, you have to if you don't follow sports and TV has failed you.
Just before her death, I started re-reading

Ruth Rendell's

Inspector Wexford books. (I do not read her psychological ones.) Unfortunately, I only have four or five left to read. Soon I face a decision on where to go next. That is not good because there is nothing on TV. Nothing.
Helen Kitzman of Madison, Connecticut (with winters in New Orleans), says she's been pulling titles from her beach bag all summer long. By now, she says the bag is almost empty--"Not so" says husband Dick, who often carries Helen's bags. Nevertheless, she offers up another recommendation for readers.
It's August. Is summer coming to an end? No, please no! But there are still untouched books in my beach bag. Luckily, the most delicious mysteries have been saved for the last so as to help keep away these gloomy thoughts of summer ending.
Elizabeth Peters is the perfect cure-all for the "beach blues." Who does not love Amelia (our favorite Egyptologist) and her swinging parasol, Emerson and his blustery eternal battles over tombs, and their son Ramses with his cool manner that hides many secrets, all set against the backdrop of archaeological digs in Victorian/Imperial/Great War Egypt?
Amelia Peabody is the best-known of Peters' characters. But, my beach bag includes some of her others. The Vicky Bliss (art historian) or Jacqueline Kirby (librarian) series with the same froth: fast-moving plot, spunky heroine, dashing hero, and lots of fun reading.
Barbara Michaels
is
Elizabeth Peters
when she's not being
Elizabeth Peters
. (In truth both are pen names of the late
Barbara Mertz
, 1927-2013). I've also added a few titles by Michaels, who wrote old-fashioned Gothic mysteries in the style of
Victoria
Holt
and
Helen MacInnes
.
Ah, a great way to conclude my summer reading. Bring on the lemonade and cookies; maybe there's more summer (and reading) ahead.
Mainely Murders is an independent specialty mystery bookstore devoted exclusively to suspense, crime, and detective fiction. Our stock of used recent and hard-to-find hardcover, trade paper, and mass market volumes ranges from classics and cozies to tough guys and thrillers.