We haven't stumped our readers in a great while. Perhaps we will with this multiple-part question.
Name the Maine-connected writers who wrote about
(1) a Maine border patrol agent, (2) a professor who was once with the CIA, and
(3) an ex-national security adviser turned DC lawyer.
Send your answers to
info@mainelymurders.com
(subject line: quiz). Winner will be randomly drawn from correct entries.
Congratulations to Katie Helton
of Kennebunk, who correctly identified
E.W. Hornung
as the creator of A.J. Raffles, the first of the "gentleman thief" characterizations. The brother-in-law of fellow-writer
Arthur Conan Doyle
,
Hornung
was born June 7, 1868, and died March 22, 1921.
The winning entry, drawn from a number of correct responses, was good for a $25 Mainely Murders gift card.
_______________
Happy August
Birthdays
Each month we note birthdays of some of the masters of the mystery genre, with hopes that readers might read (or re-read) one of their many gems.

P.D.James
was born August 3,
1920, in Oxford, England. Adam Dalgliesh, a poetry-writing Scotland Yard inspector who appeared in 14 books from 1962 through 2008, was her most enduring character. By the time of her death in 2014,

James
and
Ruth Rendell
were
the most popular contemporary writers of "traditional" mystery novels. The Mystery Writers of America honored her as a Grand Master in 1999.
Robert van Gulik
, author of the
Judge Dee mysteries, was born August 9, 1910, in Zutphen, Holland. His work as a Dutch diplomat in the Far East led to his interest in Chinese history and culture. He wrote 16 novels featuring Judge Dee, a magistrate in China during the Tang Dynasty (600s). He died in 1967.
Dorothy B. Hughes
, one of the
first
women to write hard-boiled fiction, was born August 10, 1904, in Kansas City. Named a Grand Master by the Mystery Writers of America in 1978, she died in 1993.
Mary Roberts Rinehart
was
born August 12, 1876.
Often called the "American Agatha
Christie
," in
fact, her first book predated
Christie's
by 22 years. She is considered the source of the phrase "the
butler
did it" (from
The Door
, 1930), although the novel doesn't use that precise phrase.
Rinehar
t
is also considered to have invented the "Had-I-But-Known" school of mystery writing. She died in 1958.
journalist and mystery writer, was born August 15, 1954. His famous Millennium trilogy--
The Girl with the Dragon Tattoo, The Girl Who Played with Fire,
and
The Girl Who Kicked the Hornet's Nest
--was published after his death in 2004.
Georgette Heyer
, more often recognized for her Regency romances than her mysteries, was born August 16, 1902, in Wimbledon, Surrey. Her 12 mysteries, written between 1935 and 1953, are often cited as perfect examples of the classic country house mysteries. Clever dialogue was her forte. She died in 1974.
Earl Derr Biggers
was born
August 26, 1910, in Warren, Ohio. He is most remembered for his creation of the inscrutable Hawaiian detective Charlie Chan, his attempt to counteract the then-prevailing image of the "sinister Oriental." He died in 1967.
____________________
We like to think that Mainely Murders has an international flair--be it the authors and titles we carry or the customers we meet.
That said, we now also accept the euro and the British pound (at prevailing exchange rates).
We hope it will be a convenience for customers from Great Britain and EEU countries, or, more likely, our American customers who return from vacation with a pocket or wallet filled with "odd" currency.
We regret that our currency exchange is limited. As always, we'll accept the Canadian dollar from our northern friends.
Thank you!
Thank you for supporting Mainely Murders Bookstore
and other small independent booksellers. At a time when you have other choices
,
you've shown a commitment
to those of us who are part of the local community and who consider customers to be friends and neighbors.
We take great pride in talking with our clientele, whether it's trading viewpoints on favorites or recommending new titles
and

authors.
Show Your
Mysterious Side
What better way to carry your books (or anything else) and at the same time demonstrate your love of mysteries than with our signature black bag.
Made of durable fabric with reinforced 20-inch handles, the bag sports our recognizable logo. ($7)
Remember, if you've taken your Mainely Murders bag on a trip, let us know. Send your photo (jpg) and details to
info@mainelymurders.com
______________________
Gift Cards
Our gift cards are available in any amount. The perfect gift for the holidays, birthdays, anniversaries, or "just because."
We're happy to take mail/phone orders and will send to you or directly to the recipient.
~~~~~~~~~~~~~~~~~~~~~~~
Parking
With success, our bookshelf space grows tighter. So, too, does parking.
You're welcome to park in our driveway. Street parking is available, as is space in the lot across Bourne Street.
While our neighbor, the Kennebunk, Kennebunkport, and Wells Water District, has been great about our customers parking in its lot, we know that spaces there are at a premium during the week until 3:30. Feel free to park there on Saturday.
Does it get any better than summer in Maine? We think not. And, we're only at the mid-point.
The highlight so far was hosting Maine writers
Lea
| | |
| --- | --- |
| | |
| | Our favorite Texas city, Austin, is always well represented by summer visitors, including (left to right) Mary Clark, Suzanne Shore (Ann and Paula), Susan Hackney, and Francine Webb. |
Wait
and
Barbara Ross
on Saturday, July 16, for an afternoon of talking about mysteries, signing books, and greeting customers. Thanks to both the writers and those who turned out (about 35).
August, traditionally our busiest month, is already shaping up to be an exciting one. Join us for Cocktails and Crime, Saturday, August 13, 4 to 6 p.m. Meet up
with old (and new) mystery-loving friends, check out our culinary crime offerings, and sample some mysterious fare, including our signature Blood-Red Mimosa. (Details below.)
This month also brings new releases by some of our favorite authors, including
Louise Penny
,
Caro Ramsay
,
John Connolly
, and others.
Our second Maine Mystery Writers Contest is now in full swing, through September 15. With the purchase of any book (new or used, hardback or paper) by a Maine writer, customers will be entered into the contest. No restrictions on how often you can enter; one entry for each book purchase.
The winner, and his or her prize, will be announced in our October newsletter.
Here's to more summer ahead. Hope to see you soon.
Partners in Crime
P.S. Mark your calendar now for Saturday afternoon,
September 10 at 3 p.m.
when we welcome
two veteran newspaper reporters-turned-crime writers,

Gerry Boyle
and
Maureen Milliken,
as they discuss their latest releases, greet readers, and sign books. Straw Man,
the 11th in
Boyle's
Jack McMorrow series, was released earlier this year amid glowing reviews. No News Is Bad News
is
Milliken's
follow-up to her debut novel, Cold Hard News, featuring small town newspaper editor Bernie O'Dea.
Cocktails and Crime
Join us Saturday,
August 13
,
from 4 to 6 p.m. to talk about mysteries, meet other mystery lovers, and relax with friends. The store will be open for shopping, but the fun and refreshments are free.
While here, check out our culinary crime titles, from the recipe mysteries of
Diane Mott Davidson
and
Joanne Fluke
, to the cookbooks of the Mystery Writers of America, and on to the truly adventuresome cuisines of
Donna Leon's
Brunetti and
Georges Simenon's
Madam Maigret. And, sample some culinary contributions from Maine's own mystery writers. (We've been waiting for a chance to try our hand at the recipes of
Barb Ross'
Maine Clambake mysteries.)
Back to Three Pines
Louise Penny

fans, mark your calendars. We're
going back to Three Pines on August 30 with the release of A Great Reckoning
, No. 12 in
Penny's
popular series featuring Armand Gamache, now-retired chief inspector of the Surete du Quebec.
We're eagerly taking orders for the book, which, judging by the comments of advance readers, is "one of

Penny's

best." To preorder, contact us at
info@mainelymurders.com
or 207-985-8706.
Penny's

books--starting with her debut Still Life--have been our biggest sellers the last two years. Not surprisingly, that first title continues to sell as more people discover Gamache
and
the enchanting community of Three Pines.
When Books Talk
We're a bookstore for readers, not listeners. But,
that doesn't mean that we don't like audio books. (We just can't use them on trips as we've found we miss exits and turns.) When possible, we bring in as many as we can.
We added them at the request of travelers (some folks travel from far away to get to Maine), commuters, and the visually impaired.
They're usually not the "just released," but most are relatively current.
FAQ: Where Do You Get Your Books?
I

t's a question we hear often. Our last two fall book-buying trips have taken us, first, to Glasgow, Scotland, and, last year, to Southern California.
Very often, however, we rely on the Postal Service; in this case the British Postal Service. Several of our fairly popular series are no longer published in this country so we have to get our supplies overseas.
Mysteries by Themes
While most readers have a favorite author (or two or three or. . .) others, often fans of traditional cozies, enjoy mysteries that incorporate one or more of their other interests.
At Mainely Murders, popular themes include
gardening (hence our summerlong Garden Plot), cooking, crafting, and libraries/bookstores, not to mention dogs and cats.
In addition to our occasional themed displays, we can customize themed baskets for gift-giving (or for yourself). We also make country-themed baskets, including Murder Most Irish, Scottish Noir, and Italian Sites.
Travel This Summer But Skip the Hassle
You will never hear us suggest abandoning international travel. Politics, terrorists, and airport lines be damned.
But, sometimes, it just doesn't fit into your plans. . .
This summer (and fall)--anytime for that matter--we offer an alternative: international travel via books. You won't even need a passport.
For some of us, reading a book by Donna Leon
can be as good a lead-up to a trip to Venice as any guidebook. The arrondissements
of Paris can be confusing (just look at a Paris map) but
Cara Black's
Aimee Leduc thrillers will have you navigating the neighborhoods of the city like a Parisian.
Denise Mina
,
Caro Ramsay
, and
Val McDermid
will familiarize you with Glasgow, albeit nothing will help you with that accent! (Nae problem, hen.)
Our Latest Obsessions
Each year authors will so excite us by their latest that we find ourselves talking about them endlessly. A new (to us) author will come along that leaves us begging for more. One of us "re-discovers" a long established writer.
Paula:
Only a handful of authors have reached the real "obsession" category--consuming every title and begging for more.
Last winter, it was

Daniel Silva

with his Gabriel Allon series. I don't know why I'd put off reading him. After reading one book, I quickly devoured the next 14, and was ready for this year's release, The Black Widow.
This summer, my "obsession" is on the lighter
side-
-The Winemaker Detective series by Frenchmen

Jean-Pierre Alaux
and
NoŽl Balen
, in which a master winemaker and his sidekick solve mysteries with a large dose of Epicurean enjoyment of fine food and beverage. Not all the books have been translated into English--you can get started with Treachery in Bordeaux, Grand Cru Heist, and Nightmare in Burgundy--but they're enough to whet the reader's taste for more.
~~~~~~~~~~~~~~~~~~~~~~~~~~~~~~~~~~~~~
Ann:
It's always good to have a new book obsession. How many times can one person reread

Richard Stark's
Parker or
Cyril Hare's
books (my ying and yang)? Last year it was
Jussi Adler-Olsen.
(I was late but I got there.) Before that
Liz Marklund's
Annika Bengtzon mysteries and

Caro Ramsay's

Glasgow police series.
This year it's been
H
arry
Bingham's
Fiona Griffiths stories. Another in my long line of seriously flawed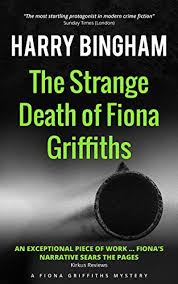 protagonists, she has to practice appearing normal (harder than one might think). She also proves that being smarter than everyone she works with in the police force is not always--or even often--a "good thing." As a special treat, the books are set in Wales and she's a nationalist. And as a special treat to me, no doubt, the fifth book came out in Britain in July, my birthday month.
Sale Books
Just because books make it to our outdoor sale shelves doesn't mean there is anything wrong with
them. It means, we've simply run out of space. By placing them on sale, everyone wins. You get an inexpensive book, we get valuable space, and the book finds a new home.
Indeed, not a week goes by that one or both of us doesn't pull a volume off a sale shelf and read it. (If Ann has told you that we've read every title in here, she lied.)
So, check out those shelves, and do it often. We replenish them every day.
A sampling of August releases. Find a complete list at
www.stopyourekillingme.com
. We're happy to accept special orders for new releases.
Donna Andrews

, Die Like an Eagle [Megs Langslow]
Rhys Bowen

, Crowned and Dangerous [Royal Spyness #10]
Ken Bruen

, The Emerald Lie [Jack Taylor #12]
James Lee Burke

, The Jealous Kind [Holland Family]
John Connolly

, A Time of Torment [Charlie Parker #14]
Colin Cotterill

, I Shot the Buddha [Siri Paiboun #11]
Monica Ferris

, Knit Your Own Murder [Needlecraft #19]
Karin Fossum
,
Hell Fire
[Konrad Seiger #12]
W.E.B. Griffin

and

William Butterworth IV

, Broken Trust [Badge of Honor #13]
Michael Jecks
, Rebellion's Message
[Jack Blackjack #1]
Michael Koryta
,
Rise the Dark
[Markus Novak #2]
Michael Pearce
,
The Women of the Souk
[Mamur Zapt #19]
Louise Penny
,
A Great Reckoning
[Inspector Gamache #12]
Mark Pryor
,
The Paris Librarian
[Hugh Marston #6]
Caro Ramsey

, Rat Run [Colin Anderson & Freddie Costello #7]
Peter Robinson

, When the Music's Over [Alan Banks #23]
Lisa Scottoline

, Damaged [Rosato & Associates #15]
Sally Spencer

, Death in Disguise [Monika Paniatowski # 11]
David Thurlo

, Rob Thy Neighbor [Charlie Henry #3]
Charles Todd

, The Shattered Tree [Bess Crawford #8]
P.J. Tracy

, The Sixth Idea [Monkeywrench #7]
Marco Vichi

, Death in the Tuscan Hills [Commissario Bordelli #5]
Stuart Woods
and
Parnell Hall
,
Smooth Operator
[Teddy Fay #1]
Customers Recommend
Customers often ask, "Who's your favorite author?" Where do we begin? There are so many "favorites;" how can anyone pick just one or two?
So, we turned around and put the same question to several of our customers:
Marilyn Brooks of Needham, Massachusetts, is a voracious mystery reader and comments on them on her blog (
www.marilynsmysteryreads.com
).
While she says she could list twice as many, Marilyn says her top five favorites are:
Helen Kitzman of Madison, Connecticut, whose tastes, she says, "run more to the classics," had no trouble coming up with five current favorites, although "on another day I would probably give you five others."
Bob Ryan of Worcester, Massachusetts, says his list of favorites has been influenced by Ann and the recommendations she's given him. "Our tastes are very similar."
Kurt Krueger
of Castle Rock, Colorado, has a penchant for mysteries set out west, and Paula credits him with introducing her to
C.J. Box
. Although, he says, his all-time favorite is the late
Robert B. Parker
, his top five picks for contemporary writers:
Susan Stewart of Kennebunk is a fan of the noir--"the darker the better," she says. Usually a big fan of the dark Scandinavians, she surprised us with her "for-the-moment" top five. "Not a Scandinavian among them, although they would feature prominently in my next five choices."
Denise Dorton
of Little Rock, Arkansas, says she doubts she'll "live long enough" to get to all the books she wants to read. (Unlike some of us, Denise holds down a full-time job.) She lists her favorites:
In fairness--we were, after all, putting these folks on the spot--we decided to offer up our own lists of current favorites, keeping in mind that we are both fans of the classics. (But that's for another issue.) Not surprising, we found ourselves qualifying our respective favorites with words like "at-the-moment," etc. (Note the lack of overlap.) Also, like the customers we surveyed, we could each have easily added another five.
Ann:
Paula:
If you'd like to share your own current favorites, drop us a line at
info@mainelymurders.com
(subject line: current favorites).