~~~~~~~~~~~~~~~~
MONTHLY QUIZ
Congratulations to
Chris Lucas
of Kennebunk who identified
Anne Perry
as the British writer who has truly mastered the holiday mystery, publishing a new Christmas tale each year since 2003. We had numerous correct answers to this December quiz so we resorted to the tried-and-true mode of selection: we pulled Chris' name out of the hat of correct respondents. A $25 Mainely Murders gift card awaits her when we re-open in the spring.
Happy February
Birthdays

British writer Colin Watson
was born February 1, 1920, in Croydon, Surrey. He is best known for his novels set in the
town of Flaxborough with Inspector Purbright and his assistant Sergeant Sidney Love. In 1971, his sociological history of British crime fiction, Snobbery with Violence, was published.
Janwillem van de Wetering,
best known for his Amsterdam police procedurals, was born February 12, 1931, in Rotterdam. Two of the books--The Maine Massacre and Just a Corpse at Twilight--were set in Maine, where he spent much of his life. He died in 2008 in Blue Hill.
Georges Simenon, creator of
one of the all-time best fictional detectives, Inspector Jules Maigret, was born February 13, 1903, in Liege, Belgium. Named a Mystery Writers of America Grand Master in 1966, he died in 1989
Ruth Rendell was born February 17, 1930, in London. Designated a Grand Master by the Mystery Writers of America in 1997, she also writes under the name Barbara Vine.
~~~~~~~~~~~~~~~~~~~~~
Signed Editions
We are first and foremost a mystery bookstore for readers--not collectors.
But, we do have a limited inventory of hardback, first-edition titles signed by their authors.
Whether it's a favorite author of your own or you just want to delight a friend or relative with a signed edition from his or her favorite, signed books make a great addition to a reader's collection.
A complete list is available at info@mainelymurders.com (subject line: signed books).
~~~~~~~~~~~~~~~~~~~~~
Thank you!
Thank you for supporting Mainely Murders Bookstore and other small independent booksellers. At a time when you have other choices, you've shown a commitment to those of us who are part of the local community and who consider customers to be friends and neighbors.
We take great pride in talking with our clientele, whether it's trading viewpoints on favorites or recommending new titles and authors.
~~~~~~~~~~~~~~~
Show Your
Mysterious Side
What better way to carry your books (or anything else) and at the same time demonstrate your love of mysteries than with our signature black bag.
Made of durable fabric with reinforced 20-inch handles, the bag sports our recognizable logo. ($7)
Gift Cards
Our gift cards are available in any amount. The perfect gift for any event--birthdays, anniversaries, or "just because."
We're happy to take mail/phone orders and will send to you or directly to the recipient.
~~~~~~~~~~~~~~~~~~~~~~~
Bonjour,
Yes, we're back in Paris.
After a wonderful holiday season--and a
Off to Paris shortly after we locked the shop door.
couple of weeks cleaning up, crunching numbers (see below), and making preliminary plans for our spring re-opening--2014 is, definitely, in the books.
Arrived here in Paris--for those interested in knowing our exact whereabouts, we're in the 7th arrondesmont on the left bank of the Seine--and have quickly settled into our routine of morning cafe au lait and croissants, followed by bus trips to bookstores, museums, cafes, and street markets.
Portland to Paris reading material

!
Like all Parisians, even temporary ones, we have regular stops in the immediate neighborhood for the boulangerie, patisserie, boucherie, fromagerie, and even supermarché. (We stay near the Rue Cler shopping street, so we have choices.) But we still take the time to make brief forays outside the city.
While re-acclimating ourselves to being back in one of the world's most beautiful cities, we read our way through Parisian mysteries--starting with some of our old favorites. For Ann, that means
Georges Simenon
,
Sabastien Japrisot
, and
Jean-Francois Parot
. For Paula, it's
Claude Izner
and
Cara Black
and, more recently,
Mark Pryor's
series featuring U.S. Embassy security chief Hugo Marston.

In the meantime, wishing you a winter of happiness and good reading.
Paula & Ann
Partners in Crime
2014 By The Numbers
We're often asked to name our "bestsellers." Not an easy answer for us because of the nature of our shop (predominantly used books) and our chosen specialties (foreign, American/British classics, and Maine and New England).
Our "bestsellers" will rarely mirror any popular Top 10 list--nor will they reflect individual titles. That being said, the nearly 5,800 books you purchased in 2014 topped our previous year's total of 5,000, giving us our best year ever.
Our rather imperfect inventory system and the
additional imperfections of those who operate it mean we cannot be absolutely sure of the number of books attributable to each author. Still, it is clear Agatha Christie was our leading author, Louise Penny second, and James Patterson third.
For those who love Italy, Donna Leon (and Guido Brunetti), Andrea Camilleri (and Salvo Montalbano), and Magdalen Nabb (and Salvatore Guarnaccia) are far and away the most popular, giving people a close look at crime in Venice, Sicily, and Florence, respectively. Oddly Rome is not an especially popular location for long mystery series although the many books involving the Vatican obviously use Rome as a setting.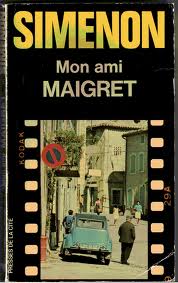 Martin Walker (and Bruno, Chief of Police), Georges Simenon (and Inspector Maigret), Claude Izner (and Victor Legris), and Cara Black (and Aimée Leduc) are the most popular French books. Izner's books are unusual leaders in that they are historical novels.
Norway's Anne Holt (Hanne Wilhelmsen/Johanna Vik) and Jo Nesbo (Harry Hole), Iceland's Arnaldur Indridason (Erlendur Sveinsson), and Sweden's Liza Marklund (Annika Bengtzon) and Henning Mankell (Kurt Wallander) are the leading Scandinavian authors, with Anne Holt probably the biggest seller.
The most popular British classic authors (after Agatha Christie) are Catherine Aird (alive but writing in the classic style), Margery Allingham, Eric Ambler (the only spy novelist in the whole list), Patricia Moyes, Dorothy Sayers, and Josephine Tey. So the classic "big three" in British crime--Christie, Sayers, and Tey--remain strong sellers.
The most popular contemporary British authors were Ken Bruen and Tana French for Ireland; Elly Griffiths, P.D.James, Reginald Hill, Peter Lovesey, Anne Perry, and Ruth Rendell for England; and Val McDermid, Denise Mina, Ian Rankin, and Caro Ramsay for Scotland.
For New England, Maine authors are tops, with Paul Doiron in first place (indeed, one of our top ten overall sellers), followed by Gerry Boyle, John Connolly, Tess Gerritsen, Sarah Graves, B.B. Haywood, and Lea Waite in no particular order. For the rest of New England the big sellers are Philip Craig, Jane Langton, Archer Mayor, and Robert B. Parker, especially his Spenser books.
The most popular American author is Louise Penny
(yes, we know she's Canadian) who was also the leading author in terms of tradepaper/hardcover sales. The rest of the leading American authors were also fiction chart toppers:
David Baldacc
i,
Lee Child
,
Harlan Coben
,
Michael Connelly
,
Patricia Cornwell
,
Vince Flynn
,
Martha Grimes
,
James Patterson
,
John Sanford
,
Daniel Silva
, and
Rex
Stout
.
We thank you for your purchases and for the many donations you made throughout the year. We appreciate your support.
New Releases
January
Alan Bradley, As Chimney Sweepers Come to Dust [Flavia de Luce #7]
Tess Gerritsen, Die Again [Rizolli & Isles #11]
Sarah Graves, Winter at the Door [Lizzie Stone #1]
Sophie Hannah, The Carrier [Zailer & Waterhouse #8]
Susan Hill, The Soul of Discretion [Simon Serrailler #8]
Miranda James, Arsenic and Old Books [Cat in the Stacks #6]
Marcia Muller & Bill Pronzini, The Body Snatchers Affair [Carpenter & Quincannon #3]
Charles Todd, A Fine Summer's Day [Ian Rutledge #17]
Lea Wait, Twisted Threads [Mainely Needlepoint #1]
Stuart Woods, Insatiable Appetites [Stone Barrington #32]
February
Jussi Adler-Olsen, The Alphabet House [NS]
M.C. Beaton, Death of a Liar [Hamish Macbeth #31]
Lisa Gardner, Crash & Burn [NS]
B.B. Haywood, Town in a Sweet Pickle [Candy Holliday #6]
Lotte & Søren Hammer, A Price for Everything [Konrad Simonsen #2]
Jonathan Kellerman, Motive [Alex Delaware #30]
Laurie R. King, Dreaming Spies [Mary Russell #14]
Laura Lippman, Hush, Hush [Tess Monaghan #12]
Peter May, The Chessmen [Lewis Trilogy #3]
[Thóra Gudmundsdottir #5]
Our Traveling Book Bag
We've been told we're outstanding in the field. Lynn Sterchi of Glide, Oregon, thought so when she visited last summer. She even sent along these photos to prove it. Thanks Lynn.
Erica, a Llama
A Watusi Steer, unnamed
(May we suggest Hercule Poirot, Nero Wolfe, or Lord Peter Wimsey?)
Mainely Murders is an independent specialty mystery bookstore devoted exclusively to suspense, crime, and detective fiction. Our stock of used recent and hard-to-find hardcover, trade paper, and mass market volumes ranges from classics and cozies to tough guys and thrillers.