Happy January
Birthdays
Each month we note birthdays of some of the masters of the mystery genre, with hopes that readers might read (or re-read) one of their many gems.
Wilkie Collins, author of The
Woman in White
(1860) and The Moonstone (1868) among others, was born in London on January 8, 1824. He died in 1889, having written some of the earliest "mystery" novels.
Manfred B. Lee
, born in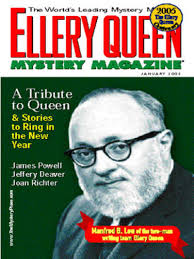 Brooklyn on January 11, 1905, was one of the two cousins who were
Ellery Queen
for 42 years, until
Lee's
death in 1971. Through their anthologies and
Ellery Queen's Mystery Magazine,
they were the major influence on mystery short stories in America. Their novels and short stories about
Ellery Queen
provided reading and viewing pleasure to generations.
The novelist

Walter Mosley

, born in Los Angeles on January 12, 1952, gained success and fame following the exploits of Easy Rawlins, a hard-nosed African-American PI in LA and World War II veteran, through the changing racial landscape in Los Angeles to the Patty Hearst era.
Amanda Cross

, a noted
feminist academic (Carolyn Heilbrun), is the queen of American academic mystery writers. Born on January 13, 1926, in East Orange, NJ, she was the first woman to get tenure in the Columbia University English Department. Her mysteries reflect her feminist beliefs and are often extremely critical of universities' treatment of women. She died in 2003.
Edgar Allan Poe, the father of detective fiction, was born on January 19, 1809, in Boston. A notorious gambler, drunkard, and drug addict, he was a leading literary figure in 19th-century America. His The Murders in the Rue Morgue (1841) is recognized as the first detective story. Since 1946 the Edgars, awarded each year by the Mystery Writers of America, honor the best in the genre and his memory.
Patricia Highsmith

, bes
t
known for her dar
k psychological mysteries, was born in Texas on January 19, 1921. The author, who spent most of her life living abroad, was best known for her
Strangers on the Train
(1950) and later her series featuring Tom Ripley. Her life was not made happy by her fame. She died in 1995.
____________________
Thank you!
Thank you for supporting Mainely Murders Bookstore
and other small independent booksellers. At a time when you have other choices
,
you've shown a commitment
to those of us who are part of the local community and who consider customers to be friends and neighbors.
We take great pride in talking with our clientele, whether it's trading viewpoints on favorites or recommending new titles
and

authors.
Show Your
Mysterious Side
What better way to carry your books (or anything else) and at the same time demonstrate your love of mysteries than with our signature black bag.
Made of durable fabric with reinforced 20-inch handles, the bag sports our recognizable logo. ($7)
Gift Cards
Our gift cards are available in any amount. The perfect gift for the holidays, birthdays, anniversaries, or "just because."
We're happy to take mail/phone orders and will send to you or directly to the recipient.
~~~~~~~~~~~~~~~~~~~~~~~
Happy New Year!
It's hard to believe it's the beginning of a new year. Even more difficult to fathom is that Mainely Murders has just wrapped up its fifth season. Sometimes, it seems like only yesterday that we put up the sign, unlocked the door, and asked ourselves, "Is this really a good idea?"
Well, the answer was an overwhelming "Yes!" And, 2015 was another resounding success for us--seeing more customers, more sales, and having more mystery discussions with more knowledgeable readers than ever.
Thanks to everyone--those who have been with us from the beginning and those we've just met.
Can 2016 get any better? We'll do our best, starting off in a couple weeks when we leave for our annual Paris sojourn. Along with our two months in the City of Light, we hope to spend a week or so in Rome. Ann is busily checking out train schedules, museum hours, and hotel prices. Paula is doing her part, reading mysteries set in the Eternal City.
But, first, we'll tackle the "business" of running a bookstore: figuring out our bestselling titles, authors, and sub-genres (classics, international, Maine/New England, and the rest). We'll report on that next month.
Speaking of next month, we'll write from Paris. For those who don't know--and a reminder to those who always ask--you will, indeed, be receiving newsletters while we're away. Ann says it's the advantages of technology and having a sharp webmaster. Paula says it's magic.
Partners in Crime
Did Someone Say 'Resolutions'?
One of the most often-asked questions we hear is "Have you read every book in here?" Our standard answer is, of course, "No." We do, however, point out that between the two of us, we've probably read most of the authors on our shelves.
As many of you have come to know, our reading styles and book selections are, with a few exceptions, quite different--something we feel is an asset to our store and to our customers.
That being said, we've each created a list of a few never-read--much to the dismay of the other--authors, which we will read over the course of the next few months.
Some of the names on our lists might correspond to one you might make for yourself. Others may surprise you.
Paula says she's sure that every author on her list is "someone's favorite," and they will wonder how that writer escaped her attention. But at the risk of embarrassing herself, she offers up the following:
Ann says "no guilt." She's been meaning to get to them, but never quite makes it for one (often poor) reason or another. Also, when she finds a new series she likes, like

Preston
and
Child's
Pendergast books this summer, she has a fit of reading them. So she going to read:
It would be too easy for us to offer excuses for our reading gaps--chiefly, as the popular tee shirt says, "So Many Books, So Little Time." But, in truth, at our ages, time is running out . . .
On the Small (or Not-So-Small) Screen
It's true, we devote a great deal of time to reading. But, we also spend evenings--more this time of the year--in front of the TV screen. Disclaimed here: all of our screen time comes via Netflix, Hulu, and Acorn TV (British TV shows). We have no cable.
We lean toward foreign mysteries, while admitting some are extremely strange. Spiral is a dark look into the French judicial system, for instance. Easy Living, about an apparently normal Finnish family, calls into question both Finns and families.
Like everyone else, we've enjoyed the standard
PBS/BBC fare of programs like Midsomer Murders and Endeavour. Most are pretty tame for Ann, who preferred the darkness of Broadchurch and Hinterland. But, we both enjoyed Vera (Northumberland) and Field of Blood (Scotland), which are midway. Kind of.
So our personal film tastes do pretty much mirror that of the books we most enjoy. Paula's all-time favorite is indeed the Australian Broadcasting Company's Miss Fisher's Murder Mysteries
, the three-season adaptation of
Kerry Greenwood's
Phyrne Fisher books. Ann thinks maybe
Val McDermid's
Wire in the Blood
is preferable--if you don't want to sleep.
What Have You Been Watching?
Some of the best viewing suggestions have come from our customers, who often start the conversation with, "Have you seen...?"
With winter here, we want to know--and will be happy to share with readers--what you've been watching. Or, perhaps, what you're looking forward to watching?
Coming Soon
Stephanie Barron
,
Jane and the Waterloo Map
[Jane Austen #13]
Benjamin Black
,
Even the Dead
[Quirke #7]
Carol Higgins Clark
,
Knocked
[Regan Reilly #16]
Ann Cleeves
,
The Moth Catcher
[Vera Stanhope #7 1st US]
Paul Doherty
,
The Herald of Hell
[Brother Athelstan #15]
Tim Dorsey
,
Coconut Cowboy
[Serge Storms #19]
Sarah Graves
,
The Girls She Left Behind
[Lizzie Snow #2]
Parnell Hall
,
Presumed Puzzled
[Puzzle Lady #17]
Mick Herron
,
Real Tigers
[Slough House #3]
Tami Hoag
,
The Bitter Season
[Sam Kovac and Nikki Liska #5]
Marcia Muller
&
Bill Pronzini
,
The Plague of Thieves Affair
[Sabina Carpenter & John Quincannon #4]
Thomas Perry
,
Forty Thieves
[NS]
Ian Rankin
,
Even Dogs in the Wild
[John Rebus #20]
David Rosenfelt

,
Blackout [NS]
Stuart Woods
,
Scandalous Behavior
[Stone Barrington #36]
Customers Recommend
As readers of our newsletter know,
Marilyn Brooks
of Needham, Massachusetts, is one of our very favorite mystery bloggers. While we're in Europe this winter, we'll definitely be following her reviews (
www.marilynsmysteryreads.com
); we hope you will, too.
In the meantime, we've asked Marilyn for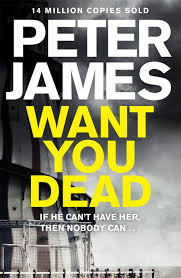 permission to share some recent reviews, including this look at
Peter James
, author of the Sussex Inspector Roy Grace series. We wonder why he isn't more widely read in the U.S. After reading Marilyn's review of
Want You Dead
, you might want to give this British author a try.
Detective Inspector Grace is getting married in ten days. He's hoping that his caseload will remain quiet until then and for a few days afterwards, when he and Cleo are scheduled to head to Venice for their honeymoon. Everything looks good until he gets a phone call telling him that a burned corpse has been found on the grounds of the Haywards Heath Golf Club.
The body is that of Karl Murphy, a local physician. At first it looks like an open-and-shut case of suicide, Karl having left a clear, concise note on the seat of his nearby car. The note says that his life has lost its meaning since the death of his wife two years earlier and that he hopes his two young sons will someday be able to understand his action. Roy Grace is finding it difficult to believe that a doctor would kill himself in this horrific way, with pills so easily available to him, but there doesn't seem to be any other explanation.
At the same time that Karl's body is being examined by the police, Red Cameron is in her apartment, waiting for him to appear for their dinner date. At first she's annoyed by his lateness, then she begins to worry-in the several months they've been dating, Karl has never disappointed her. Phone calls and texts to him go unanswered; when she finally goes to bed, annoyance has reasserted itself, and she's beginning to have second thoughts about their future together.
Before meeting Karl, Red was in a relationship with Bryce Laurent. At first, Bryce had been wonderful to her. Kind, warm, very generous with gifts, he made her feel really special. But after a few months, a darker side to his personality came through.
As her parents and friends had told her shortly after the two met, he was controlling and violent, traits Red refused to acknowledge at the time. By the time Bryce turned to physical and sexual violence in order, as he told her, to prove his love and convince her that they truly belonged together, Red finally admitted to herself that he was a dangerous man.
Despite a restraining order that she got against Bryce, Red is always looking over her shoulder. And with good reason, because the reader finds out almost at once that the murder of Karl Murphy is only the first step in Bryce's plan to heap revenge on the woman who left him.
Want You Dead is a thriller up to and including the last page. Told from several vantage points, it allows us into the minds of the police detective, the psychopathic killer, and the fearful yet resourceful woman who is determined to correct the mistakes she's made and now live life on her own terms.