Mystery Quiz
Name three British authors
whose last names start with E, W,
and B who write/wrote humorous mysteries.
will be randomly drawn from
correct entries.
Congratulations to
Shirley Wagner
from Fitchburg, Massachusetts, w
ho named
Kate Kingsbury
and
Joanne Fluke
as two of the
several modern-day writers
whom we have come to count
on to release annual holiday whodunits. Her name was
drawn from a number of correct entries to win a $25 Mainely
Murders gift card.
Happy January
Birthdays
Each month we note birthdays
of some of the masters of the
mystery genre, with hopes that
readers might read
(or re-read
) one of their many gems.


Wilkie Collins
, author of The
Woman in White (1860) and The Moonstone (1868)
among others, was born in London on January 8, 1824. He died in 1889, having written some of the earliest "mystery" novels.
Manfred B. Lee
, born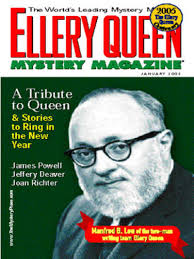 in
Brooklyn on January 11, 1905, was one of the two cousins who were
Ellery Queen
for 42 years, until
Lee's
death in 1971. Through their anthologies and Ellery Queen's Mystery Magazine,
they were the major influence on mystery short stories in America. Their novels and short stories about
Ellery Queen
provided reading and viewing pleasure to generations.

The novelist
Walter Mosley
, born in Los Angeles on
January 12, 1952, gained success and fame following the exploits of Easy Rawlins, a hard-nosed African-American PI in LA and World War II veteran, through the changing racial landscape in Los Angeles to the Patty Hearst era.
Amanda Cross
, a
noted
feminist academic (

Carolyn Heilbrun

), is the queen of American academic mystery writers. Born on January 13, 1926, in East Orange, NJ, she was the first woman to get tenure in the Columbia University English Department. Her mysteries reflect her feminist beliefs and are often extremely critical of universities' treatment of women. She died in 2003.
Edgar Allan Poe
, the father of detective fiction, was born on January 19, 1809, in Boston. A notorious gambler, drunkard, and drug addict, he was a leading literary figure in 19th-century America. His
The Murders in the Rue Morgue (1841) is recognized as the first detective story. Since 1946 the Edgars, awarded each year by the Mystery Writers of America, honor the best in the genre and his memory.
Patricia Highsmith
, bes
t

known for her dark psychological mysteries, was born in Texas on January 19, 1921. The author, who spent most of her life living abroad, was best known for her Strangers on the Train (1950) and later her series featuring Tom Ripley. Her life was not made happy by her fame. She died in 1995.
____________________
Thank you!
Mainely Murders Bookstore
and other small independent booksellers. At a time when
you've shown a commitment
to those of us who are part
of the local community and
who consider customers to
be friends and neighbors.
We take great pride in talking
with our clientele, whether
it's trading viewpoints on
favorites or recommending
Eight Reasons
To Shop Local
* Spend $100 locally and $68 of that stays in your community. Spend the same $100 at a national chain; only $43 stays in your community.
* Local businesses create higher-paying jobs for our neighbors.
* More of your taxes are reinvested in your community.
* Buying local means less packaging, less transportation, and a smaller carbon footprint.
* Shopping in a local business district means less infrastructure, less maintenance, and more money to beautify your community.
* Local retailers are your friends and neighbors--support them and they'll support you.
* Local businesses donate to charities at more than twice the rate of national chains.
* More independents means more choice, more diversity, and a more unique community.
The door was, quite literally, closed on another year yesterday--always with a bittersweet feeling.
But before we pack our bags for our annual trip to Paris--no, it is not tax deductible!--we still have a few things to do. Put away the holiday things. It's never a good feeling in the spring when we return to forlorn holiday displays. Total up the numbers; did we really sell that many

Amanda Cross

,

Cyril Hare

,

Margery Allingham

, and

Ruth Dudley Edwards

books? Analyze what we did right and wrong, hoping we have more pluses than minuses.
In January we'll put together our list of 2016 Bestsellers--always an eye opener. We'll start thinking what books we'll finally get to read--and comment on.
While we won't return Stateside until the latter part of March--when we have a full schedule of book-buying trips arranged--you will, as always, still hear from us. And, feel free to write to us at info@mainelymurders.com.
While the "official" numbers are yet to be tallied, we do want to thank you for your support, which continues to mount every year.
All the best in the coming year.
Paula and Ann
P.S. You'll need to wait for our February newsletter to learn our year's biggest sellers.
It's the early days of what can be a very long winter. So customers dropped by frequently in the final days before we closed to stock up on wintertime reading material.
Linda Healey of Kennebunk said a filled-to-the-brim book bag, basket of international titles, stack of new releases, and a
spur-of-the-moment grab bag will feed her mystery habit for at least part of the winter.

Getting British-published books is easiest if we go to the source via The Royal Mail. Our postal carrier tells us we have the most interesting deliveries on her route.
Resolutions?
At our ages, we should know better. (Well, we do
actually. Very little self-improvement is promised.) But when the last day of the year rolls around, can anyone really resist making at least a few resolutions? Ours include a list of authors we want to read early in the new year.
Paula:
Last year, I focused on writers I'd never read before. This year, my plan is to read a few (not "too many," I have my own priorities!) of Ann's favorite authors--those that she describes, ad nauseum, to customers. Being the "nice one" here at Mainely Murders, I doubt she'll want to consider any of my faves, but. . .
1. Caro Ramsay
2. Harry Bingham
3. Douglas Preston and Lincoln Child
4. Cyril Hare
5. Colin Watson
Ann:
Sounds like a challenge to me. (Not that I'm competitive.) Still, I do draw the line at "too cozy." (Though, in fact, I have read more cozies than Paula has noir. Indeed, I have read more of Paula's books than she has of mine.) But, I'll give the following a shot:
4.
Jean-Pierre Alaux
/
Noel Balen
5.
Kathy Lynn Emerson
/
Kaitlyn Dunnett
When we announced last year that we'd accept the euro and the British pound (at prevailing exchange rates), we didn't really know what to expect.
With so many of our customers international
travelers, we saw it as a convenience for those from Great Britain and Europe, or, more likely, Americans returning from abroad with a pocket or wallet filled with "odd" currency. We've always accepted Canadian currency.
Here's just a sampling of books set for January release. For a complete list, as well as those for the months ahead, visit
www.stopyourekillingme.com
.
Rennie Airth

, The Death of Kings [John Madden #5]
Alex Berenson

, The Prisoner [John Wells #11]
Mary Higgins Clark

, Knocked [Regan Reilly #16]
Tim Dorsey

, Clownfish Blues [Serge Storms #20]
Lisa Gardner

, Right Behind You [Pierce Quincy & Rainid Conner #7]
Parnell Hall

, Puzzle To Be Named Later [Puzzle Lady #18]
Ellen Hart

, Fever in the Dark [Jane Lawless #24]
Keigo Higashino

, The Name of the Game Is Kidnapping [NS]
John Lescroart

, Fatal [NS]
Marcia Muller
and
Bill Pronzini
, The Dangerous Ladies Affair [Carpenter & Quincannon #5]
James Patterson
and
Candace Fox
, Never Never [Harriet Blue #1]
Thomas Perry

, The Old Man [NS]
Ian Rankin

, Rather Be the Devil [John Rebus #22]
Olen Steinhauer

, The Middleman [NS]
Our Traveling Book Bag
Our Mainely Murders book bag travels more than we do. We were happy to see that, this year, it made it to Key West, Florida, a place we've yet to visit. (It's on our "someday" list, though.) Pete and Kathy Sellon of Hudson, Massachusetts, sent us this "postcard" from their visit.
We're convinced that our favorite mystery blogger,
Marilyn Brooks
of Needham, Massachusetts, reads our minds. No sooner than we start thinking about an author, title, or other mystery-related topic, it shows up on her blog (
www.marilynsmysteryreads.com
).
It happened again. And, Marilyn, being the generous person she is, has allowed us to share a December posting.
In this holy (holiday) season, my thoughts not surprisingly turn to clerical detectives. I've always enjoyed reading about different religions, and a great way for fans of the mystery novel to do this is via detective stories featuring clergy who have a propensity for solving crimes. And what better time of year to do this than during the cold, snowy days of winter, when reading is a perfect way to spend an afternoon or evening.
One of the first clerical detectives I read about was Reverend C. P. Randollph, featured in several novels by

Charles Merrill Smith

. It's been years since I've read the Reverend Randollph mysteries, a series that ended with the death of its author in 1986, but I remember being struck by the kindness and compassion of this protagonist, who seemed to embody the best of his Methodist faith and that of the author, himself a clergyman.
Another fictional Protestant minister, this one contemporary, is the Reverend Claire Fergusson.
Maine author

Julia Spencer-Fleming's

heroine lives in upstate New York, in a small town ominously named Millers Kill (although in Dutch the word kill, less threateningly, means creek). I suggest starting this outstanding series from the beginning so you can follow Claire's path as she takes her place as the first female minister in the town's Episcopal church. The titles of the series' first two books,
In the Bleak Midwinter
and
A Fountain Filled with Blood,
will give readers a hint that hers is not an easy road.
Moving to Catholicism, an old favorite of mine is Brother Cadfael in 12th-century England. Written by

Ellis

Peters

these novels bring to life the Middle Ages, its wars, culture, and Christian faith. Brother Cadfael, a soldier before he became a monk, is a delightful character with a scientific mind, years ahead of his time, with a great deal of worldly wisdom that helps him find those who are guilty.
The most famous Jewish detective who is a member of the clergy is probably Rabbi David Small, leader of the Conservative synagogue in Barnard's Crossing, Massachusetts. The 11 mysteries featuring Rabbi Small were written by

Harry Kemelman

, a former Boston schoolteacher.
Although he's a husband and father to two children, we mainly see him as the religious leader of his congregation. The word "rabbi" in Hebrew means teacher, and Rabbi Small strives to teach his congregants via the Torah, the first five books of the Jewish bible, also known as The Old Testament. There are always a variety of opinions in his synagogue, and various members try in different books in the series to oust the rabbi from his pulpit, but in the end he remains to lead his flock to greater knowledge of their religion and, in his spare time, to solve a crime or two.
A great resource I recommend for readers interested in religious sleuths is
Clerical Detectives
.
Philip Grosset

has compiled a list of over 300 clergy-related protagonists, including widows of religious men and laypeople who are particularly pious; some of these books are contemporary, many more are not. In addition to lists featuring the four clergy I've mentioned above, there are dozens of other categories, including ministers (to use a generic word) in the Buddhist, Hindu, Amish, Mithraism, Voodoo, and Druidism practices. If, like me, you're not totally familiar with the beliefs of the last three subsets, that's a good reason to check out this excellent website.
Clara Whetstone of Kennebunk--yes, Ann's mother--received a selection of favorites this Christmas and says she'll spend the winter with those.
The books included
M.C. Beaton
,
Ruth Rendell
, and
P.D. James
. "I'm sure I've read some of them before. But at my age (95), who remembers?"
She also received some missing episodes of her favorite mystery series--like Midsomer Murders and Hercule Poirot. Like the authors above, she happily recommends these videos.
Helen Kitzmann
, on her way to New Orleans via Miami even as this appears, returns to recommend
Don Winslow
, now known for his California setting, but once focused on his native New York.
In the '90s, I read some of

Don Winslow's

Neal Carey series (the first and longest of his four series). Popular in their day, these early books are not easy to find at reasonable prices 20 years later. Fortunately, when I wanted to revisit these books, their garish covers and strange titles led me to copies on the Mainely Murders bookshelves. (I should have known that alone would appeal to Ann.)
A child thief struggling to feed his hopelessly addicted mother (not all that hard in NYC), Neal Carey unfortunately picks the pocket of "Dad" Graham, an "evil leprechaun." Taught by Dad through endless repetition the skills of all good private investigators in New York City, Neal is drawn into the murky world of an industrial family with the financial resources to carry out a personal agenda conducted by Ed Levin, Carey's boss and nemesis.
In exchange for his skills retrieving wealthy young heirs, sullen teenagers, and other lost souls, Neal is allowed to complete his graduate school education at Columbia, now paid for by the Friends of the Family organization. Neal, devoted to late 18th-century British novels, particularly those by

Tobias Smollett

, struggles to follow his education dream because "one more job" keeps calling him away from his classes to lands far away from the city he loves.
With vividly portrayed locales, fiendish characters, and the constant patter of droll dialogue,

Winslow

moves his plots quickly to conclusion. The first in the series,
A Cool Breeze on the Underground,
mixes American politics and London punk rock. In
Way Down on the High Lonely,
Neal struggles to fit in with the cowboys out on the empty desolate highlands of Nevada. Neal's smart mouth and quick fists save him as he moves through each adventure. Education will have to wait.