~~~~~~~~~~~~~~~~
MONTHLY QUIZ
We stumped readers last month with our quiz; so we're offering it up again. Name three mystery bookstores that figure prominently in contemporary detective fiction and the creator (author) of each.
E-mail your answer to info@mainelymurders.com (subject line: monthly quiz). The winner, randomly drawn from correct respondents, will receive a $25 Mainely Murders gift card.
Happy July
Birthdays
Each month we note birthdays of some of the masters of the mystery genre, with hopes that readers might read (or re-read) one of their many gems. In July, we celebrate a number of noted writers.

James M. Cain, born July 1,
1892, is often compared to Hammett and Chandler. His
most famous books: The Postman Always Rings Twice, Double Indemnity, and Mildred Pierce. All were turned into movies that may be more well known than the books. Cain, who died in 1977, was named a Grand Master by the Mystery Writers of America in 1970.
Dorothy L. Sayers, born July
13, 1893, in Oxford, England, was the creator of Lord Peter Wimsey (and later, Harriet Vane). Considered one of the three greatest British classic writers--along with Agatha Christie and Josephine Tey--Sayers herself valued more her translations and Christian essays. She died in 1957, 18 years after her last Wimsey novel.
Grand Master Erle Stanley Gardner, the creator of Perry Mason, was born July 17, 1889, in Malden, Massachusetts. Some of his 82 Mason titles (The Case of the ...) were among the century's best-selling books. He died in 1970.
John D. MacDonald was born July 24, 1916, and is best remembered for his detective/thief Travis McGee. A Mystery Writers of America Grand Master, he died in 1986.
Raymond Chandler, one of the
founders of the hard-boiled detective school, was also a noted screenwriter and was nominated for an Oscar for both Double Indemnity and The Blue Dahlia. He died in 1959.
~~~~~~~~~~~~~~~~~~~~~
Large Print
We occasionally receive large-print mysteries. While they are rarely the most recent releases, they run the gamut from contemporary to classics, from cozies to thrillers. Space constraints prevent us from putting many on our shelves, so please ask if you're interested.
Signed Editions
We are first and foremost a mystery bookstore for readers--not collectors. But, we do have a limited inventory of books signed by their authors. Go to www.mainelymurders.com
for a recently updated list.
All signed books, unless otherwise noted, are hardback, first edition titles in very good to fine condition. Prices do NOT include cost of shipping, which is via U.S.P.S.
~~~~~~~~~~~~~~~~~~~~~
PDA Discounts
Members of Portland Dine Around, Maine's premier dining/entertainment rewards program, enjoy a savings every time they shop at Mainely Murders.
Show your 2015 membership card and you're entitled to a special offer: buy two books and receive 50 percent off a third book of equal or lesser value.
Portland Dine Around--with over 300 affiliate partners from Rockport to Bethel, Portland, Kennebunk, and south--is valid through December.
_____________________
Parking
With success, our bookshelf space grows tighter. So, too, does parking for customers.
You're welcome to park in the driveway. Street parking is available, as is space in the lot across Bourne Street.
While our next door neighbor, the Kennebunk, Kennebunkport, and Wells Water District, has been great about our customers parking in its lot, we know that spaces there are at a premium during the week. Feel free to park there on Saturdays.
____________________
Thank you!
Thank you for supporting Mainely Murders Bookstore and other small independent booksellers. At a time when you have other choices, you've shown a commitment to those of us who are part of the local community and who consider customers to be friends and neighbors.
We take great pride in talking with our clientele, whether it's trading viewpoints on favorites or recommending new titles and authors.
~~~~~~~~~~~~~~~
Show Your
Mysterious Side
What better way to carry your books (or anything else) and at the same time demonstrate your love of mysteries than with our signature black bag.
Made of durable fabric with reinforced 20-inch handles, the bag sports our recognizable logo. ($7)
Gift Cards
Our gift cards are available in any amount. The perfect gift for birthdays, anniversaries, or "just because."
We're happy to take mail/phone orders and will send to you or directly to the recipient.
~~~~~~~~~~~~~~~~~~~~~~~
Greetings:
We were recently reminded that summer days are
Helen Kitzman (left) of Madison, Connecticut, and Susan Stewart of Kennebunk recently met to discuss their favorite authors. Both frequently share their recommendations with our readers.
already beginning to get shorter, but why would we want to know that. This is the time of the year when we want each day to last as long as possible.
Books--new releases, former bestsellers, old classics--are going out the door just about as fast as we can bring them in. Customers have pre-ordered a number of summer releases by their favorite authors. (Yes, we want to be your resource for new books, too!) And, how we enjoy it when customers tell us we have exactly the book (books) they've been searching for--occasionally for years.
Our Garden Plot
Think of the places to
hide the body. Under
the crab apple tree? Beneath the
rose bush?
Our first event of the year--our Summer's Eve open house--went off as planned on June 20. Who knew how many people could manage to look at books and talk mysteries, all while enjoying finger food and balancing cups of coffee or glasses of wine?
As previously mentioned, we're highlighting Maine crime writers this summer. Now through September 15, purchase any book (new or used, hardback or paper) by a Maine crime writer and you'll be entered into our Maine mystery writers contest. No restrictions on how often you can enter; one entry for each book purchased. The winner will be announced October 1.
Hope to see you soon.
Paula & Ann
Partners in Crime
Summertime Sunshine Sales

Visit us on sunny (or at least dry) days, and you'll find our constantly replenished sale table and shelves outside.
Perfect for summertime beach reads or winter solace, check out the $3-book bargains.
What We're Reading
Becker, Christopher, Coughlin, Khoury (Ann)
One of the few areas that my history training still impacts me is my predilection for action-adventure series with an historical component (even if frequently imagined). Of course, I don't limit myself, hence the Jack Coughlin Sniper series, but given a choice . . . But in any case in all the series there are good people (often few) and bad people (very bad). These are not generally books that feature shades of grey.
James Becker (one of the pseudonyms of Peter
Stuart Smith) is best known for his historical conspiracy series, featuring Chris Bronson and various old secrets that threaten the world order. Not especially realistic, but lots of fun. I am looking forward to reading The Lost Treasure of the Templars (July), which is a non-series book starring a bookseller (female) who discovers a coded document inside an old book and an encryption expert (male) who are pursued by very bad people (mostly men, I'm sure) as they follow the clues in the document.
The Templar series of

Paul Christopher

(

Christopher Hyde

)

is conspiracy gone mad. It starts with

The Sword of the Templars

(though it turns out there are four). West Point professor and former Ranger Lt. Col. John Holliday inherits a medieval sword that someone else wants--badly. Trying to figure out why leads Holliday into ever-increasing danger.
By this year's Secret of the Templars (No. 9), Holliday is trying to recover an ancient document that threatens the basis of Christianity. (On the whole Holliday is not a friend of organized religion, perhaps because members of the church are so often trying to kill him.) These are not deep books but they speed along. And the details of the various cities Holliday visits recall the cities we've visited. That's fun, too.
Sniper stories appeal to me generally, especially those by Stephen Hunter, so I've become a fan of Jack Coughlin's nine Sniper series books starring Kyle Swanson, though these are less gripping than Hunter's books. Sometimes Swanson's targets are in war zones, but can be terrorists or terrorist associates who are part of the general population. In each book events become complicated quickly. (The mission is compromised and only Swanson survives in very hostile surroundings. Not good.)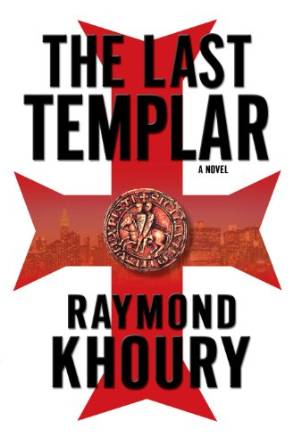 Finally, there are the books by Raymond Khoury. One is my absolute action-adventure favorite: The Last Templar. (His are good Templars.) Khoury's quite a good writer and his historical details are pretty reliable. I especially like his ability to link an exciting historical story with an even more exciting contemporary one starring our heroes (in four books) Sean Reilly and Tess Chaykin. My only concern is his successful screenwriting career, which seems to be intruding into his writing time. He hasn't had a new novel since 2013.
Muller, Paretsky, Maron, Lippman (Paula)
So many books; so little time. This is particularly true of new releases. Still, not a week goes by that I'm not reminded of an old favorite or two--a customer comes in search of authors I haven't read in years--and I find myself going back and re-reading them.
Over the last few weeks, it's been Marcia Muller, Sara Paretsky, Margaret Maron, and Laura Lippman. Clearly writers with strong woman characters, they've produced a slew of bestsellers over the years, and continue to rise up to the high standards for which they're known.
Three of the four have earned mystery writing's highest accolades, honored as Grand Masters by the Mystery Writers of America. (Lippman is the exception, but as the youngest, she might someday earn her way onto the list.) And, the honors for individual titles goes on and on: Edgars, Anthonys, Shamus, Gold Daggers, Silver Daggers, Macavitys . . .
Muller and Paretsky--along with fellow-writer Sue Grafton--have long been recognized as the creators of the tough-gal PI.
Muller's introduction of San Francisco insurance
investigator/PI Sharon McCone in Edwin of the Iron Shoes (1977) set the stage for others to come. With 32 McCone books, the most recent 2014's The Night Searchers, Muller continues to allow us to follow in the footsteps of one of the really great female leads.
Chicago's V.I. Warshawski, the attorney-turned-PI creation of Sara Paretsky, is every bit as tough as the Windy City itself. From the very beginning (Indemnity Only, 1982), she's been taking on the bad guys--and the tough issues--in her native city. Through Warshawski, Paretsky has managed to turn over a lot of rocks--and discovered a lot of crap (corrupt politics, social problems, etc.). With her latest, Brush Back, V.I. (Vic) returns to her old South Side neighborhood to delve into a 25-year-old murder.
Like Muller and Paretsky, Maron, too, targeted the big city--in her series featuring Sigrid Harald, a NYPD homicide detective. But, it's her Judge Deborah Knott books, set in and around Raleigh, North Carolina, that have held my attention even longer. From her debut in Bootlegger's Daughter--and yes, she is--Deborah deals with the complications of family and the law.
Laura Lippman writes of those things I hold dear: crime (the fictional type), big cities (her native Baltimore), and newspapering (the old-fashioned kind). Heroine Tess Monaghan was a seasoned reporter until her career fell victim to a dying industry. Not one to waste all the best investigative instincts (cynicism, suspicion, and tenacity), she puts them to use as a private eye.
This year, all four writers add new books to impressive resumes. Muller, whose latest Sharon McCone came out last year, teams up with husband Bill Pronzini for a third in their series set in 1890s San Francisco. Paretsky, Maron, and Lippman each have a new entry in their Warshawski, Knott, and Monaghan stories.
Whether awaiting the latest or revisiting earlier titles, the fan of strong women has much to enjoy from this most Fabulous Four of mystery and detective fiction.
Crafty Killings: Hanging By A Thread
Many of us are hooked on crafts--knitting, crocheting, and quilting, to name three. Even if we're not hooked, it's a safe bet we've at least tried our hands at some craft project, if not always successfully.
Just be warned, in mystery and detective fiction there's nothing safe about these hobbies. They are downright deadly.
Name a craft, and you're bound to find at least one
contemporary writer who's crafted a mystery--indeed, often an entire mystery series--around that particular avocation.
In many cases, authors are simply taking advantage of their knowledge of one of their own interests (e.g., the writer of knitting-theme mysteries who is a whiz with needles and yarn). Others are simply responding to reader demand--after all, writers (and publishers) like to have their books read.
It should come as no great surprise that crafts involving "needle and thread," in some form or another, are the deadliest. Remember, one of the grande dames of all sleuths, Agatha Christie's Jane Marple, was seldom without her knitting. A sampling of today's mysteries reveals what Miss Marple must have known all along--there's no hiding from a crafty detective.
Throughout the summer, we'll display some of the deadliest of crafts and their creators--writers like Maggie Sefton, Monica Ferris, Anne Canadeo, Sally Goldenbaum, Betty Hechtman, Mary Kruger, and Amanda Lee.
Coming Soon
A sampling of July releases. For a complete list, visit www.stopyourekillingme.com. All can be ordered from Mainely Murders.
Donna Andrews, Lord of the Wings [Meg Langslow #19]
James Becker, The Lost Treasure of the Templars [NS]
Juliet Blackwell, Spellcasting in Silk [Witchcraft #7]
Ken Bruen, Green Hell [Jack Taylor #11]
Lucy Burdette, Fatal Reservations [Key West Food Critic #6]
Dorothy Cannell, Death at Dovecote Hatch [Florence Norris #2]
Catherine Coulter, Nemesis [Dillon Savich & Lacey Sherlock #19]
Lindsey Davis, Deadly Election [Flavia Albia #3]
Kjell Eriksson, Open Grave [Ann Lindell #10]
Cora Harrison, Condemned to Death [Burren #12]
Roger Hobbs, Vanishing Games [Ghostman #2]
Victoria Laurie, Sense of Deception [Psychic Eye #13]
Mike Lawson, House Rivals [Joe DeMarco #10]
Jeff Lindsay, Dexter Is Dead [Dexter #8]
Peter Lovesey, Down Among the Dead Men [Peter Diamond #15]
David Mark, Taking Pity [Aector McAvoy #4]
Sara Paretsky, Brush Back [V.I. Warshawski #17]
Brad Parks, The Fraud [Carter Ross #6]
Spencer Quinn, Scents and Sensibility [Chet & Bernie #8]
Kathy Reichs, Speaking in Bones [Temperance Brennan #18]
James Rollins, The Bone Labyrinth [Sigma Force #11]
David Rosenfelt, Who Let the Dog Out? [Andy Carpenter #13]
Wallace Stroby, The Devil's Share [Crissa Stone #4]
Peter Tremayne, The Devil's Seal [Sister Fidelma #23, 1st US edition]
Stuart Woods, Naked Greed [Stone Barrington #34]
Note: This month three authors living in Maine are on this list: Dorothy Cannell, David Rosenfelt, and Stuart Woods (part time).
Our Customers Recommend
Helen Kitzman of Madison, Connecticut, (and New Orleans) is still assembling her reading list of books to pack in her summer beach bag (which soon will be too heavy to get to the beach). Last month, it included books by Harlan Coben and Laura Lippman. This month, she's added another veteran writer, Lawrence Block.
Lawrence Block can be a good summer read. But, alas, I'm not a fan of all his series. (He's one very prolific writer!!) For instance, I'm not packing any from his Matt Scudder series, in which we follow the bleary-eyed, alcoholic, unlicensed PI through a downright depressing Manhattan. Even the titles (like When the Sacred Ginmill Closes, A Ticket to the Boneyard) sound dreary and depressing to all but the ever-devoted Scandinavian mystery readers.
And certainly not the John Keller series about an NYC hit man who is also a philatelist (and one of Ann's favorites). Shades of Patricia Highsmith! And probably not the series about CIA agent Evan Tanner, with permanent insomnia, although I did find the first in the series interesting (but not really a mystery or a thriller).
Now Bernie Rodenbarr (The Burglar Who. . .) is just quirky enough with plenty of tight spots (he's a thief, after all) and gentle humor to make it into my beach bag. Again, not much of an ongoing series plot. I know it will please Paula, who is a big fan of Bernie, who, when not a thief, is an antiquarian book dealer in New York City's Greenwich Village. There are also lots of non-series books by Block that fit in nicely. So let's pack a couple of his mysteries.
Mainely Murders is an independent specialty mystery bookstore devoted exclusively to suspense, crime, and detective fiction. Our stock of used recent and hard-to-find hardcover, trade paper, and mass market volumes ranges from classics and cozies to tough guys and thrillers.