The "gentleman thief" has long, it seems, been popular in both books and film. Name the writer (hint: brother-in-law of

Arthur Conan Doyle

) and the protagonist, of what is widely recognized as the first of the gentleman thief characterizations. (Interesting to note that like his brother-in-law, this writer created a "Watson" for his leading character.)
Send your answer to
info@mainelymurders.com
(subject line: quiz). Winner will be randomly drawn from correct entries.
Congratulations to
Cheryl
and
Charlie Wallace
of South Portland, who correctly identified
Chris Ewan
as the
author of the series whose protagonist/writer, Charlie Howard, sidelines as a thief (The Good Thief's Guide to Amsterdam, The Good Thief's Guide to Paris, The Good Thief's Guide to Vegas, The Good Thief's Guide to Venice, and The Good Thief's Guide to Berlin).
The winning entry, drawn from a number of correct responses, was good for a $25 Mainely Murders gift card.
________________
Happy July
Birthdays
Each month we note birthdays of some of the masters of the mystery genre, with hopes that readers might read (or re-read) one of their many gems.
James M. Cain
, born July 1,
1892, is often compared to
Hammett
a
nd


Chandler

. His most famous books: The Postman Always Rings Twice, Double Indemnity, and Mildred Pierce. All were turned into movies that may be more well known than the books.

Cain

, who died in 1977, was named a Grand Master by the Mystery Writers of America in 1970.
Dorothy L. Sayers
, born
July 13, 1893, in Oxford, England, was the creator of Lord Peter Wimsey (and later, Harriet Vane). Considered one of the three greatest British classic writers--along with
Agatha Christie
and
Josephine Tey
--
Sayers
herself valued more her translations and Christian essays. She died in 1957, 18 years after her last Wimsey novel.
Grand Master
Erle Stanley Gardner
, the creator of Perry Mason, was born July 17, 1889, in Malden, Massachusetts. Some of his 82 Mason titles (
The Case of the ...
) were among the century's best-selling books. He died in 1970.
John D. MacDonald
was born
July 24, 1916, in Sharon, Pennsylvania, and is best remembered for his detective/thief Travis McGee. A Mystery Writers of America Grand Master, he died in 1986.
Raymond Chandler
, born July 23, 1888, in Chicago, Illinois, and one of the founders of the hard-boiled detective school, was also a noted screenwriter and was nominated for an Oscar for both
Double Indemnity
and
The Blue Dahlia
. He died in 1959.
____________________
We like to think that Mainely Murders has an international flair--be it the authors and titles we carry or the customers we meet.
That said, we now also accept the euro and the British pound (at prevailing exchange rates).
We hope it will be a convenience for customers from Great Britain and EEU countries, or, more likely, our American customers who return from vacation with a pocket or wallet filled with "odd" currency.
We regret that our currency exchange is limited. As always, we'll accept the Canadian dollar from our northern friends.
Thank you!
Thank you for supporting Mainely Murders Bookstore
and other small independent booksellers. At a time when you have other choices
,
you've shown a commitment
to those of us who are part of the local community and who consider customers to be friends and neighbors.
We take great pride in talking with our clientele, whether it's trading viewpoints on favorites or recommending new titles
and

authors.
Show Your
Mysterious Side
What better way to carry your books (or anything else) and at the same time demonstrate your love of mysteries than with our signature black bag.
Made of durable fabric with reinforced 20-inch handles, the bag sports our recognizable logo. ($7)
Remember, if you've taken your Mainely Murders bag on a trip, let us know. Send your photo (jpg) and details to
info@mainelymurders.com
______________________
Gift Cards
Our gift cards are available in any amount. The perfect gift for the holidays, birthdays, anniversaries, or "just because."
We're happy to take mail/phone orders and will send to you or directly to the recipient.
~~~~~~~~~~~~~~~~~~~~~~~
Parking
With success, our bookshelf space grows tighter. So, too, does parking.
You're welcome to park in our driveway. Street parking is available, as is space in the lot across Bourne Street.
While our neighbor, the Kennebunk, Kennebunkport, and Wells Water District, has been great about our customers parking in its lot, we know that spaces there are at a premium during the week until 3:30. Feel free to park there on Saturday.
Summer's now in full swing and, yes, we're having fun. (Customers often ask us how long we plan to "do this"; and our reply is always the same: "Until it's no longer fun.")
We're very excited about hosting two of our favorite
F

irst-time visitors Margaret and C.W. Moore of Pontotoc, Mississippi, paused to check out our display of garden mysteries and selected one to take home. No surprise; their choice was our best-selling Maine Mulch Murder.
Maine writers on Saturday, July 16:
Barbara Ross
(author of the Maine Clambake mysteries) and
Lea Wait
(author of Shadows Antique Prints mysteries and the Mainely Needlepoint series).
On July 16, we'll also begin this year's Maine Mystery Writers Contest (see details below). Enter to win by purchasing any book by one of our
many Maine authors.
June saw the release of new books by two of our best-selling authors:
Paul Doiron
, with
Widowmaker
, No. 7 in his series featuring Maine game warden Mike Bowditch; and
Martin Walker
, with
Fatal Pursuit
, the ninth is his series starring "Bruno" Courrèges, chief of police in a small town in southwestern France. This month brings a book by a new favorite,
Jean-Luc Bannalec's
Brittany Shores
.
Our Garden Plot--both the flowers (and colorful weeds) outside our shop and home and our shelves featuring garden theme mysteries--are flourishing. What better place for a murder: weapons, places to hide the body, even a garden cart to haul it away.
Here's to a wonderful summer ahead. Hope to see you soon.
Partners in Crime
Meet The Authors
Lea Wait
and
Barbara Ross
, two of our favorite
mystery writers, will join us Saturday, July 16, at
Both authors of popular series, they'll be on hand to
talk about mysteries, sign books, and greet customers. Whether longtime fans or new readers, you'll enjoy meeting them and discovering why Maine is a mystery-writing mecca.
Lea

is the author of the Shadows Antique Prints series, the eighth title (Shadows on a Morning in Maine) to be released in September, and her newer Mainely Needlepoint series, the fourth (Dangling By a Thread) scheduled for an October release.
Barb's Maine Clambake series, set in fictional Busman's Harbor, includes Clammed Up, Boiled Over, Musseled Out, Fogged Inn, with Iced Under coming out in December.
Join us for fun, refreshments, and drawings for prizes as we celebrate summer with two wonderful Maine mystery writers.
We Love Maine Mysteries
Once again, this summer,
we're putting the spotlight on Maine authors. We already know you like them--some are among our biggest sellers.
So, if you're already a fan of writers like
Lea Wait
,
Barb Ross
,
Tess Gerritsen
,
Paul Doiron
,
Gerry Boyle
,
Katherine Hall Page
,
Sarah Graves
,
Kate Flora
, to name a few, or if you're just getting started, we're offering an incentive.
Starting July 16 with the appearance of

Lea

and

Barb

, you'll be entered into our Maine Mystery Writers Contest with the purchase of any book (new or used, hardback or paper) by a Maine crime writer. No restrictions on how often you can enter; one entry for each book purchased.
The winner, to be announced October 1, will receive. . . Well, that's a mystery. But, clues will be announced periodically. However, beware of red herrings.
Our Classic Crimes Contest, held throughout May and June, encouraged many customers to pick out a classic to read or re-read. Each purchase was good for an entry into the contest.
Congratulations to Lisa Britt of Saco, whose name was randomly drawn from entries. Lisa, an avid reader of both British and American classics, was at a distinct advantage, having earned an entry for each of the 16 classics she purchased during May and June.
Did You Know?
Mary Roberts Rinehart

, creator of the "had-I-but-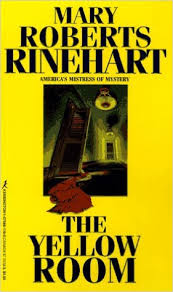 known" school of mysteries, set two of her enormously popular books in a thinly disguised Bar Harbor: The Yellow Room and The Wall. It was a natural location for Rinehart because she had a vacation home there later in life.
While somewhat darker than

Agatha Christie
, with whom she was often compared in her lifetime,
Rinehart
had quite detailed, generally baffling, plots.
Both books have the good sister/daughter, an obvious bad person who dies, much to everyone's relief, except for the fact that the good woman is often the suspect, and heroic admirers. As you can imagine, the gentile poverty of some characters in the fictional town is indeed gentile but not really poor.
It takes a brave author to put aside a popular series and start up a new one.
But that's exactly what Maine author

Sarah Graves

has done. After 16 Home Repair is Homicide titles, starting with Dead Cat Bounce (1997), she's made the move to a new series and new cast of characters.
Meet Lizzie Stone, who's left behind the mean streets of Boston--and her job as a homicide cop--for Bearkill, Maine, in the outback of Aroostook County.
But, readers will quickly discover in Winter at the Door (2015) and The Girls She Left Behind (2016), the first two books in the series, that policing in the remote Northern woods has its own kind of dangers.
G.M. Malliet's

English Cozies
For the 21st Century Reader
The quaint English village--with or without Jane Marple and Agatha Raisin--has long been the mainstay of the classic cozy. Little/no violence, sex, and "foul" language; an amateur "detective"; and often eventually showing up on BBC/PBS programming.
Like them or not (we both have a soft spot for them, though Ann's tastes run more to the classics!), they're familiar (if even from the long past) to most mystery readers.

Popular at Mainely Murders are those written
by

G.M. Malliet

, one of several writers who have brought the cozy into the 21st century.
For those who like their cozies to retain the village charm, the kindly (sometimes not) vicar, the nosy neighbor, and the charming animals--but transported into more familiar times--

Malliet

is a treat.
Her first series--featuring
Detective Chief Inspector Arthur St. Just and Sergeant Fear of the Cambridgeshire Constabulary--included Death of a Cozy Writer, Death and the Literary Chick, and Death at the Alma Mater.
Since then, she's turned to Max Tudor, a former MI-5 agent, now the vicar at St. Edwolds in the idyllic village of Nether Monkslip--with Wicked Autumn, A Fatal Winter, Pagan Spring, Demon Summer, and The Haunted Season.
Hitman Extraordinaire
Sometimes you have to travel far from home (Paris) to appreciate an author in your own backyard (Portland).
Chris Holm's thriller, The Killing Kind (2015), comes to mind. While well received by critics--and now a nominee for the Anthony for the Best Novel (presented in September at the 2016 Bouchercon)--it hadn't made it to our reading list until this winter when we were in Paris.
With its sequel, Red Right Hand, scheduled for mid-September release, we'll be ready.
The Killing Kind introduced us to a hitman, a likeable kind of guy, but a killer nevertheless. What distinguishes Michael Hendricks are his targets--other hitmen.

Holm's

hero is a hired gun with standards. No innocents involved. For ten times the "kill fee," he'll turn the tables. He'll hit the hitman.
Once a covert operator for the U.S. military, Hendricks was presumed dead after a failed mission overseas. His "death" has made his job a little easier, not to mention lucrative--until now.
The Killing Kind is a can't-put-it-down thriller--one in which you can't help pulling for a killer--even if it does make you feel slightly guilty. Come fall, we'll expect nothing less from Red Right Hand.
We hope that

Holm
will have the same success with this series that
Thomas Perry
did with his hitman series that started with The
Butcher's Boy.
Paris Floods Nothing New
Those of you who followed the Paris flood this

spring, where the height of the water was measured against the Zouave on the Pont de l'Alma, might want to read

Imogen Robertson's

The Paris Winter (2013) about the flood of 1910. That year the water reached a half-meter higher and many areas of the city flooded.
Though the flood brings the book to its climax, much of the book is about the dangers of gentile poverty and the attraction of the city's artistic life to budding artists all over Europe.
The Paris Winter was on both Paula's and Ann's "best books" lists, a rarity in itself. Highly recommended, particularly for those readers with an interest in art.
A sampling of July releases. Find a complete list at
www.stopyourekillingme.com
. We're happy to accept special orders for new releases.
Ace Atkins
,
The Innocents
[Quinn Colson #6]
Laurie Berenson
,
Live and Let Growl
[Melanie Travis #19]
Lindsey Davis
,
The Graveyard of Hesperides
[Flavia Albia #4]
Paul Doherty
,
The Great Revolt
[Brother Athelstan #16]
Kaitlyn Dunnett
,
Kilt at the Highland Games
[Liss MacCrimmon #10]
Linda Fairstein
,
Killer Look
[Alexandra Cooper #18]
Julie Garwood
,
Wired
[Buchanans #13]
Barbara Hambly
,
Drinking Gourd
[Benjamin January #14]
Iris Johansen
,
Night and Day
[Eve Duncan #21]
Alex Kava
,
Reckless Creed
[Ryder Creed #3]
Peter Lovesey
,
Another One Goes Tonight
[Peter Diamond #16]
Adrian Magson
,
Hard Cover
[Marc Portman #3]
Marcia Muller
,
Someone Always Knows
[Sharon McCone #31]
Fuminori Nakamura
,
The Kingdom
[Kizaki #2]
Ridley Pearson
,
White Bone
[Rick Agent #4]
Oliver Potzsch
,
The Castle of Kings
[NS]
Stella Rimington
,
Breaking Cover
[Liz Carlyle #9]
Michael Robertson
,
Baker Street Jurors
[Baker Street Letters #5]
David Rosenfelt
,
Outfoxed
[Andy Carpenter #14]
Daniel Silva
,
The Black Widow
[Gabriel Allon #16]
Peter Tremayne
,
The Second Death
[Sister Fidelma #26]
Ben H. Winters
,
Underground Airlines
[NS]
Note
: Both
Kaitlyn Dunnett
and
David Rosenfelt
live in Maine.
Customers Recommend
For nearly 25 years, mystery readers have visited national parks throughout the country, in one suspenseful wilderness adventure after another, courtesy of best-selling author

Nevada Barr.
Now,

Barr's

National Park Service ranger Anna Pigeon has finally arrived--in Maine at Acadia National Park.
We asked mystery blogger Marilyn Brooks (
www.marilynsmysteryreads
) to share her review of Boar Island,

Barr's

nineteenth Anna Pigeon book.
The life of a national park ranger can be a wandering one. Anna Pigeon has worked in Texas,
Michigan, Colorado, and Minnesota, and in
Boar Island
she's been assigned to temporary duty at Acadia National Park, 47,000 acres on Mount Desert Island off the coast of Maine. It's beautiful, rugged, and an oasis where hiking and boating should be the reason why visitors come there, not because they are fleeing across the country to escape bullying and stalking.
Heath Jarrod, Anna's closest friend, and her daughter Elizabeth are going through an extremely troubling time. After much prodding, Elizabeth reveals that she's the target of cyber bullying, to the point that the teenager has attempted suicide. Desperate to get away from this, Heath, Elizabeth, and family friend and physician Gwen Littleton decide to join Anna in Acadia, hoping that a move from Colorado to Maine will halt the bullying and stalking. It doesn't.
Heath, Elizabeth, and Gwen are staying at the home of one of Gwen's friends while the friend is off-island. What they're not quite prepared for is the house, a reconfigured lighthouse set on a rock one hundred feet above the Atlantic. Not the easiest place to navigate, especially for wheelchair-bound Heath. But she's determined to keep Elizabeth safe, and if that means living on a remote island until the cyber bully is caught, so be it. She and Elizabeth have both dealt with difficult things before.
In Acadia, park ranger Denise Castle is dealing with demons of her own. She had been in a long-term relationship with another ranger when he abruptly broke it off and shortly thereafter got married. Now he is a happy husband and father, and Denise can barely stand to be in the same room with Peter and his family. An abandoned child who grew up in foster homes, Denise has had rejection issues her entire life, and Peter's abandonment has only made them worse. But now someone new and totally unexpected has entered her life, and it's going to change forever.
Anna Pigeon is an amazing heroine, dedicated to both her career and her friends. She's definitely a loner, but via her marriage and her friendship with Heath she has become more involved with, and more interested in, other people than she was earlier in her life and career. She's still tough and independent, but now there's a compassionate side to her that wasn't there in the earlier novels.
Nevada Barr's

sense of place is wonderful, not surprising since she was a park ranger herself for several years. In addition, her characters have multiple layers to them that go beyond their public personas. In Boar Island you get to know and understand the inner workings not only of Anna and Heath, but also Denise, a lonely woman who is so overcome by the unexpected appearance of Pauline Duffy in her life that she becomes totally undone.
`````````````````````````````````````````````````````````````````
While Marilyn fills us in on her favorite new releases, Helen Kitzman of Madison, Connecticut, revisits some classic reads, this time from the more recent past.
Longtime favorite

Robert Barnard

(Diamond Dagger Award, 2003) is always a nice break, especially his earlier mysteries set in '70s and '80s England. A
Little Local Murder (1976)

is a wonderful treatise on the devastation of village gossip--a common theme in British classic mysteries--but more biting than

Patricia

Wentworth

;

Blood Brotherhood (1977),

a devastating commentary on St. Botolph's and the hierarchical Anglican Church--another common theme;

Death and the Princess

(1982)

,

a droll picture of English royalty and aristocracy;

The Case of the Missing Bronte

(1983), greed in the publishing world; and

A Fatal Attachment

(1992), focusing on the moral devastation caused within and by families.
Living in Norway for most of his professional life,

Barnard

dipped his pen in malice to write his superficially light-hearted mysteries. Few of his characters have many redeeming features, and romance is not to be found in these pages. His tales are told with a heavy hand and heart as he deftly strips away the veneer of superficial lives. Somehow murder ends up merely a by-product.
Two other classic mystery authors write darker
mysteries that largely take place in Europe. Best known to many for his Inspector Maigret series about a police inspector in Paris,

Georges Simenon

(MWA-awarded Grand Master, 1966) wrote more than 500 novels during his lifetime both mysteries and straight, often soft porn novels. Locations are mostly France and Western Europe, but one mystery takes place on a trip from New York to Maine.
An early "mystery," Maigret and the Enigmatic Lett (1931), clearly reflects a theme of this genre: do not expect to read a simply constructed mystery with a murder, a victim, a resolution of the mystery, and a restoration to the status quo. Following similar themes seen in

Wentworth
Maigret Goes to School
(1954) exposes the devastation of village lives through ignorance and gossip as well as murder.

Simenon's

novels are deceptively short, but they expose a gray world that is depressingly unchangeable. He is not

Martin Walker

with his sunny views of dogs, horses, and truffles in the Bourgogne. Maybe closer to

Cara Black.
Simenon's
mysteries, classified by some as "psychological thrillers," helped prepare me for the even darker novels of
Nicholas Freeling
, an Englishman who spent most of his professional life in France. His most popular series concerns the adventures (not always mysteries) of Chief Inspector van der Valk. In Because of the Cats (1963), an early mystery, van der Valk leaves his Amsterdam base for Bloemandaal, a newly constructed town for the newly rich and their children, to ensnare a group of juvenile thieves whose games have gone deadly.
Another theme of this genre: be prepared for lengthy descriptions and discussions of socioeconomic issues of the day (which often are also those of today). King of the Rainy Country (1967 Edgar) delves into the habits of the idle rich with no real resolution in its finale. The Bugles are Blowing (1975) is not really even a mystery but according to

C.P. Snow

, "the best exposition of French criminal law." The intricacies of this "procedural" tracing the murder through the trial with colorful characters caught up in tragic inescapable lives make this a powerful novel. In this mystery and the more traditional Back of the North Wind
(1983), focused on cannibalism,

Freeling

moves to provincial France with his Henri Castang (Police Judiciare) series.
Although these novels surprised me with their intricate plots, I was more fascinated by his portrait of justice under siege by a bureaucratic society prone to rapacious greed. Sound familiar? Just don't expect a page-turner.