MONTHLY QUIZ
A cop and a crime writer might make for strange bedfellows--even in fiction. Name the Scandinavian writer whose crime-solving duo of cop (he) and writer (she) are the protagonists of a bestselling and much-heralded series.
(subject line: monthly quiz). The winner, randomly drawn from correct respondents, will receive a $25 Mainely Murders gift card.
Congratulations to
Jeanette DeBlois
of Sanford, who identified
contemporary British women writers who have written series featuring women acting as detectives in the years immediately after World War I. (Actually, although we asked for three, Jeanette named five--

Jacqueline Winspear

,

Carola Dunn

,

Rhys Bowen

,

Catriona McPherson

, and

Frances Brody.

)
Jeanette's name
was randomly selected from correct respondents to receive a $25 gift card.
Happy October
Birthdays
Each month we note birthdays of some of the masters of the mystery genre, with hopes that readers might read (or re-read) one of their many gems.
Helen MacInnes
, the Scottish
writer of numerous
romantic espionage novels, was born October 7, 1907, in Glasgow. Her books were written after moving to the U.S. in 1937. She died in New York City in 1985.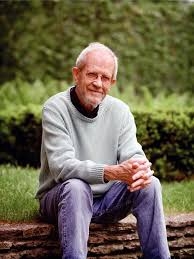 Elmore Leonard, born in New Orleans on October 11, 1925, spent most of his life in Detroit, where he died in 2013. First known for westerns, he wrote 17 mystery and suspense novels and stories noted for their realism and dialogue. Many were made into movies. In 1993 he was designated a Grand Master by the Mystery Writers of America (MWA).
Evan Hunter
was born October
15, 1926. If the name isn't familiar, you might think of one of his several pseudonymns,
Ed McBain
(87th precinct books), the name under which he achieved his greatest fame. Awarded the Grand Master award by the MWA in 1987, he died in 2005.
John Le Carré
(David John
Moore Cornwell
), born October 19, 1931, was a former British intelligence officer before he became a premier spy novelist. His most famous protagonist was George Smiley, who appeared in six books. He has received both the Crime Writers Association Diamond Dagger (1988) and the MWA Grand Master Award (1984).
Andrew Vachss

was born
October 19, 1942, in New York City. Many of his more than two dozen novels have focused on the dark underbelly of his hometown, especially that involving the abuse of children.
Simon Brett, born October 28, 1945, in Surry, found his greatest success by combining his interests in crime writing and theater. His four series (Charles Paris,
Mrs Pargeter, Fethering, and Blotto and Twinks) are all still active.
~~~~~~~~~~~~~~~~~~~~~
Large Print
We occasionally receive large-print mysteries. While they are rarely the most recent releases, they run the gamut from contemporary to classics, from cozies to thrillers. Space constraints prevent us from putting many on our shelves, so please ask if you're interested.
Signed Editions
We are first and foremost a mystery bookstore for readers--not collectors. But, we do have a limited inventory of books signed by their authors. Go to
www.mainelymurders.com
for a recently updated list.
All signed books, unless otherwise noted, are hardback, first edition titles in very good to fine condition. Prices do NOT include cost of shipping, which is via U.S.P.S.
~~~~~~~~~~~~~~~~~~~~~
PDA Discounts
Members of Portland Dine Around, Maine's premier dining/entertainment rewards program, enjoy a savings every time they shop at Mainely Murders.
Show your 2015 membership card and you're entitled to a special offer: buy two books and receive 50 percent off a third book of equal or lesser value.
Portland Dine Around--with over 300 affiliate partners from Rockport to Bethel, Portland, Kennebunk, and south--is valid through December.
_____________________
Parking
With success, our bookshelf space grows tighter. So, too, does parking for customers.
You're welcome to park in our driveway. Street parking is available, as is space in the lot across Bourne Street.
While our next door neighbor, the K
ennebunk, Kennebunkport, and Wells Water District, has been great about our customers parking in its lot, we know that spaces there are at a premium during the week until 3:30. Feel free to park there on Saturdays.
____________________
Thank you!
Thank you for supporting Mainely Murders Bookstore
and other small independent booksellers. At a time when you have other choices
,
you've shown a commitment
to those of us who are part of the local community and who consider customers to be friends and neighbors.
We take great pride in talking with our clientele, whether it's trading viewpoints on favorites or recommending new titles
and

authors.
Show Your
Mysterious Side
What better way to carry your books (or anything else) and at the same time demonstrate your love of mysteries than with our signature black bag.
Made of durable fabric with reinforced 20-inch handles, the bag sports our recognizable logo. ($7)
Gift Cards
Our gift cards are available in any amount. The perfect gift for birthdays, anniversaries, or "just because."
We're happy to take mail/phone orders and will send to you or directly to the recipient.
~~~~~~~~~~~~~~~~~~~~~~~
Greetings:
It's hard to believe it's already October.
Someone--the same person who told us in late June that the days were getting shorter--recently warned us that the holidays are "just around the corner." For now, however, we'll concentrate on fall.
Yes, our summer visitors (and part-time Mainers) will continue their exodus but there is so much of the beautiful fall remaining . . . The leaf peepers will still come. Weekend visitors will still stop by. Mainers will be willing to venture south once again. And we'll have a little more time to talk to people--and read.
Still, we enjoyed the rush. It's been a good year for us, both in terms of sales and visitors.
Hope to see or hear from you soon.
Paula & Ann
Partners in Crime
It's kind of like gone fishin' . . . But, we're hoping to reel in some new (to you) authors and titles. Yes, we're heading off on a Southern California book-buying trip and will be closed October 25-November 11.
But, rest assured, we'll be back in the bookstore on November 12 with plenty of books and, hopefully, a few stories to share.
Reminder: We'll then be open throughout November and December, closing December 31 until spring.
Maine Mystery Writers Contest
We love Maine mystery writers and evidently so do our customers. We sold a record number of books by Maine authors during our summertime Maine Mystery Writers Contest.
Each book purchased during the contest period was good for an entry.
Congratulations to Janet Kerr of Wilmington, Delaware, whose name was randomly selected from entries. Janet will receive our special edition
gift basket (value $100) filled with a variety of Maine specialty food products and two new releases from Maine authors,

Paul Doiron's

The Precipice
and
Gerry Boyle's
Once Burned
.
We toasted the end of summer and a belated celebration of

Agatha Christie's

birthday (September 15) at Crime and Cocktails, Saturday, September 19. It's always great to see customers talking about their favorite authors, picking up some new reading suggestions, and laughing with new (and old) friends.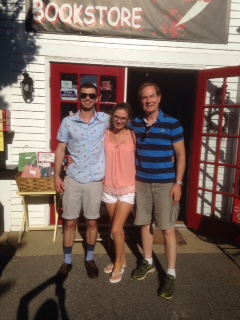 Adam, Shannon, and Bob Mosey of Gorham stopped by to visit. Bob, the mystery reader in the family, was spending the day with his son, a USM graduate student, and daughter, about to return to Venice, Italy, where she attends school.
Leila Roy and Josh Church of Lyman and
Jim Perry and Peter Quinn of Kennebunk share a toast (amid some laughter) to
(Photo by Marcia Clark)
Marcia Clark and Sue Speers, both of Kennebunk, were on hand to celebrate Agatha Christie's birthday.
Photo Op!
Mainely Murders has found itself the site of many special moments during the last five years--first and second dates (honest!), a wedding (okay, our own!), and several anniversary weekend visits.
"Girls just want to have fun," or so the saying goes. Add husbands, too. When the "Golden Girlfriends" from Burlington, Massachusetts, got together for a recent reunion, they came to Mainely Murders. Sharon Mulgrew of Cary, North Carolina, says the women have been friends for more than 50 years. "It's hard to get us all together." (Two West Coast
members were missing for this reunion). "But, we're planning some trips to celebrate 'significant' birthdays, so when we get together in Maine,
Mainely Murders will definitely be a stop!"


A Visit from a Favorite Author
We never know what the day will bring here at Mainely Murders. B
ut, a surprise
visit from author

Leslie Meier
was a real treat.
Leslie's
Lucy Stone series, set in fictional Tinker's Harbor, Maine, is a popular seller here.
Candy Corn Murder,
the 22nd in the series, is out just in time for Halloween. (Thanks to husband Greg for the photo of us outside our shop.)
Our book bag shows up in some beautiful and exciting places, thanks to our many customers.
With Rome's St. Peter's Square in the background,
Dr. Aurelie Hagstrom, faculty resident director
of the Providence College in Rome program, was ready for the beginning of fall semester, where s
tudents attend classes in the historic Prati neighborhood, near the Vatican off of Piazza Cavour.
An associate professor of theology at Providence College, Aurelie is an avid mystery reader.
Bill Hooper
of Saco shows off his Mainely Murders
bag while docked in Enkhuizen, Holland, on a very breezy day. Bill stocked up on some books--including
Janwillen van de Wetering's
Amsterdam police procedurals--before his departure, but we haven't heard how much reading time he had on his three-week holiday.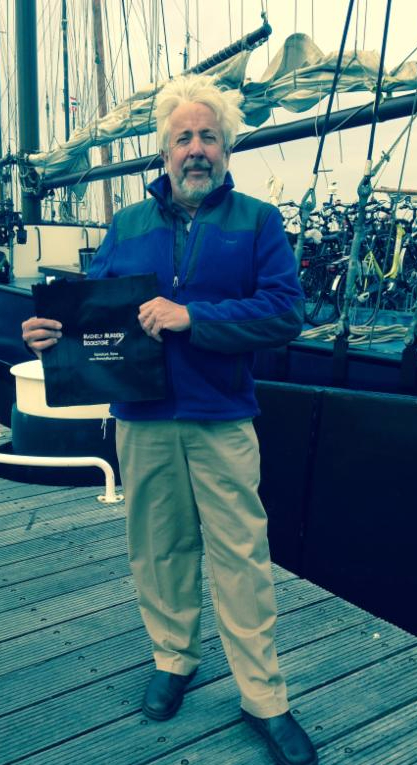 Parodies are difficult to pull off. Only a few, including
C
olin Watson's
Flaxborough Chronicles,
which parodies English classic mysteries, succeed. Most go the way of
Miles Franklin's
Bring the Monkey
. There are a few very good moments and some when you wonder why you keep reading. But, of course, you do.
Franklin's

book does have the advantage of being published in 1933, when the classic English mystery was just becoming the rage. So it is of the time. There is the invitation to a decaying English estate owned by a poor and dissipated nobleman. There is the rich American actress dripping in jewels. A suspicious Indian. The friend of the nobleman's wife who is asked to bring the monkey. And odd other attendees--an African hunter, a deranged ex-RAF pilot, movie people.
Actually, much of the time the book simply feels like a very strange mystery, with way too much about the monkey. But it's a nice little mystery by an author best known for her first novel, My Brilliant Career.
Preston
&
Child's
Pendergast Series (Ann)
Now to the more contemporary . . .
Drifting along, trying to shed my reputation for strange tastes by reading

John Bude
, a classic English writer now being reissued, a friend came looking for a book by
Douglas Preston
and
Lincoln Child
. Before I knew it I was deep into subterranean New York, searching among the tunnels and streets of Manhattan, looking for who knows what with Aloysius Pendergast, a wealthy New Orleans-born, New York-based FBI agent. Staying up late reading three books in a row and vowing to quit this addiction.
Lots of action, lots of adventure, lots of New York oddness. And you don't get cheated on length. What's not to like? I think I'll pack a few or six for our winter trip (with 14 in the series, I won't run short anytime soon).
In a few weeks, we're headed to Southern California, and, for at least a few days, we'll be in Santa Barbara, one of my favorite places. What better way to prepare than with

Sue Grafton's

alphabet series, set in fictional Santa Teresa (a very thinly disguised Santa Barbara).
After 33 years (in real time, while only a handful in story time) and 24 letters,

Grafton's

latest, X (yep, just X) has sent me back to the beginning (A is for Alibi). Back then, I loved Kinsey Millhone, landlord Henry Pitts (and, later, brother William), and an entire cast of Santa Teresa characters.
Reading X
--yes, the day it was released!--I remembered why. Over the years, these are people for whom
Grafton
fans have developed a real connection. Kinsey's Santa Teresa neighborhood has become a place with which we're very familiar. Her office (at first, just a rented space at California Fidelity Insurance); her apartment/apartments (her first was blown up) in Henry's backyard; her favorite neighborhood eatery, Rosie's, a Hungarian pub.
We've also learned Kinsey's secret to solving cases (3-by-5 notecards and always traveling light), her insatiable appetite for fast food, her sometimes-miserly ways, and her less-than-perfect record with husbands.
With only two titles left (only

Grafton

knows what they are), I'm going to miss Kinsey. So, for now, I'm re-reading some of my old favorites. If by chance you're among those few who haven't met Kinsey, one of the very first tough-gal PIs in detective fiction, I suggest you give her a try.
Speaking of traveling, I'm already thinking about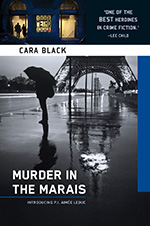 our winter in Paris. So, I've started pulling from the shelves mysteries set in the City of Lights. Nothing gets me in the mood like

Cara Black's

Aimee Leduc series. For anyone who doesn't know, Aimee, the half French/half American daughter
of a one-time Paris cop (un flic), is the
owner of a detective agency specializing in corporate security.
Since we first met the street-smart, computer-savvy Aimee in Murder in the Marais
, she's led us--often riding her pink Vespa--down every street and alley, through every quarter of the city. Truthfully, following Aimee through the pages of
Black's
books--all 15 of them to date--has been as useful a map of the city as any Paris guidebook.
Criticized by some for being a little too-much Superwoman with a penchant for courting too much danger (along with a penchant for bad men), I can't help but love Aimee. To me, she's the archetypical Parisian tough-gal PI.
So between now and end of the year, don't be surprised if you find me with my nose in a

Cara Black

book. I know my time could be better spent working on my French, but not nearly so enjoyable.
Coming Soon
Customers Recommend
As we've mentioned before, Marilyn Brooks of Needham, Massachusetts, is a terrific mystery blogger
(marilynsmysteryreads.com

).
Recently, she reviewed one of our favorite books of the year,

Paul Doiron's

The Precipice, the sixth featuring Maine game warden Mike Bowditch. With Marilyn's permission, we're pleased to share it with you.
It's been exactly two years since I reviewed
Massacre Pond
and five years since I reviewed
The Poacher's Son
. Now

Paul Doiron's

series continues with
The Precipice
.
Mike is now several years older and more
experienced than when we first met him, and he still cares passionately about his state and its resources. However, he has recognized the need to be more cautious in his approach to the various aspects of his job, not to rush into situations without thinking them through first. Or at least that's his goal.
His resolve is tested when he gets news that two recent college graduates, Samantha Boggs and Missy Montgomery, are missing in the Appalachian Trail's Hundred Mile Wilderness. Three days after the date they told their respective parents they would call home, no word has been received, and the parents, now frantic, have contacted the appropriate authorities to begin the search.
Usually people reported missing on the Trail are found within one or two days. But these women have been out of touch for two weeks, an unreasonable amount of time to be explained away by a simple hiking mishap. Even though the AT (Appalachian Trail) extends from Georgia to Maine and goes through some very rugged and remote territory, there are always hikers and climbers on the Trail. In addition, there are trail clubs or huts to sleep in, and the AT passes numerous small towns and farms. So why has no one come forward to say they have seen Samantha and Missy since their last check-in at the Chairback Mountain hut, days before the search begins?
At the beginning of the search, Mike is paired with Bob "Nonstop" Nissen, a man twenty years his senior but in even better condition than Mike. Bob is aloof, condescending, and seems to view the search for the missing women as a contest, an opportunity for him to be the first to find them and get another notch in his belt. Mike, however, isn't looking for recognition; his only interest is finding Samantha and Missy. But as one day follows another, the likelihood of a successful outcome recedes.
When we first meet Mike Bowditch in
The Poacher's Son
, he's a man in his early twenties with a lot to prove.
His father, Jack, is known through the state as an extremely successful poacher, something that makes Mike's new colleagues' heads turn when they hear his last name. He doesn't want to disown his father, but neither does he want to live his father's life. By the time Mike appears in The Precipice, he's much more his own man, but of course his family history continues to follow him. Which is true of everyone, I guess, whether "real" or "fictional."
Paul Doiron's

love of Maine comes through in each of his novels. Reading
The Precipice
is almost like hiking the Trail, so evocative is the picture of the wilderness that the author's writing creates. His characters, too, are wonderfully drawn and believable. The sixth novel in the series is a terrific addition to

Doiron's

body of work.
Helen Kitzman of Madison, Connecticut--and winters in New Orleans--shares some thoughts on what she's been reading.
Fall is here, and it's catch-up time for some of my favorite authors and the latest in their ongoing series. (Note from Ann and Paula: Trust us, Helen will never be able to catch up with all of her favorite authors as over the years the list has grown and grown and grown--and grown. Just ask Dick, her husband.)
Star Fall, the latest in the Bill Slider series by
Cynthia Harrod-Eagles

, has all the trademarks of a British police procedural: a smaller, usually London-based, police station (just the name, Shepherd's Bush, says it all); a low-key leader eternally seeking to pacify cost-conscious superiors; a second in command who views the criminal scene with a sardonic quip; a team of
quirky but clever subordinates; an independent professional female mate; a dastardly victim; and a diabolically clever mystery awaiting solution. It will not disappoint.
To Dwell in Darkness, the latest by

Deborah Crombie

, has all the same characteristics except that both Duncan Kincaid and his mate, Gemma James, serve as detectives at different London borough posts connected to Scotland Yard. While the murders seem unrelated, often the plots bring our hero and heroine together in the final pages in resolving the crimes.
Both series keep the plots moving and the suspense building, and are easier to devour than many of the more gruesome mysteries currently appearing. Intersecting family life, a part of this mystery type, gives a touch of realism. Picking up the latest by these authors is like returning to an old friend. You know exactly what to expect, and you are rarely disappointed.