Mystery Quiz
Healthy, nutritious meals aren't always a priority-especially if you're a busy private eye. Name the protagonist of a long-running series whose favorite meals alternate between a peanut- butter-and-pickle sandwich (at home) and a Quarter Pounder with cheese, fries, and Coke (on the road).
Send
answer to info@mainelymurders.com (subject line: quiz). The winner will be randomly selected from correct entries.
Happy Birthdays
Each month we note birthdays of some of the masters of the mystery genre, with hopes that readers might read (or re-read) one of their many gems.
Helen MacInnes
, the Scottish
writer of numerous
romantic espionage novels, was born October 7, 1907, in Glasgow. Her books were written after moving to the U.S. in 1937. She died in New York City in 1985.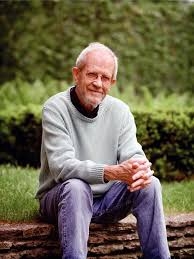 Elmore Leonard
, born in New Orleans on October 11, 1925, spent most of his life in Detroit, where he died in 2013. First known for westerns, he wrote 17 mystery and suspense novels and stories noted for their realism and dialogue. Many were made into movies. In 1993 he was designated a Grand Master by the Mystery Writers of America (MWA).
Evan Hunter
was born
October 15, 1926. If the name isn't familiar, you might think of one of his several pseudonyms,
Ed McBain
(87th precinct books), the name under which he achieved his greatest fame. Awarded the Grand Master award by the MWA in 1987, he died in 2005.
John Le Carré
(
David John

Moore Cornwell
), born
Octob
er 19,
1931, was a former British intelligence
officer before he became a premier spy novelist. His most famous protagonist was George Smiley, who has appeared in seven books. He has received both the Crime Writers Association Diamond Dagger (1988) and the MWA Grand Master Award (1984).
Simon Brett
, born October 28,
1945, in Surry, found his greatest success by combining his interests in crime writing and theater. His four series (Charles Paris, Mrs Pargeter, Fethering, and Blotto and Twinks) are all still active.
____________________
Some of you already do this, but just a reminder that there's something you can do for mystery-loving friends--and it's absolutely free. Forward them our newsletter. And, if they enjoy it and would like their very own free subscription, tell them to sign up.
We're pleased to say that we have subscribers throughout the United States as well as many internationally.

__________________
Parking
With success, our bookshelf space grows tighter. So, too, does parking for customers.
You're welcome to park in our driveway. Street parking is available, as is space in the lot across Bourne Street.
While our neighbor, the Kennebunk, Kennebunkport, and Wells Water District, has been great about our customers parking in its lot, we know that spaces there are at a premium during the week until 3:30. Feel free to park there on Saturday.
We like to think that Mainely Murders has an international flair--be it the authors and titles we carry or the customers we meet.
That said, we accept other modes of cash payment: the euro and the British pound (at prevailing exchange rates).
We hope it's a convenience for customers from Great Britain and Europe, or, more likely, our American customers who return from vacation with a pocket or wallet filled with "odd" currency.
We regret that our currency exchange is limited. As always, we accept the Canadian dollar from our northern friends.
~~~~~~~~~~~~~~~~~~~~
Show Your
Mysterious Side
What better way to carry your books (or anything else) and at the same time demonstrate your love of mysteries than with our signature black bag.
Made of durable fabric with reinforced 20-inch handles, the bag sports our recognizable logo. ($7)
Remember, if you've taken your Mainely Murders bag on a trip, let us know. Send your photo (jpg) and details to
info@mainelymurders.com
.
~~~~~~~~~~~~~~~~~~~~
Our gift cards are available in any amount. The perfect gift for the holidays, birthdays, anniversaries, or "just because."
We're happy to take mail/phone orders and will send to you or directly to the recipient.
~~~~~~~~~~~~~~~~~~~~

Thank you!
Mainely Murders Bookstore
and other small independent booksellers. At a time when
you have other choices
,
you've shown a commitment
to those of us who are part
of the local community and
who consider customers to
be friends and neighbors.
We take great pride in talking
with our clientele, whether
it's trading viewpoints on
favorites or recommending new titles and authors.
Eight Reasons
To Shop Local
* Spend $100 locally and $68 of that stays in your community. Spend the same $100 at a national chain; only $43 stays in your community.
* Local businesses create higher-paying jobs for our neighbors.
* More of your taxes are reinvested in your community.
* Buying local means less packaging, less transportation, and a smaller carbon footprint.
* Shopping in a local business district means less infrastructure, less maintenance, and more money to beautify your community.
* Local retailers are your friends and neighbors--support them and they'll support you.
* Local businesses donate to charities at more than twice the rate of national chains.
* More independents means more choice, more diversity, and a more unique community.
Greetings,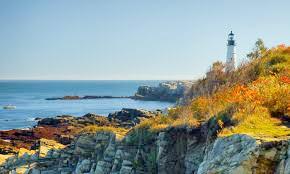 It's now officially fall, what we think of as the most glorious of Maine's seasons.
For those who are reading this from afar, the colors are definitely changing. Not being natives, we're still in awe of the splendor that's autumn here.
The year may be winding down, but there's still plenty happening here at Mainely Murders, including many new releases.
After five non-stop months, we'll close for a two-week hiatus beginning October 25. Paula's feeling the call of Three Pines--and Gamache, Reine-Marie, Clara, Myrna, Olivier, Gabri, Ruth, Jean-Guy--so a quick trip to Quebec's
Eastern Townships may be in order.
But, rest assured, we'll be back in the bookstore on Wednesday, November 8. Between now and then, we hope to make room on our shelves for new finds. What some people think of as vacation, we think of as book hunting.
In the meantime, we hope to see you soon.
Paula and Ann
P.S. Despite our affection for autumn, its arrival is bittersweet. Seasonal
visitors heading home, if they haven't already, drop by for the last time until next year--making last-minute purchases and saying good-bye. So, until we meet again . . .
October Releases by
Favorite Authors
Crime and Cocktails is what we call our occasional afternoon/evening gatherings here at Mainely Murders. Our most recent was last month.
We always enjoy observing the dynamics of those who attend--the fans of tough-guy thrillers rubbing elbows with those who lean toward the cozier side of murder, all the while enjoying the mysterious meatballs or other deadly offerings.
We're Breaking Our Rule
With Pizza to Die For
Visitors to our store know we don't sell children's books, a decision we made long ago because we, quite simply, have no knowledge.
Now, in the "every rule has an exception" department, comes
Pizza To Die For
($7.99) by Maine mystery writer (and good friend)
Lea Wait
.
Lea's
popular
Shadows Antique Prints
and, more recently, her
Mainely Needlepoint Mystery
series are among the anchors of our Maine/New England shelves. But, what many of her mystery-reading fans don't know is that she's a veteran children's author.
The result is
Lea's
first children's mystery.
Pizza To Die For
is a different kind of
Lea Wait
mystery! Mikki Norden is spunky and capable, even in the most hilarious circumstances. Moving from Seattle to the New Jersey suburbs, she's trying to feel at home. But, she muses, are the wacky characters she keeps meeting really typical Jerseyites?
At 14, protagonist and budding chef Mikki is ready for any kitchen emergency--except the unexpected death of her mentor, Mr. Baldacci. But Mikki's learned a lot about solving crimes from her mother, an almost-published mystery author. So when local police rule Mr. B's death a heart attack, she knows she has to prove otherwise.


Pizza To Die For is a great gift for a young reader. And a fun read to give yourself. We both enjoyed it so much, we're not only breaking our "no kids' books" rule, but we're selecting it for this year's Mainely M

u
rders' donations to Toys for Tots.
Travel the Nation, Travel the World
We love to travel--be it in the United States or abroad. Combined with our love of mysteries, it's no wonder we're fans of
Akashic
Books'

Noir Series.
Launched with Brooklyn Noir
(2004), the award-winning city-based series now numbers more than 60 volumes, each overseen by an editor with intimate knowledge of the title city. (Think
Dennis Lehane
and Boston.)
Whether your favorite city--or one you've visited or are even thinking of visiting--each short story collection gives an insiders view, all through the noirish eyes of mystery writers.
Among our favorite U.S. locales: New York City (all five boroughs), Boston, Philadelphia, Los Angeles, San Francisco, New Orleans, and Minneapolis/St. Paul.
Planning a trip overseas? Check out the scene; we have, including: London, Paris, Amsterdam, Venice, and Barcelona. And to places on our wish list: Prague, Copenhagen, and Stockholm.
Many titles are in stock, but any can be ordered.
What We're Reading
Holiday Murders (Paula)
Ann may know more about the latest, particularly Scottish, noir, but I'm the queen of holiday whodunits. And, starting this month, I'm in my element--reading my way through Halloween capers, before starting on Thanksgiving (many fewer), and Christmas (the most). And, of course, I'll read one or two of the few Hanukkah mysteries.
Before pegging me as a real "wimp"--I am, but only when compared to Ann--let me point out tough guys like

Ed McBain
,
Donald Westlake
,
Ray Bradbury
, and
Tony Hillerman
each wrote at least one Halloween mystery.
I always begin my Halloween reading in Tinkers Cove, Maine. Author

Leslie Meier

knows a thing or two about holiday mysteries. Since her 1991 debut, Mail Order Murder (later renamed Mistletoe Murder), she's written 24 holiday-titled whodunits, starring Lucy Stone, the sleuthing wife, mother, and part-time newspaper reporter in small town Tinkers Cove.
Halloween is a big deal in

Meier's

Tinkers Cove with
three crime- and cookie-ridden titles: Trick or Treat Murder
(1996), Wicked Witch Murder (2010), and Candy Corn Murder (2015). Invariably, someone is killed; Lucy, husband Bill, or one of the couple's four children is somehow involved; and many dozens of cookies, cupcakes, cakes, and pies are baked in the family's farmhouse kitchen.
Kaitlyn Dunnett
(
Kathy Lynn Emerson
) places her series heroine
Liss MacCrimmon and her Scottish Emporium in Moosetookalook in the middle of the town's Halloween fundraiser in Vampires, Bones, and Treacle (2013).
The wonderfully suggestive name, Death of a
Pumpkin Carver
, alone brings back memories for this child of the Fifties. How often did your mother warn you about pumpkins and sharp knives? For
Lee Hollis
' Bar Harbor series featuring Hayley Powell, food and cocktails columnist for the Island Times, Halloween is all about costume parties and holiday treats--until a killer crashes the party . . .
It's also Halloween in Eastport in

Sarah Graves

' Nail Biter, a Home Repair is Homicide title, as a group of self-styled "witches" has taken over

Jacobia "Jake" Tiptree's

waterfront rental. With her unnerving penchant for attracting trouble, Jake and her friends can just sit back and wait for bodies to appear Down East.
Even limited to Maine, I know I've omitted some. And, that's not counting

the Donald Bain
/
Jessica Fletcher
Murder She Wrote
titles . . .
Good thing October is just beginning.
I'll be busy reading until we close the door on the last trick or treater.
Stocking Up for Winter
Customers tell us they're already stocking up on books for wintertime reading. That got us thinking: are "winter books" different than those read during warmer months? Do our customers have a winter-reading style?
So we asked a few of them.
Susan Stewart of Kennebunk is a friend, customer, and one of the nicest people in the world. But, clearly, as she's the first to admit, she has a real dark side when it comes to her choice in reading. (Disclaimer: she and Ann share similar book tastes.)
It

may sound perverse

,

but I like to save my

favorite dark and sinister Nordic mysteries for the dead of winter (pun intended.) It warms my heart to read about places that are colder and snowier than Maine, and Iceland does not disappoint. I have stockpiled four

Arnaldur Indridason

Inspector Ehrlander books and several by

Ragnar Jonasson

who writes about a tiny Icelandic town, cut off from

Reykjavík

in the winter months and teeming with angry villagers with raging cabin fever and murder on their minds. Snow-blocked roads, ice-jammed harbors, and a vicious killer on the loose . . . This should take me right into spring. (If indeed there is one, this being Maine, after all.)
My fall reading list includes

Tana French

,

Denise
Mina
, and
Philip Kerr
, three of my favorites who definitely don't fall into the creepy category. But when the trees are bare and snow's in the air, it's a given that I'll be curled up with my Nordic mysteries.
Gerry Gilbert of Newington, Connecticut, says she most certainly has a winter reading style:
The amount of time reading definitely increases in proportion to the amount of time spent indoors . . . and other than watching UConn women's basketball and the Winter Olympics, I am not an outdoor sports aficionado. I'm a "tuck up on the couch with a good book" person.
I do look for some "seasonal reading" . . . maybe "holiday-timed" releases from the British Library reprint series, holiday anthologies, or books set in the northern countries of Europe, or in Canada. In the winter I'm more apt to check out books set in the winter than to read tropically located ones and get cabin fever.
Otherwise, I'll revisit some old favorites--maybe reread all the Smiley books from

John Le Carré

, see if I've missed any

Ann Cleeves

, go back and reread some

Ngaio Marsh

or Patricia Moyes.
Zakariah Johnson of Portsmouth, New Hampshire, offers:
My reading is mainly driven by publication dates for my favorite contemporary authors, most of which seem to be between late spring and early fall. That leaves the winter to revisit the classics. I worked my way through

Dorothy Sayers

one winter, for instance.
Winter's also a good time to play catch up with an ongoing series or writer whose early novels you missed, in order to get ready for their next release. I did that reading

Mick Herron
one winter. Otherwise, I do a lot of rereading of favorites in the winter. The best mystery I've read ABOUT winter is the 7th Walt Longmire book,
Hell Is Empty
, by
Craig Johnson
.
Winter, for Jeanette DeBlois of Wells, is when she reads new (to her) authors. Indeed, she's already stockpiling her cache of books.
The rest of the year, I'm busy just keeping up with all my favorite authors. During the winter, when there's more time for reading, I'll go for the unfamiliar, some of which might become my new favorites.
Coming Soon
Tasha Alexander

, Death in St. Petersburg [Lady Emily Ashton #13]
Donna Andrews

, How the Finch Stole Christmas [Megs Langslow #22]
M.C. Beaton

, The Witches' Tree [Agatha Raisin]
Emily Brightwell

, Mrs. Jeffries and the Three Wise Men [Mrs. Jeffries #36]
Dan Brown

, Origin [Robert Langdon #5]
Rita Mae Brown

, Crazy Like a Fox [Jane Arnold #10]
Anne Canadeo

, Knit To Kill [Black Sheep Knitting #9]
Michael Connelly

, Two Kinds of Truth [Harry Bosch #22]
Iris Johansen

, Mind Game [Eve Duncan #21]
Faye Kellerman

, Killing Season [NS]
John Lawton

, Friends and Traitors [Frederick Troy #8]
Martin Limon

, The Nine-Tailed Fox [George Sueno & Ernie Bascom #12]
G.M. Malliet

, Weycombe [NS]
John Sanford

, Deep Freeze [Virgil Flowers #10]
Michael Stanley

, Dying to Live [Detective Kubu #6]
Will Thomas

, Old Scores [Cyrus Barker & Thomas Llewwlyn]
Nicola Upson

, Nine Lessons [Josephine Tey #7]
Lea Wait

, Thread the Halls [Mainely Needlepoint #6]
Kate White

, Even If It Kills Her [Bailey Weggins #7]
Stuart Woods

, Quick & Dirty [Stone Barrington #43]
Customers Recommend
Marilyn Brooks of Needham, Massachusetts, generously shares with our newsletter readers reviews from her mystery blog,
www.marilynsmysteryreads.com
. Like many of us, she's a longtime fan of

Sue Grafton
. After our own read of
Grafton's
most recent, Y is for Yesterday, we couldn't wait to hear Marilyn's thoughts.
Along with all the other readers of the Kinsey Millhone series, I approached

Sue Grafton's

latest novel with both anticipation and despair.
The anticipation is obvious--I've been reading

Ms.

Grafton's

mysteries since
A is for Alibi
was published in 1982 and have enjoyed every one. At that time it seemed inconceivable that the end of the alphabet would ever be reached; delusional thinking, I know.
Now comes the despair--
Y is for Yesterday
is, I imagine, the next-to-last book in the series. I'm trying to think how

Ms. Grafton

can work around her self-imposed finale. Could she start all over with
A+ is for Adventure/Adultery/Absence
? It works for me; anything to read more about Kinsey Millhone.
When the book opens in 1989 (that's present time in
the series), Kinsey is approached by Lauren McCabe, whose son Fritz has just been released from prison. Ten years earlier Fritz killed a teenage friend, Sloan Stevens. The two were part of a group of high school students led by Austin Brown, who was both admired and feared by his classmates. Austin had been the instigator of a "shunning" of Sloan for reasons that secretly benefited him. Allegedly trying to patch things up, he invited her to a party at his family's cabin.
She reluctantly agreed to go, although once she got there words were exchanged between the two of them. Angry and upset, she started to walk away, but she was overtaken by Austin and three of his friends, driven to a remote area in the woods, and killed. Although Austin's gun was the murder weapon, it was Fritz who fired the shot. Of the four boys implicated, one gave state's evidence and avoided jail time, one was convicted of lesser charges and spent time in prison, Fritz spent ten years in jail and was automatically freed under California law at age twenty-five, and Austin Brown disappeared.
When Kinsey and Lauren meet, Lauren tells the detective about a package she received after Fritz's return home. It contained a tape of sexual acts committed by four boys, including Fritz, against Iris Lehmann, another member of the student group, who was obviously drunk and/or stoned at the time of the attack. The tape was accompanied by a demand for $25,000 from the McCabes with the warning that unless it was paid, another copy would be sent to the police. Even though Fritz had served time for Sloan's murder, he still could be prosecuted for rape and sexual assault.
As always,

Sue Grafton's

characters are wonderfully portrayed. We meet Fritz, who was desperate to be a friend of Austin's when they were in school together; Iris Lehmann, who now wants revenge on the boys who violated her and taped the assault for their own amusement; Troy, who spent years in prison for his involvement in Sloan's death and since his release has been trying to atone for his part in the attack on Iris; and Lauren and Hollis McCabe, fearful that their son is headed down the wrong road again but with conflicting opinions on how to deal with it.
Y is for Yesterday
shows the reader a more vulnerable, more cautious, Kinsey but still a woman determined to do her job.
Ms. Grafton's

other returning characters--Kinsey's elderly landlord Henry; Rosie, the owner of the Hungarian restaurant down the block from Kinsey's apartment; and Jonah Robb, a former lover of Kinsey's who is still in an off-
again-on-again marriage with a very jealous wife--are all present in
Y is for Yesterday
and the novel is richer for them.
Wait--here's another thought. The author could switch to another alphabet, since many other languages have more than 26 letters. Tamil, for example has 247; if that seems too daunting, she could choose Hindi or Hungarian, each with 44! If you know

Ms. Grafton

, please feel free to pass this post along to her.
Note from Paula and Ann: If, somehow, you've never read this series--or you want to revisit Kinsey--winter may be just the time. A long series for a long winter, at least here in New England.