Mystery Quiz
Lots of new customers think that warmer climes might be our winter destination (and it did cross our minds briefly during Maine's miserable start to the new year). But mostly we only visit Florida via mysteries, especially the humorous ones, both classic and modern. So, can you name three who wrote many humorous crime novels set in Florida?
Send your answer to info@mainelymurders.com (subject line: quiz). Winner will be randomly drawn from correct entries.
Congratulations to Anne Marie Koschnick of Cohoes, New York, who identified Inspector Jules Maigret, the most famous of Parisian detectives, created by
Georges Simenon
, a Belgian.
Happy Birthdays
Each month we note birthdays of some of the masters of the mystery genre, with hopes that readers might read (or re-read) one of their many gems.
We hate to make mistakes, but we love knowing that nothing escapes the eagle-eyes of our readers. Last month in our birthday salute to
Wilkie Collins,
we inadvertently used a photo of
Colin Watson
. Reader
David Perry
of Point Pleasant, Pennsylvania, spotted it immediately and let us know. Thanks, David.
British writer
Colin Watson

was born February 1, 1920, in Croydon, Surrey.
Although not much read anymore--except by Ann and a few others--he is best known for his novels set in the town of Flaxborough, placid on the surface, seething with crime underneath. In 1971, his sociological history of British crime fiction, which he described as a cottage industry populated by gentile women, Snobbery with Violence, was published. He died in
1983.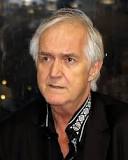 Henning Mankell,
who was
born in Stockholm in 1948 and died in Göteborg in 2015, helped make Scandinavian mysteries popular worldwide through his books about Inspector Wallander. He had already written many books by the time the first,
Faceless Killers
, came out in 1991 (1998 in English).
Eventually 10 more followed. Swedish and English TV series were filmed, both as Wallander.
John Grisham
, born in
Jonesboro, Arkansas, on February 8, 1955, is one of many U.S. lawyers who turned to crime writing--and the most successful. (Indeed, he is one of only three authors to have a first printing of 2 million copies.) Since his first book,
A Time to Kill
, derived from testimony he overheard in a small-town Mississippi courtroom, he has written one book a year--fortunately, because it was his second book,
The Firm,
that made him famous. Nearly half his mysteries have been made into movies.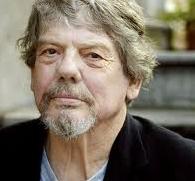 Janwillem van de Wetering
,
best known for his Amsterdam police procedurals, was born February 12, 1931, in Rotterdam.Two of the books--
The Maine Massacre and Just a Corpse at Twilight--were set in Maine, where he spent much of his life. He died in 2008 in Blue Hill.
We may think of him as
French, but
Georges Simenon

,
creator of one of the all-time best detectives, Inspector Jules Maigret, was born February 13, 1903, in Liege, Belgium. Named a Grand Master by the Mystery Writers of America in 1966, he died in 1989.
Ruth Rendell
, aka
Barbara Vine
, was born February 17, 1930, in London. Although she wrote numerous psychological standalones, her most enduring books were about
Reginald Wexford, a chief inspector in Sussex. She was designated a Grand Master by the Mystery Writers of America in
1977. She died in 2015.
Some of you already do this, but just a reminder that there's something that you can do for other mystery readers--and it's absolutely free.
Forward them our newsletter. And, if they enjoy it and would like their very own free subscription, tell them to sign up.
We're pleased to have subscribers throughout the United States as well as many internationally.
Thank you!
Mainely Murders Bookstore
and other small independent booksellers. At a time when
you have other choices
,
you've shown a commitment
to those of us who are part
of the local community and
who consider customers to
be friends and neighbors.
We take great pride in talking
with our clientele, whether
it's trading viewpoints on
favorites or recommending new titles and authors.
Eight Reasons
To Shop Local
* Spend $100 locally and $68 of that stays in your community. Spend the same $100 at a national chain; only $43 stays in your community.
* Local businesses create higher-paying jobs for your neighbors.
* More of your taxes are reinvested in your community.
* Buying local means less packaging, less transportation, and a smaller carbon footprint.
* Shopping in a local business district means less infrastructure, less maintenance, and more money to beautify your community.
* Local retailers are your friends and neighbors--support them and they'll support you.
* Local businesses donate to charities at more than twice the rate of national chains.
* More independents means more choice, more diversity, and a more unique community.
Bonjour,
We're here. In Paris, that is, for our usual winter respite.
Two weeks after we closed the doors on our seventh season, we were on our way. It's always great to be back.
We come seeking lives as "temporary Parisians." Then, less than two weeks here, we, like all Parisians, started watching the flooding waters of the Seine. And some of you began worrying about us. (Thanks for your e-mails of concern.)
As we write this, a few Metro lines have been shut down, and both the Musée d'Orsay and the Louvre have temporarily closed some lower level galleries. Nearby on/off ramps for the bateaux that usually take tourists up and down the river are now about 25 feet out in the river. Some riverside restaurants, even those permanently anchored, are floating even further out in the water.
It will take a while before Paris is back to normal, but, in the meantime, there's still no place we'd rather be.
We don't, of course, leave behind thoughts of Mainely Murders. We arrive with plans for the books we'll read--new discoveries as well as those we've missed. Changes we could make in the shop. Updates to our website. Authors we might add. Fulfilling promises to contribute guest articles to other publications.
But, alas, there are so many distractions in Paris. Special "limited-time" exhibits at some of our favorite museums. Trips to little museums we've missed. Changes afoot at a nearby bistro that we need to investigate. Little RER or rail trips to nearby towns.
Ann's back studying at Alliance Française, vowing to speak a little better--though perhaps not--each day. The city's traditional winter sales ("Les Soldes") are underway, sending Paula into her annual conundrum: espresso machine vs. purse? (So far, the purse has won.)
But rest assured, we'll keep in touch. The mystery world doesn't stand still just because we're away. Let us hear from you. Just drop us a line at
info@mainelymurders.com
.
In the meantime, happy reading and winter well.
Au Revoir,
Paula and Ann
Partners in Crime
Our Bestsellers
Everyone, it seems has ideas about a year's "Best Books." We decided several years ago that was impossible for us to determine--and, we were pretty sure we wouldn't agree.
We are, however, happy to share Mainely Murders list of best-selling authors for 2017:
Louise Penny
Martin Walker
Ann Cleeves
Elly Griffiths
Lea Wait
Paul Doiron
Lee Child
Charles Todd
Dennis Lehane
Barbara Ross
| | |
| --- | --- |
| | |
| Louise Penny | |
There were no great surprises to us, though it might be considered a little quirky since relatively few of the super popular mass-market authors--think
James Patterson
,
Janet Evanovich
,
Stuart Woods
, to name a few--are included. That's a function of the fact that many of our customers visit for books they can't get in libraries or chain stores, and that we recommend books that are not easy to find elsewhere.
Louise Penny
is far and away our most popular author, and
Martin Walker
is a strong second. Still,
| | |
| --- | --- |
| | |
| | Martin Walker |
note that three Maine authors (
Lea Wait
,
Paul
Doiron
, and
Barbara Ross)
are on the list and one New England writer (
Dennis Lehane
). As Ann always says, "We love to read about ourselves"--and so do visitors.
And lest you think people were in the top ten list due to the number of books they've written,
Penny's
Stil

l Life
and
Walker's
Bruno Chief of Police/Death in the Dordoigne
were dominant in the best single books sales.
Still, the top ten single books list did include authors like
Susan Elia MacNeal
,
Mark Pryor
,
Jussi Adler-Olsen
,
Bruce Robert Coffin
, and the late
A. Carmen Clark,
who have relatively few books out.
What We're Reading (Paula)
Chris Ewan's
Good Thief's Guide To . . .
I have my own "rules" for selecting my reading material for traveling:
1. Nothing too engrossing. (Unlike Ann, I enjoy nodding off on trans-Atlantic journeys.)
2. No "keepers." (I've been known to leave books behind in the seat-back pocket.)
3. A title with a foreign flair is nice, especially if I'm headed in that direction.
Chris Ewan's

The Good Thief's Guide to . . . series
qualified on all points for this year's Boston to Paris trip. And, given extra time in the airport waiting room and delays on the tarmac, I managed to read two: The Good Thief's Guide to Paris and The Good Thief's Guide to Amsterdam.
The series--which also includes Venice, Berlin, and Las Vegas--are entertaining romps around the world.
For those who don't know it, the life of a mystery novelist isn't easy. Relatively few make it their full-time job, relying on a second (or third) to pay the bills.
Witness

Ewan's

Charlie Howard. By day, he
travels the globe writing about an intrepid burglar named Faulks. To supplement his income--and to keep his hand in--Howard also has a side business as a "thief for hire."
Because we're thinking about a few days in Amsterdam this winter--it's an enjoyable, and relatively inexpensive, train ride from Paris--I picked up the first book in the series. I'm certain I'd read it before, but that was so, so many books ago.
Amsterdam is a wonderful city, perhaps one of our favorites.

Ewan's

Good Thief's Guide to Amsterdam doesn't do the city justice--nor does the Paris title--but sometimes a light-hearted read is just what one needs.
Just thinking about Amsterdam has me thinking I should revisit J

anwillem van de Wetering's

wonderful police procedurals featuring his Dutch police detectives. Those are definitely next on the list.
What We're Watching (Ann)
Brits, Brits, Brits--and a Few Others
While we're taking advantage of French TV--if you call watching La Reine du Shopping or Six Nations rugby watching TV--we do sometimes yearn for Acorn, "The Best British TV." It won't teach us French but we would understand all the words.
Acorn does have a few bleak detective series (
Asa Larsson's
Rebecka Martinsson
,
Ken Bruen's
haunted
Jack Taylor
, or
Alan Hunter's
George Gently
), but its forte is slightly gentler tales.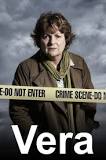 On Acorn you can follow
Ann Cleeve'
s grumpy
Vera
,
Mark Billingham's

Thorne
,
Agatha Christie's
Miss Marple
and
Hercule Poirot
, and
Maureen Jenning's
Canadian
Murdoch Mysteries
.
Acorn's greatest pleasure for many, however, is its light-hearted mysteries. No one watches
Carolyn Graham's
Midsomer Murders
(well, at least the first eight were based on her stories) for a realistic picture of British rural life, its family life as depicted by the Barnaby family, or British policing.
M.C. Beaton's
Hamish Macbeth
is the Highlands Cabot's Cove.
Kerry Greenwood's
Miss Fisher
is "heroic impoverished woman becomes rich and returns home to Australia in great clothes." No one thinks life is really like that, which is the point.
Other Acorn mysteries have no literary inspiration but are worth the subscription price anyway.
Pie in
the Sky
follows a detective/chef and his crisp-and-chocolate-loving accountant wife through 40 episodes.
Death in Paradise
follows two very odd British detectives as they solve crimes on a Caribbean island.
Murder in Suburbia
has wise-cracking--and mismatched--women detectives in, of course, a suburban town where crimes are not particularly common--or seen as desirable.
Coming Soon
M.C. Beaton
,
Death of an Honest Man
[Hamish Macbeth #34]
Alex Berenson
,
The Deceivers
[John Wells #12]
Sara Blaedel
,
The Undertaker's Daughter
[Ilka Jensen #1]
Rhys Bowen

, The Tuscan Child [NS]
Frances Brody
,
Death in the Stars
[Kate Shakleton #9]
*
William S. Cohen
,
Final Strike
[Sean Falcone #3]
Joanne Fluke
,
Raspberry Danish Murder
[Hannah Swensen #22]
Charles Finch
,
The Woman in the Water
[Charles Lennox #11]
Lisa Gardner
,
Look for Me
[D.D. Warren #9]
Mark Greaney
,
Agent in Place
[Gray Man #7]
James Grippando
,
A Death in Live Oak
[Jack Swyteck #14]
Jane Harper
,
Force of Nature
[Aaron Falk #2]
Cynthia Harrod-Eagles
,
Shadow Play
[Bill Slider #20, 1st US edition]
Miranda James
,
Claws for Concern
[Cat in the Stacks #9]
Jonathan Kellerman
,
Night Moves
[
Alex Delaware
, #33]
Ausma Zehanat Khan
,
A Dangerous Crossing
[Rachel Getty & Esa Khattak #4]
*
Robert Knott
,
Robert B. Parker's Buckskin
[Virgil Cole & Everett Hitch continuation]
John Lescroart
,
Poison
[Dismas Hardy $16]
Laura Lippman
,
Sunburn
[NS]
Steve Martini
,
The Secret Partner
[Paul Madriani #15]
Jason Matthews
,
The Kremlin's Candidate
[Dominiki Egorova & Nate Nash #3]
Walter Mosley
,
Down the River Unto the Sea
[NS]
James Patterson
and
Candice Frost
,
Fifty-Fifty
[Harriet Blue #2]
Rosemary Rowe
,
The Price of Freedom
[Libertus #17]
S
teven Saylor
,
The Throne of Caesar
[Roma sub Rosa #13]
Frank Tallis
,
Mephisto Waltz
[Max Lieberman #7]
Charles Todd
,
The Gatekeeper
[Ian Rutledge #20]
Yrsa Sigurdardottir
,
The Legacy
[Freyyja & Huldar #1]
*Maine/New England
Customers Recommend
It's good to know that while we're away, there are people back home willing to keep fellow readers apprised of recommendations.
Jill Sirignano of Danvers, Massachusetts, gives thumbs-up to the cozier side of mysteries. And, what's more quintessentially cozy than a series based on a tea shop?
I'm an avid reader of

Laura Childs'

Tea Shop Mysteries. The characters are well developed and the recipes sound fantastic!
The stories revolve around the main character,
Theodosia (Theo) Browning, owner of the Indigo Teahouse in Charleston, South Carolina; Drayton, the master tea maker; and extraordinary chef Haley. I wish this tea shop existed. I'd like to go visit.
I've read every one of the 18 books in this series and can't wait for the next one, Plum Tea Crazy, to come out in the spring.
******************
Mystery reader/blogger
Marilyn Brooks
(
www.marilynsmysteryreads.com
) of Needham, Massachusetts, weighs in on the "best books" she read during 2017. It's a question--"What were your favorite books..."--we're often asked, and we admire Marilyn for taking it on.
I started out planning on suggesting my ten top books of 2017, but when I started re-reading my book review posts I came up with more than that number for my list.
"Best" is such a subjective word, anyway, something I learned this fall when I taught Whodunit? Murder in New England at the Brandeis University Lifelong Learning Institute. In a class of 20 adults, no one mystery novel was the overwhelming choice as "best." In fact, one of the books that one class member picked as the best written, another picked as the most poorly written.
So I prefer to say that the books I'm listing here are books that I am happy to recommend to any fan of the genre. That doesn't mean that everyone would enjoy every book, assuming she/he would read them all. It's more that I feel that each book is extremely well written, has a plot that makes you want to read to the end, has believable characters throughout, and leaves you thinking about the novel after you've finished it.
Some are part of a series, others are stand-alones. They range in location from Boston to Japan, from Stockholm to Maine. Some feature an amateur detective, others an official member of a police force. But what they all have in common are the attributes I mentioned above, and those make each one worth your time.
Jane Casey, Let the Dead Speak
William Christie, A Single Spy
Paul Doiron, Knife Creek
Emma Flint, Little Deaths
Felix Francis, Pulse
Nicci French, Dark Saturday
Camella Grebe
, The Ice Beneath Her
Stephen Mack Jones, August Snow
Julia Keller, Fast Falls the Night
Dennis Lehane, Since We Fell
Abir Mukherjee, A Rising Man
Nicolas Obregon, Blue Light Yokohama
Peter Swanson, Her Every Fear
The nights are long now, and in many places the temperature is cold and getting colder. It's the perfect time to curl up with your favorite beverage and a mystery novel that will grab hold of you and not let you go until the last page. I suggest you try one or more of these--you won't be disappointed.