Mystery Quiz
With our departure to Paris just around the corner, our thoughts, understandably, stray to our favorite Paris detectives and their creators. While a nation of many fine writers, the most famous fictional detective was not created by a Frenchman. Name this Parisian detective and his creator, as well as the writer's nationality.
Send your answer to info@mainelymurders.com (subject line: quiz). Winner will be randomly drawn from correct entries.
Congratulations to Gerry Gilbert of Newington, Connecticut, who identified Asey Mayo as the "Codfish Sherlock," featured in a long-running (1931-1951) Cape Cod series by

Phoebe Atwood Taylor

.
Happy Birthdays
Each month we note birthdays of some of the masters of the mystery genre, with hopes that readers might read (or re-read) one of their many gems.
Wilkie Collins
,
author of
The
Woman in White
(1860) and
The Moonstone
(1868) among others, was born in London on January 8, 1824. He died in 1889, having written some of the earliest "mystery" novels.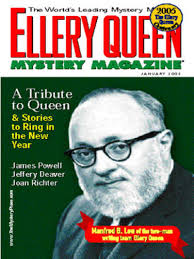 Manfred B. Lee
, born in Brooklyn on January 11, 1905, was one of the two cousins who were
Ellery Queen
for 42 years, until
Lee's
death in 1971. Through their anthologies and

Ellery Queen's

Mystery Magazine,
they were the major influence on mystery short stories in America. Their novels and short stories about
Ellery Queen
provided reading and viewing pleasure to generations.
The novelist
Walter
Mosley,
born in Los Angeles on January 12, 1952, gained success and fame following the exploits of Easy Rawlins, a hard-nosed African-American PI in LA and World War II veteran, through the changing racial landscape in Los Angeles to the Patty Hearst era.
noted feminist academic (
Carolyn Heilbrun
), is the queen of American academic mystery writers. Born on January 13, 1926, in East Orange, NJ, she was the first woman to get tenure in the Columbia University English Department. Her mysteries reflect her feminist beliefs and are often extremely critical of universities' treatment of women. She died in 2003.
Edgar Allan Poe
, the father
of detective fiction, was born on January 19, 1809, in Boston. A notorious gambler, drunkard, and drug addict, he was a leading literary figure in 19th-century America. His
The Murders in the Rue Morgue (1841) is recognized as the first detective story. Since 1946 the Edgars, awarded each year by the Mystery Writers of America, honor the best in the genre and his memory.
Patricia Highsmith
, bes
t
known for her dark psychological mysteries, was born in Texas on January 19, 1921. The author, who spent most of her life living abroad, was
best known for her Strangers on the Train (1950) and later her series featuring Tom Ripley. Her life was not made happy by her fame. She died in 1995.
Some of you already do this, but just a reminder that there's something that you can do for other mystery readers--and it's absolutely free.
Forward them our newsletter. And, if they enjoy it and would like their very own free subscription, tell them to sign up.
We're pleased to have subscribers throughout the United States as well as many internationally.
Thank you!
Mainely Murders Bookstore
and other small independent booksellers. At a time when
you have other choices
,
you've shown a commitment
to those of us who are part
of the local community and
who consider customers to
be friends and neighbors.
We take great pride in talking
with our clientele, whether
it's trading viewpoints on
favorites or recommending new titles and authors.
Eight Reasons
To Shop Local
* Spend $100 locally and $68 of that stays in your community. Spend the same $100 at a national chain; only $43 stays in your community.
* Local businesses create higher-paying jobs for your neighbors.
* More of your taxes are reinvested in your community.
* Buying local means less packaging, less transportation, and a smaller carbon footprint.
* Shopping in a local business district means less infrastructure, less maintenance, and more money to beautify your community.
* Local retailers are your friends and neighbors--support them and they'll support you.
* Local businesses donate to charities at more than twice the rate of national chains.
* More independents means more choice, more diversity, and a more unique community.
Greetings,
. . and thank you for a wonderful 2017.
Two days ago, we shut the door, quite literally, on the year. Saturday evening closings are generally pretty routine; we know we'll be back Wednesday morning. This time, it will be four months.
We haven't yet looked at the year-end facts and figures. There's plenty of time for that in the days ahead. Next month, we'll give you a rundown on our most popular authors and titles.
Now, however, we'll take a breather--probably just long enough to start our own wintertime reading lists.
Most of our customers know that we spend winters abroad. In a couple weeks, we'll leave for Paris. But, while there, we'll keep in touch with you about new releases, recommendations, and, perhaps, some of our adventures. We'd love to hear from you, too. Just drop us a line at
info@mainelymurders.com
.
In the meantime, winter well.
Paula and Ann
P.S.
A sincere thank you to generous customers who contributed to our special Toys for Tots campaign.
Thanks to you, we delivered copies of
Pizza to Die For
, the first children's mystery by Maine veteran mystery writer
Lea Wait
, to this year's United States Marine Corps Reserves project. Each year, youngsters receive, in addition to other gifts, an age-appropriate book.
With much sadness, we report the death of Sue
Grafton, whose Kinsey Millhone was one of the first strong women PIs. She died December 28 after a two-year battle with cancer. She was 77.
Sue's

"alphabet mysteries," which began in 1982 with A is for Alibi, topped best-seller lists for decades. Y is for Yesterday was published in August.
In announcing her mother's death, daughter Jamie Clark acknowledged what devoted fans have long known about the author, who was as strong and feisty as her beloved character:
"
She was adamant that her books would never be turned into movies or TV shows, and in that same vein, she would never allow a ghost writer to write in her name. Because of all of those things, and out of the deep abiding love and respect for our dear sweet

Sue

, as far as we in the family are concerned, the alphabet now ends at Y."
We were fans of

Sue's

from the beginning, back in 1982. Indeed, she was the first mystery writer we ever met. Like so many others, we will miss her, while remembering her for blazing the trail for so many later women writers.
Our Challenge to You
We know--at least we hope--your mystery reading doesn't stop just because we're away. Throughout the next four months, we'll continue to keep you up to date on new releases, highly touted books, and our own discoveries and recommendations.
But, in case you need a wintertime challenge, might we suggest:
* Think: Book List. Whether titles (or authors) already read or the ones you're still seeking, a LIST makes life so much easier. How many times have you stood in front of a bookshelf and muttered (we've heard you!), "I need a list."
* Try something new. Pick an author (or two) unknown to you. She (or he) might become your new favorite.
* Share your favorites. It might sound self-serving, but we're eager to include your recommendations in upcoming newsletters. You needn't be an experienced writer or book reviewer. If you're a mystery reader, you're the expert on what you like.
Topping Our Reading Lists
Surprise, surprise. We're already looking ahead to the books we want to read as the new year begins. This is so much more satisfying, not to mention realistic, than making the dreaded Resolutions.
Paula:
December was so busy I didn't have time for new releases by two of my favorite Scandinavians. I'll start wih them.
*

Jussi Adler-Olsen

, The Scarred Woman
[Department Q #7]. The humor and satire in the midst of what are really very dark stories make
Adler-Olsen
a must-read for me.
*

Helene Tursten

, Protected By The Shadows
[Irene Huss #10]. We've been watching Irene Huss via streaming videos (See What We're Watching below), but I wouldn't miss one of
Tursten's
books.
Four January releases are next on my reading list:
*

Alan Bradley

, The Grave's A Fine and Private Place [Flavia de Luce #9]. I've adored Flavia since book #1, Sweetness at the Bottom of the Pie.
*

Andrea Camilleri

, The Pyramid of Mud
[Salvo Montalbano #22]. Each time I read a
Camilleri
book, I'm ready to travel to Sicily.
*

Sarah Graves

, Death By Chocolate Cherry Cheesecake [Death by Chocolate #1]. This is the debut of a third series for the Maine writer.
*

Ellen Hart

, A Whisper of Bones
[Jane Lawless #25].
Ellen Hart
, and her Jane Lawless series, has been a staple of my reading for nearly 30 years. Last year, she finally got the recognition she deserves, being named a Grand Master by the Mystery Writers of America.
Ann:
I look forward to reading old friends and new and catching up on books I've saved for reading in Paris. (And also reading some on Paula's list.)
Anne Holt

, In Ashes and Dust. Just out in Britain, finishing this book will be bittersweet because it is the last of the Hanne Wilhelmsen novels. Her 1222 was a book we fell for our first year in business.
Robert Crais

, The Wanted. Another old favorite. Here Elvis (Cole) and Joe (Pike) once again try to help someone and find themselves in very, very deep trouble.
Thomas Perry

, The Bomb Maker. Trying to stop bombs is beyond risky, and when a bomb maker targets bomb squads . . . .
David Lagercrantz

, The Girl Who Takes an Eye for an Eye.
Sa
ved this for Paris because every library has to have at least one copy. Can't wait for Lisbeth to go for an eye.
Liza Marklund

, The Final Word. While
Annika Bengtzon is covering a sinister murder trial, her not especially supportive sister disappears.
Ann Cleeves

, The Seagull. Just can't resist the latest Vera Stanhope in which Vera learns her late father may have been involved in more than mild criminality.
What We're Reading
Jean-Luc Bannalec

(Paula)
Everyone knows I love Paris--but sometimes the French countryside calls out to me. How better to explain my love of

Martin Walker's

Bruno, Chief of Police series?
The same goes for

Jean-Luc Bannalec

and his series set in Brittany.
When Commissaire Georges Dupin is relocated from
his beloved Paris to rural Brittany and small-town life on the Breton coast, he's convinced he's been relegated to the edge of the world (and, in fact, Concarneau is in the department of Finistere, i.e., end of the earth).
But, along the way, the coffee-loving, idiosyncratic Dupin comes to appreciate and love this tiny quarter of northwest France. And, with his many quirks and odd behaviors, he quickly won my heart.
Whether he's chasing down art thieves or murderers, Dupin does it his way, more often than not bucking up against authority at every turn. (But, hey, don't all our favorite detectives?)
So far,

Bannalec

, the pseudonym of a German who splits time between his native country and coastal Brittany, has only two English translations--Death in Pont-Aven (aka Death in Brittany) and Murder on Brittany Shores. In April, a third, The Fleur de Sel Murders, will be released. I'll be ready.
In the meantime, I've already started checking out train schedules and hotel rates. If Commissaire Dupin can trade his (our) beloved Paris for small town life in coastal Brittany, maybe I can, too. (At least for a short visit this winter. Stay tuned.)
What We're Watching
Just as the long dark nights--in Maine anyway--give us more time to read, they also give us more time to watch videos--mystery videos, of course. In December, we found ourselves checking out the possibilities on the small (or not-so-small) screen.
MHz (Ann)
We've long been fans of the British productions, many
of which are available on public television channels and streaming networks such as Netflix and Acorn. Like many mystery fans, we enjoyed, among others, Sherlock, Elementary, Endeavour, Vera, and Shetland via streaming.
These days there are far wider offerings for those of us who want to supplement our reading with the more visual. We're enjoying the new-to-us MHz Choice, available as part of many streaming packages. It's very, very strong on international mysteries, i.e., subtitled European mysteries, like Nero Wolfe, the Fjallbacka Mysteries, and Spiral.
Nero Wolfe? Yes. Having been driven out of the U.S. by a jealous FBI after World War II, he's moved to Italy. Good food. Warm weather. Crime. It's a riot.
And for more breaks from the dreariness of winter in Maine try Detective Montalbano
(
Andrea Camilleri
) or the much darker Detective De Luca
(
Carlo Lucarelli
).
On the other hand, Scandinavian mysteries offer only the comfort of knowing other places have longer, colder, drearier winters than Maine. And a much bloodier landscape.
The two video series based on

Camilla Lackberg's

books (with different casts and emphases--policeman husband in the first and mystery-writer wife in the second) show a beautiful little Swedish coastal town that is surprisingly crime ridden.
Helene Tursten's

Irene Huss's Sweden is no less bloody than that of the Lackberg series but darker, despite the presence of Huss's fairly normal family life, well, as normal as a family with two teenagers can be.
The French mysteries are somewhere in the middle. Many are bleak like Spiral, depicting a justice system gravely marred by favoritism and corruption, where good is done often by accident--if at all. The Nicolas Le Floch
(
Jean-Francois Parot
) mysteries set in pre-revolutionary France as the monarchy plunges into disaster are as dark as the topic.
Blood of the Vine is pleasantly relaxing if you can take murder with your wine. And, of course, the

Georges Simenon

Mysteries and the older Maigret
series are middle of the road. And the French
Mary Higgins Clark
Mysteries are not really grim but also not really ready for the Hallmark Channel.
We probably won't like all the possibilities open to us but it will take us years to check everything out.
Coming Soon
Sara Blaedel

, The Running Girl [Louise Rick #5]
Sara Blaedel

, The Stolen Angel [Louise Rick #6]
Alan Bradley

, The Grave's a Fine and Private Place [Flavia de Luce #9]
Alafair Burke

, The Wife [NS]
James Lee Burke

, Robicheaux [Dave Robicheaux
Andrea Camilleri

, The Pyramid of Mud [Salvo Montalbano #22]
*

Sheila Connolly

, Many a Twist [County Cork #6]
Tim Dorsey

, The Pope of Palm Beach [Serge Storms #21]
Nicci French

, Sunday Silence [Frieda Klein #7, 1st U.S.]
M
eg Gardiner
,
Into the Black Nowhere
[SUSUB #2]
Ellen Hart

, A Whisper of Bones [Jane Lawless #25]
Mick Herron

, This Is What Happened [NS]
David Housewright

, Darkness Sing Me a Song [Holland Taylor #4]
Gregg Hurwitz

, Hellbent [Evan Smoak #3]
Mons Kallentoft

, Zack [Zack Herry #1]
Dean Koontz

, The Whispering Room [Jane Hawk #2]
Sujata Massey

, The Widows of Malabar Hill [Perveen Mistry #1]
Thomas Perry

, The Bomb Maker [NS]
Nick Petrie

, Light It Up [Peter Ash #3]
*

Douglas Preston
and
Lincoln Child
,
City of Endless Night
[Aloysius Pendergast #17]
Christopher Reich

, The Take [Simon Riske #1]
J.D. Robb

, Dark in Death [Eve Dallas #46]
Laura Joh Rowland

, A Mortal Likeness [Victorian Mystery #2]
Brad Taylor

, Operator Down [Pike Logan #12]
*

Stuart Woods

, Unbound [Stone Barrington #44]
* New England author
Customers Recommend
Archer Mayor
has been sharing tales of Vermont detective Joe Gunther for nearly 30 years, and to hear
Mayor
tell it, he's got no plans to wrap up either his or Gunther's careers.
Beginning with Gunther's appearance in 1988 (Open Season
) and continuing through his 26th and most recent, Trace,
Mayor
shows why his fans never tire of this longtime series.
Vermont isn't a state with a high murder rate, but things are definitely heating up now for Joe Gunther and his detectives at the Vermont Bureau of Investigation. Three different cases--one the murder of a young New York woman, one a cold case involving the deaths of a policeman and the man he stopped for a traffic violation, the third a mysterious finding at a railroad track--all converge simultaneously for the VBI.
Jayla Robinson has just arrived at the Brattleboro bus
station, escaping an abusive relationship in New York. A few minutes after getting off the bus, she's absent-mindedly crossing an intersection when she's grazed by an oncoming car. Jayla says she's fine, not hurt at all, but Rachel, the young woman driving, insists on taking her to her apartment for a cup of tea and to make certain she's really okay. The two hit it off almost immediately, and Rachel invites Jayla to stay with her until she finds a job and an apartment. But when Jayla's boyfriend/abuser locates her, he sends an enforcer either to retrieve an item that she took when she fled his home or to "dispose" of her, whichever is easier. Unfortunately for Jayla, he chooses the latter.
The cold case was called into the VBI by a member of the state's forensic team. Tina Sackman was doing some research into fingerprints and thinks she has found something strange in the case involving state trooper Ryan Paine and the man he pulled over for a routine traffic stop, Kyle Kennedy. Shots were exchanged and both men were killed. Now, in going over what had seemed an open-and-shut case, Tina discovers something disquieting about the trooper's fingerprints on the gun he supposedly used to shoot the driver--they appear to have been placed on his gun by artificial means.
The third case begins when a child discovers, and then brings to the local police station, three bloody, broken teeth that she found by the railroad tracks.
All this is happening while Joe Gunther, head of the Bureau, is handling a family emergency. His younger brother Leo calls with the news that their elderly mother is in a "bad way." After finally having gotten their reluctant mother to visit her doctor, Leo tells Joe that the physician's diagnosis is Lyme encephalitis, a tick-borne disease that affects the nervous system, bringing with it mood swings, cognitive problems, and personality change. The doctor at the Dartmouth-Hitchcock Medical Center tells Joe and Leo that the best place for Mrs. Gunther to receive rehabilitative care is in St. Louis, and Joe immediately decides that he will take her there and stay with her while she's undergoing treatment and rehab. So, while the three cases are being investigated, the head of the Bureau is out of state.
Trace
is the twenty-eighth (!) book in the Joe Gunther series. Not surprisingly, given the background of the author, the series presents a totally realistic picture of law enforcement in both a mid-size city department and a state investigatory agency.

Archer Mayor

is currently a death investigator for the Vermont Office of the Chief Medical Examiner as well as a detective for the Windham County Sheriff's Office. Readers who have been following Joe and his squad--Lester Spinney, Willy Kunkle, and Samantha Martens--will be delighted to see them again in this novel that will hold their interest until the end.