Mystery Quiz
Name the Maine author who, after writing a very popular 16-title series, recently introduced a new series featuring the same protagonist (and friends) with the same knack for sleuthing.
Send your answer to
info@mainelymurders.com
(subject line: quiz). Winner will be randomly drawn from correct entries.
Congratulations to
Barbara Gross
of Shaftsbury, Vermont, who correctly identified
Archer Mayor
as the Vermont author whose real-life credentials include detective, medical examiner, and volunteer fireman/EMT. Barbara was one of many people--several of them fellow-Vermonters--who correctly identified
Mayor
, whose 29th Joe Gunther title was published last month.
Happy Birthdays
Each month we note birthdays of some of the greats of mystery writing in hopes that you might choose to read (or re-read) one of their works.
Helen MacInnes
, the Scottish
writer of numerous
romantic espionage novels, was born October 7, 1907, in Glasgow. Her books were written after moving to the U.S. in 1937. She died in New York City in 1985.
Elmore Leonard
, born in New Orleans on October 11, 1925, spent most of his life in Detroit, where he died in 2013. First known for westerns, he wrote 17 mystery and suspense novels and stories noted for their realism and dialogue. Many were made into movies. In 1993 he was designated a Grand Master by the Mystery Writers of America (MWA).
Evan Hunter
was born
October 15, 1926. If the name isn't familiar, you might think of one of his several pseudonyms,
Ed McBain
(87th Precinct books), the name under which he achieved his greatest fame. Awarded the Grand Master award by the MWA in 1987, he died in 2005.

John Le Carré
(
David John
Moore Cornwell)
, born
Octob
er 19,
1931, was a British intelligence
officer before he became a premier spy novelist. His most famous protagonist was George Smiley, who has appeared in seven books. He has received both the Crime Writers Association Diamond Dagger (1988) and the MWA Grand Master Award (1984).
October 28, 1945, in Surrey, found his
greatest success by combining his interests in crime writing and theater. His four series (Charles Paris, Mrs Pargeter, Fethering, and Blotto and Twinks) are all still active.
Some of you already do this, but just a reminder that there's something that you can do for other mystery readers--and it's free.
Forward them our newsletter. If they enjoy it and would like their very own free subscription, tell them to sign up by emailing us at info@mainelymurders.com.
We're pleased to have subscribers throughout the United States as well as many internationally.
__________________
Gift Cards
Our gift cards are available in any amount. They're always the perfect gift for the holidays, birthdays, anniversaries, or "just because."
We're happy to take mail/phone orders and will send the card either to you or directly to the recipient.


Outdoor Sale Cabinet
We can't begin to fit our entire inventory on the shelves inside our shop. Solution: our outdoor sale cabinet filled with dozens of great reads--
including former bestsellers.
At only $3 each or $10 for four, the price can't be beat. Books are added daily. Whether you're looking for some new (to you) authors, eyeing some old favorites, or even stocking up your own bookshelves for winter guests, you'll have plenty from which to choose.
_____________________
With success, our bookshelf space grows ever tighter. So, too, does parking for customers.
You're welcome to park in our driveway. Street parking is available, as is space in the lot across Bourne Street.
While our neighbor, the Kennebunk, Kennebunkport, and Wells Water District, has been great about our customers parking in its lot, we know that spaces there are at a premium during the week. Feel free to park there after 3:30 p.m. or on Saturday.
_____________________
Reveal Your
What better way to carry your books (or anything else) and at the same time demonstrate your love of mysteries than with our signature black bag?
Made of durable fabric with reinforced 20-inch handles, the bag sports our recognizable logo. ($7.)
Remember, if you've taken your Mainely Murders bag on a trip, let us know. Send your photo (jpg) and details to
info@mainelymurders.com.
A Trip to Three Pines
Not every fan of author
Louise Penny
can travel to the Quebec settings of her best-selling series. But, that doesn't mean we can't all enjoy magical Three Pines.
See our special offerings inspired by Armand Gamache and his friends (and now-neighbors) of Three Pines.
How better to start the morning than with a Three Pines café-au-lait mug. It holds 12 ounces and is microwavable and dishwasher safe. ($25.)
Louise Penny
has provided a lovely perpetual calendar. Each page of this charming 5" by 17" calendar pictures the author, her home, or things that inspire her writing. ($22.)
Lastly, show your affection for Three Pines with a ž" × ˝" lapel pin in the shape of those iconic green trees with silver border. ($15.)
Grab Bags
For those who can't resist the mysterious--why else would they be at Mainely Murders?--see our popular grab bags.
Check out our selection of the colorful bags. Each ($5) contains three books from our stock, each one tied to a particular theme. Among our most popular: Passport to Murder (for the armchair traveler), Culinary Crimes (recipes can be deadly), Death By Chocolate (say it ain't so!), and Murder is Academic (our particular favorite).
Thank you!
Mainely Murders
and other small independent booksellers. At a time when
you have other choices
,
you've shown a commitment
to those of us who are part
of the local community and
who consider customers to
be friends and neighbors.
We take great pride in talking
with our clientele, whether
it's trading viewpoints on
favorites or recommending new titles and authors.
It's official: fall is here. After a summer we'll remember for high temperatures and humidity, more typical Maine weather has been welcome.
We're looking forward to our annual fall break. It's a chance to recharge ourselves as well as to replenish stock needed for November and December.
In the meantime, much is happening in the next three weeks. Our outside displays will come down, and that means making room for some of those books inside.
October is always a big month for new releases, including several by Maine authors (see
Coming Soon
). We're eagerly awaiting our own faves. Paula loves
Rita Mae Brown's
foxhunting (hunting, not killing!) series, and No. 11 (
Homeward Hound
) arrives soon. Ann is looking forward to
Ragnar Jónasson's
new series starring a soon-to-be-retired Icelandic detective who is given two weeks to work on any cold case she wants. (And as you know, nothing like this ever turns out to be easy.) We're both excited to read
Joe Ide's
Wrecked
, his third IQ novel. (There might be a battle over who gets it first!)
Yes, there's plenty for mystery readers to look forward to in October.
Hope to see you, or hear from you, soon.
Mark Your Calendar
To Meet The Author
Join us Monday, November 5, at 6 p.m. at the Kennebunk Free Library, 112 Main Street, as we host cop-turned-writer
Bruce Coffin
as he debuts
Beyond the Truth
, the third in his John Byron mystery series. The book will be released Oct. 30.
Following in the footsteps of
Among the Shadows
and
Beneath the Depths
,
Beyond the Truth
finds the Portland detective facing the toughest of challenges--the investigation into the police shooting of a high school student.
Even before publication, bestselling author
Douglas Preston
has called the book a "gripping atmospheric thriller that finds the dark side of Portland, Maine, like
John Sandford
does for Minneapolis or
Michael Connelly
for Los Angeles."
Fellow-writer
Reed Farrel Coleman
concurs, calling
Beyond the Truth
"a superbly realistic, tense, and exciting novel."
Beyond the Truth, as well as Among the Shadows and Beneath the Depths, will be available for purchase and signing.
October: Candy Corn and Witches' Bane
Ask children, and they'll tell you October means Halloween. But, clearly, this holiday isn't just for kids. Witness the more than $9.1 billion spent on Halloween last year, significantly fueled by purchases for adults.
For Ann, it's all about the candy corn. (None of that multi-color Harvest Corn junk, she says. The "real old-fashioned" kind.) But, for Paula, it's the myriad of Halloween-themed mysteries.
Some, like
Agatha Christie's
Hallowe'en Party
(with Hercule Poirot) are classics. But, most are modern-day mysteries with titles only a cozy lover will appreciate.
Some favorite titles: Behind Chocolate Bars, Witches' Bane, Trick or Treachery, Silver Screams, Death of Pumpkin Spice, Dead in the Pumpkin Patch, Town in a Pumpkin Bash, The Ghost of Halloween Past.
And a few more: The Haunted Hour, Candy Corn Murders, Strange Brew, All Hallow's Evil, Vampires, Bones, and Treacle Scones, Trick or Deceit, Death of a Pumpkin Carver, Ghost of a Potion.
Of course, this time of year finding any of these books is especially hard. Still, it's possible.
Our Traveling Book Bag
From Prince Edward Island . . .
Before taking off on their annual trek to Prince Edward Island, Canada, Monica Fischbach and Stephanie Deveau of Gray always visit us to stock up on vacation reading material. Once there, they obviously stock up on ice cream, too. Monica says, Mainely Murders and COWS Creamery in Charlottetown make a great combination.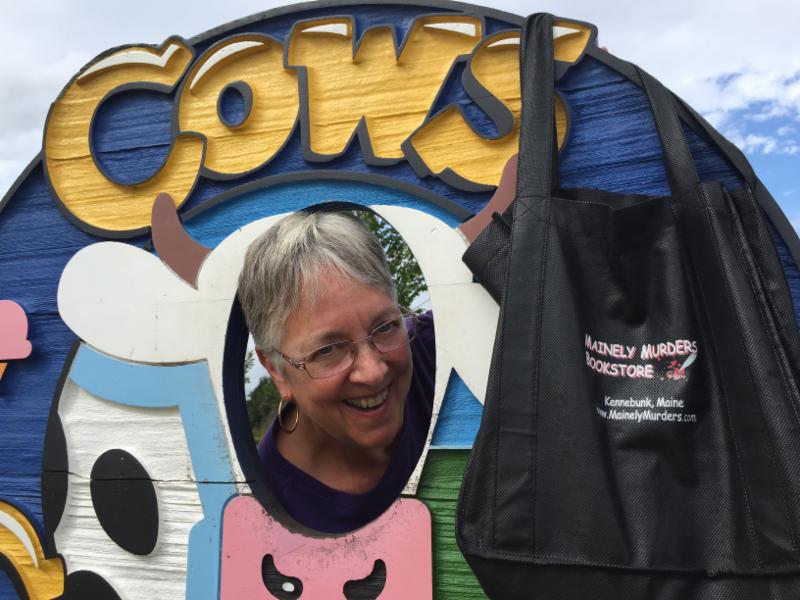 . . . to Wyoming's Black Mountains
When
Linda Healey
(and dog
Gatsby
) left Kennebunk in August on her solo transcontinental round-trip drive, her travel trailer was well stocked with reading material. By the time she reached Devils Tower National Monument in northeastern Wyoming, her Mainely Murders book bag was looking empty. We'll see what we can do when she gives us an address.
What We're Reading
"What are you reading now?" It's a frequent question we hear. (It's right up there with "Have you read every book in the store?") So, each month, we each select an author (or title) from our reading the month before.
While many people have their "comfort foods," those that give them an immediate feeling of well being, I have my "comfort books."
They're titles (and authors) I can read again and again, always with a sense of happiness. All mysteries, of course, they leave me totally satisfied. Invariably, they're classic British whodunits, and often from the pen of
Patricia Moyes
.
"
Penny
," the name she used among friends, was an author who often used her own life experiences and adventures as the background for her books featuring Scotland Yard detective Henry Tibbett and wife, Emmy.
The writer's love of sailing, skiing, and travel made its way into the setting of many of the Tibbetts' crime-solving exploits--in locales like Switzerland, Holland, Italy, the Caribbean. Yet, several of my favorites took place in English villages, country houses, and picturesque seaside hamlets.
Moyes
' novels strike me as the dictionary definition of classic British crime fiction. Here, it's all about "whodunit"--for both the protagonist and the reader. Yes, the reader, too, plays an important role.
In one of the many obituaries following
Moyes
' death in 2000, her books were described as "written in the well-established tradition of British detective fiction in which solving the crime is the focus rather than the crime itself."
The Tibbetts are among my favorite "partners in crime." Henry, the Scotland Yard inspector, may be the official crime solver, but Emmy plays no small role. After all, crime seems to follow the couple--especially on holiday. In the series' debut (Dead Men Don't Ski) the couple, while vacationing in the Italian Alps, discover an international smuggling ring and murder.
When asked to pick my favorite of the 19 books featuring the Tibbetts--and I've read every one--I'm forever stymied. Invariably, I select the one I've read most recently, until I'm asked the next time.
Perhaps I should point out that
Moyes
was the first mystery writer I ever met. It was in '80s in New York City where we lived. I had written an article about cats in mysteries (titled
Meow for Murder,
or something like that) for
Cat Fancy
magazine and the author was visiting the city.
A long-time fancier of cats,
Moyes
had written years earlier a delightfully informative book for the cat lover, titled
How to Talk to Your Cat
. Ann and I had a chance to meet and talk with her about cats, mysteries, and writing.
Today, when I re-read her books, I think back to that delightful afternoon we spent with her, a very classy woman who wrote the best of classic British whodunits.
Duane Swierczynski (Ann)
If you're looking for something different, very different, try any of
Duane Swierczynski's
novels. Years ago I read his
Severance Package
. (A number of employees are about to be permanently cut loose when the terminator is terminated. Then the fun, in a locked and booby-trapped high rise, begins.)
This month I read his Charlie Hardie trilogy about an ex-cop, now house sitter, who stumbles across the Accident People, part of a vast and lethal conspiracy. Charlie never gives up, but given what happens to him, he probably should have let them kill him right off. His opponents are really, really bad people.
In the meantime, we just tear from one improbable
but exciting situation to another. Not a lot of non-sci-fi mysteries send the protagonist into space. (Actually, I don't know any others.) Quite funny considering all the terrible things that happen to Charlie.
Next I'm planning to read Canary, a finalist for the 2015 Edgar Best Mystery. How irritated would you be as a very bright, 19-year-old college student forced by the cops to be a confidential informant if you were sent into a death trap with drug dealers? And what do you think you might want to do to the cops and gang members who are hunting you?
After reading one of
Swierczynski's
novels, it really isn't particularly stunning to learn he is a well-known comics writer. I might try them next.
P.S. Like Paula, I also like
Patricia Moyes-
-in my alternative life as a British classic mystery reader. However, I don't want to ruin my image completely. Life on the margins is fun.
Mysterious Philadelphians
We love our summer visitors. It was a "girls day out" for Philadelphians
Sophia Walker,
Hannah
Harberg
,
Susan Doran,
and
Pat Smith
. "We visit Susan, who summers in Kennebunkport, each year around Labor Day. She introduced us to Mainely Murders last year and it is now a 'must do' stop," writes Pat.
Coming Soon
A sampling of October releases. Find more at www.stopyourekillingme.com and https://www.cozy-mystery.com/blog/soon-to-be-released-mysteries.

Jeff Abbott

,

The Three Beths

[NS]

Donna Andrews

,

Lark! The Herald Angels Sing

[Meg Langslow #24]

Steven Axelrod

,

Nantucket Counterfeit

[Henry Kennis #5]

M.C. Beaton

,

The Dead Ringer

[Agatha Raisin #29]

Sharon Bolton

,

The Crafts

[NS]

Gyles Brandreth

,

Jack The Ripper, Case Closed

[NS]

Allison Brennan

,

Too Far Gone

[Lucy Kincaid #14]

Rita Mae Brown

,

Homeward Hound

[Jane Arnold #11]

Anne Canadeo

,

Purls and Poison

[Black Sheep Knitting #10]

*

Bruce Coffin

,

Beyond the Truth

[John Byron #3]

Cleo Coyle

,

The Ghost and the Bogus Bestseller

[Haunted Bookshop #6]

Susanna Gregory

,

Intrigue in Covent Garden

[Thomas Chaloner #13]

Iris Johnson

,

Vendetta

[NS]

Catriona McPherson

,

Go to My Grave

[NS]

*

David Rosenfelt

,

Deck the Hounds

[Andy Carpenter #18]

John Sanford

,

Holy Ghost

[Virgil Flowers #11]

Peter Tremayne

,

Bloodmoon

[Sister Fidelma #29]

Wendy Webb

,

Daughters of the Lake

[NS]

*

Stuart Woods

,

Desperate Measures

[Stone Barrington #46]

*Maine author
Customers Recommend
Friend/reader/customer
Marilyn Brooks
of Needham, Massachusetts, has a knack for selecting wonderful mysteries, but also those that resonate with the times. Follow what she's reading at
www.marilynsmysteryreads.com.
Bone On Bone
,
Julia Keller
My friends and family know that I'm a fast reader and can read a book of 300 pages in a day if I'm not interrupted by unimportant things like cooking and cleaning. But reading Bone on Bone so quickly is nearly a crime in itself, so beautifully written and poignant is the story.
Bone on Bone
reads as a sequel to
Ms. Keller's
previous mystery,
Fast Falls the Night
, in which she wrote about the opioid crisis creating devastation across the country. Particularly hard hit is West Virginia, the state where the novel takes place; it had the highest number of opioid deaths in the nation in 2016.
Acker's Gap is certainly not immune to this epidemic. Still reeling from the loss of mining jobs and the 2008 recession, the community's young people have decided that their only escape from the despair of their town is via drugs. Drugs and their devastating effects have reached into many families, including the well-to-do Toppings.
Tyler Topping, the couple's teenage son, has been in and out of rehab almost more times than his parents can count. As the story opens he's again living at home per his counselor's advice; however, he is back on heroin or whatever drugs he can get if "smack" is not available. Of course, he has to sell drugs to feed his own habit, and if he can't make enough by selling he steals from his parents, taking virtually everything in their home that isn't nailed down.
At her wits' end after trying to help her son and distraught at seeing he r beloved husband frantic at being unable to keep their son away from drugs, Ellie Topping has decided she has no choice but to do the unthinkable--kill her son to prevent him from killing them through his actions.
As all this unfolds, Bell Elkins, the protagonist of Julia Keller's series, has returned to Acker's Gap after a three-year prison sentence. In the preceding book, Bell's sister Shirley, her only relative, made a startling confession. Shirley had spent years in prison following her conviction for killing their physically and emotionally abusive father, but now that she is dying she tells Bell the truth. It was the ten-year-old Bell who was the murderer; Shirley confessed to the crime rather than have her young sister jailed or sent to a detention center.
Although she could have avoided incarceration due to her age at the time of the murder and the confession of her sister, Bell insists on taking her punishment now. Because she admitted committing a felony, in addition to her prison sentence she loses her position as county attorney and is disbarred. Despite questions and pleas from her ex-husband, daughter, and former colleagues, she refuses to discuss the reasons she made Shirley's dying confession public and insisted on going to jail.
Bone on Bone resonates as a cry from the heart by the author. Every day in our country communities and families are going through unimaginable sadness due to the scourge of drugs. She recognizes that there's no easy solution but many share the blame--physicians who don't monitor their patients' drug use; drug companies that push drugs for every imaginable symptom; patients popping pills instead of doing the hard work of physical therapy and/or exercise to relieve their problems; teenagers looking for a thrill; parents denying their children's addiction.
This is a moving novel and an outstanding mystery. It is a worthy addition t o the Bell Elkins novels.